< Event Calendar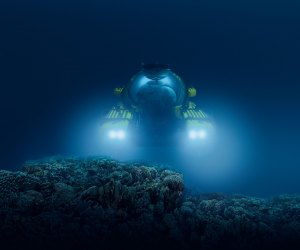 Exhibit: Unseen Oceans
Mon Mar 12, 2018
10:00am to 5:45pm
In the American Museum of Natural History's new exhibit, Unseen Oceans, visitors explore a series of circular, media-rich galleries that showcase a range of marine ecosystems and introduce a new generation of scientists who are using cutting-edge research tools and developing new methods to explore the oceans, top to bottom.
On view through January 6, 2019

What amazing acrobatics do blue whales—the largest animals ever known to exist—perform when they feed? (High-tech, pop-off tags on their backs provide the answer.) What's going on in the deep waters surrounding Hawaii? (Hint: Advanced sonar reveals a new island set to emerge… in 100,000 years.) How can we decide where to place marine-protected areas? (Tiny floating robots may offer important clues.) Visitors to Unseen Oceans learn the answers to these exciting questions and explore other novel lines of inquiry that ocean researchers have only recently uncovered. >
Exhibition highlights include:
a 180-degree, high-resolution screen where animations of ocean giants including blue whales, giant squid, and great white sharks swim by visitors at true-to-life scales
microscope stations to view live rotifers (a type of zooplankton)
a floor-to-ceiling array of biofluorescent species—showing the diversity of undersea animals that absorb and re-emit light
​a virtual ride in a submersible into the shadowy depths and a photo-op station at a full-size model of a Triton sub
an interactive media installation featuring schooling fish that react to visitors' movements
a magnetic sand table with a dynamic live projection where young visitors can learn about ocean topography by digging trenches and forming islands
Live marine animals are also on view, including iridescent, bioluminescent comb jellies as well as seahorses, pipefishes, and chain catsharks whose vivid fluoresence was only recently discovered. Finally, the exhibition highlights the many urgent threats to the ocean's vital abundance, including climate change, overfishing, and habitat degradation, and the many mysteries that still remain for young ocean scientists to illuminate in the years to come.
American Museum of Natural History
Central Park West at 79th Street
New York, NY 10024
** Event dates/times are subject to change. Please click through to the event website to verify.