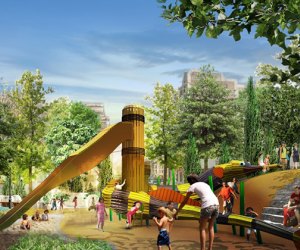 Get Ready for a Brand-New Chelsea Waterside Playground
Organizers broke ground last week on a big overhaul to one of the west side's favorite playgrounds, the Chelsea Waterside Play Area. The park, nestled between the West Side Highway and 11th Avenue on 23rd Street, is beloved for its expansive and colorful water park features in the summer, and multiple sections of year-round jungle gym equipment, swings, and sandbox.
We reviewed it not long after it opened seven years ago, but since then it's seen "enthusiastic wear and tear," and some sections had even been closed for repair, according to the local organizations that manage the park, the Hudson River Trust and Friends of Hudson River Park. After raising $3.4 million dollars for a "complete renovation and expansion," the groups, in partnership with NYC city officials, broke ground for the revamp on Wednesday, October 3. Scroll down to read all about the impressive new features.
The play equipment is currently closed while the construction takes place, but don't worry, this Chelsea playground looks like it's gonna get a lot better.
A representative told us the following are expected at the new park:
A 22-foot-tall pipefish centerpiece with two slides (see it in the artist rendering)
An interactive water maze featuring cow-head relics recycled from a former meatpacking factory
A water play area just for toddlers
Sand pit station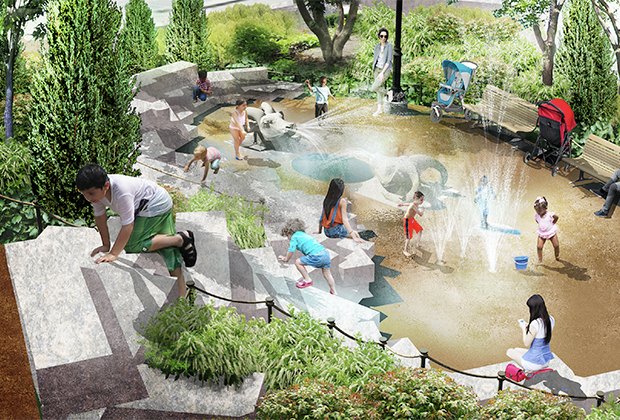 The water features are getting an upgrade, too.
Hudson River Park says it does not receive any government funding. It undertook its first capital campaign, in coordination with Friends of Hudson River Park and the newly formed Hudson River Park Playground Committee, to raise the necessary funds for the renovation. Brooklyn-based firm Michael Van Valkenburgh and Associates, which has worked on Brooklyn Bridge Park, the Brooklyn Botanic Garden, and other local city park designs, has created the new design.
The new play areas are slated to be completed by summer 2018. The park's basketball courts and soccer fields remain open, or kids can hit the Chelsea Lawn Bowl area across the street for more outdoor fun. You'll also find the skate park and carousel next door at Pier 62, or head to another play area for kids at Pier 84, Pier 51, or Pier 25.
Want to explore the city's best outdoor spots? Check out our Playground and Parks Guide.
Renderings courtesy of Michael Van Valkenburgh Associates, Inc.