California Fun Facts for Kids: Wacky Truths About CA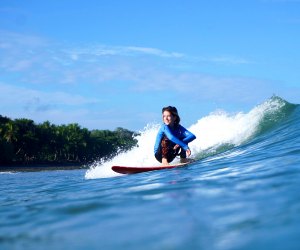 There are so many things to do in California with kids before they grow up (and another 100 or so things to do just in LA)—that's why it's the best place on earth to raise kids. Disneyland, the Golden Gate Bridge, and tons of other tourist attractions call California home. But that's the stuff everyone knows. Scratch the surface and you'll find California fun facts, firsts, and a weirdness that runs more than skin deep. CA is the birthplace of Barbie, the internet, fortune cookies, electric guitars, blue jeans, movies (of course!), and so much more...
You know the basics: LA is the largest city, the state flower is the poppy, and the animal is the bear (it's on the flag if you ever forget!). But did you know:
California Fun Facts About Famous Firsts
1. First movie theater
Well of course the first motion picture theater opened in Los Angeles on April 02, 1902.
2. First McDonald's
The first McDonald's was opened in California in 1940 in San Bernardino. In fact, CA is the king of fast food: Taco Bell (Downey), Jack in the Box (San Diego), Panda Express (Glendale), Del Taco (Yermo), Baskin Robbins (Glendale), Carl's Jr. (Anaheim), In-and-Out Burger (Baldwin Park), and Jamba Juice (San Luis Obispo) all started in California.
If you love the Golden Arches, thank California. Photo courtesy encanto_sunland/CC BY-NC 2.0
3. First place the sound barrier was broken
The first ever supersonic flight took place in California in 1947. (Chuck Yeager had The Right Stuff.)
4. First people to use the Pony Express
The Pony Express started in Sacramento in 1860.
The cable cars in San Francisco are a piece of history. Photo courtesy vwcampin/CC BY 2.0
5. Moving landmarks
In 1964, San Francisco's cable cars became the first moving National Historic Landmark.
6. Richest state
California is the first state to reach $1 trillion in GDP. (Heck, we'd be the 5th largest economy in the world if we were a country!)
We're all Barbie girls, in a Barbie world. Photo courtesy SabinavonKessel/CC BY-SA 3.0
California Inventions We Can't Live Without
7. Wetsuits
Can't surf year-round without the wetsuit, which was invented here in 1952.
8. Skateboards
Surfing may be the official sport of California, but skateboarding can brag about being invented in LA in 1958.
9. Barbie
She's been LA's original plastic girl since 1959.
10. Apple products
All those devices you can't live without come from California. It's why your idevices come set to Cupertino time and weather, where Apple was founded in 1976.
11. Frisbee
What other state could come up with the Frisbee?
12. The internet
Excuse me Al Gore, but the internet was actually invented in CA. (In 1969 a message was sent through ARPANET from UCLA to Stanford.)
Every blue-jean baby queen owes thanks to the Gold Rush. Photo courtesy donnierayjones/CC BY 2.0
13. Blue jeans
Levi Strauss introduced jeans to the world in 1873. (Denim came from Europe, but the jeans are all CA!)
14. The supermarket
One-stop shopping was invented in LA, and the very first one was designed by the architects of the El Capitan Theatre.
15. Mickey Mouse
Everyone knows Disneyland was the first of the Disney theme parks, but Mickey himself was born in Los Feliz in 1923. In fact, Walt Disney dreamed up the idea of Disneyland right up the street at Griffith Park at the carousel.
16. Custom cars
Not only is SoCal the current home of car culture, it always has been. Custom cars first came about in LA.
The Black Cat in Silverlake has a piece of Pride History. Photo courtesy of The Black Cat
17. The gay rights movement!
The nation's first major gay rights rally took place two years before the Stonewall riots, at Silverlake's Black Cat Tavern.
18. Electric guitar
In 1931 steel player George Beauchamp and engineer Adolph Rickenbacker founded Electro String Instrument Corporation.
19. Space exploration
Learn the history of American space exploration and its roots in Southern California at JPL. (Virtual tours of JPL are now available.)
20. Nicotine patch
Make fun of the wheatgrass movement if you like, but healthy living really is a key tenant of the California lifestyle.
21. Squeegee
Randomly, this window cleaning aid was invented in 1936 in Oakland.
22. California Roll
As if the name leaves this in doubt, but the California roll was indeed invented in CA. Sushi chef Ichiro Mashita began substituting avocado for toro, and everyone's favorite starter roll was born.
23. The "wave"
The first full-stadium wave was started at the Oakland Coliseum in 1981.
24. Videotape Recorder
Video killed the radio star.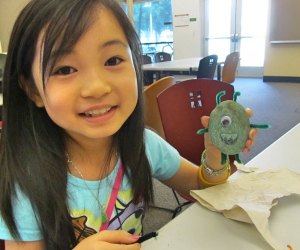 When Mom says no to a puppy, and yes to a pet rock. Photo courtesy San José Public Library/CC BY 2.0
25. Pet Rocks
I mean, we could give credit for this one to another state…
26. WD-40
The Rocket Chemical Company created this for the aerospace industry. Little did they know we'd all use it to stop doors from creaking...
27. Modern hula hoop
Inspired by the Native American Hoop Dance, the hula hoop was marketed by the Wham-O toy company in the 1950s.
28. Mai Tais
While these scream tropical paradise, they were actually created at Trader Vic's restaurant by Victor Bergeron in Oakland in 1944.
29. Martinis
James Bond didn't invent it. (Heck, he doesn't even order it correctly!) It was first made in the San Francisco area in the 1860s.
30. Fantasy Football
First played right here in CA in 1962.
31. Electric TV
Can you believe this was first invented in 1927 in Los Angeles? But there was nothing to watch, so it took a while to catch on!
Would avocado toast even exist without California? Photo courtesy nan palmero/CC BY 2.0
California Fun Facts for Foodies
32. We grow more of everything than anyone
Over a third of the country's vegetables and two-thirds of the country's fruits and nuts are grown in California.
33. Especially almonds
The state produces a whopping 80% of the world's almonds. Almonds are California's top export.
34. And turkeys
More turkeys are raised in California than in any other state
35. And avocados
California is home to the"Avocado Capital of the World." (That would be San Diego)
36. Cobb salad comes from LA
The salad consisting of bacon, chicken, eggs, and avocados was invented at Hollywood's Brown Derby restaurant.
37. Sourdough bread comes from SF
The sourdough bread gets its taste from yeasts that are native to California and has been baked here since the Gold Rush days.
38. Fortune cookies
Both San Francisco and LA claim this invention, so we'll just give the win to California in general.
39. Popsicles
Frank Epperson was 11 years old at the time he invented popsicles in 1905. He also invented the twin popsicle, Fudgsicle, Creamsicle, and Dreamsicle.
40. Breakfast sandwiches
You know the first McDonald's was in CA, but did you know it was a California franchisee who invented the Egg McMuffin in 1970? Move over, Earl of Sandwich. We've got the Duke of McMuffin.
While it's hot and low, Death Valley is also a great place to visit with kids! Photo by Roberta Brown
Record-Setting California: California is home to...
41. The world's largest tree
General Sherman is 275 feet tall and is over 36 feet in diameter at the base.
42. The hottest desert on the planet
Death Valley is North America's hottest desert, with an average daily high in June of 115.5°F.
43. The lowest point in North America
Death Valley is -282 feet.
44. And the highest point on the continent
Mt. Whitney is 14,494 feet.
45. The largest economy
California has the biggest economy of any US state--and as we said, of most of the nations in the world.
46. California is the most biologically diverse state
We have more than 40,000 plant and animal species.
47. San Bernardino County is the largest county in the US
It is actually larger than the nine U.S. states!
48. More Olympics than any other state
California is the only state in the US to host Summer (1932, 1984) and Winter (1960) Olympics. And that's before we can count 2028!
49. Largest Amphitheater in the US
The Hollywood Bowl is the largest outdoor amphitheater in the country.
50. Most national parks
California is home to the most national parks (9) of any state in the country.
51. Most movie locations
More films are shot in California than in any other state. (And you can visit tons of them in Los Angeles!)
52. Biggest US city
Los Angeles is the biggest US city by landmass. That's why it developed a car culture.
53. Largest and oldest Japantown in the United States
There are only 3, and all of them are in CA: San Francisco is the biggest and oldest, followed by Los Angeles and San Jose.
54. Oldest Chinatown
San Francisco's Chinatown is the oldest in North America.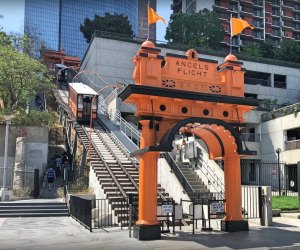 The shortest railway in the world is in LA. Photo by Mike Anderson
55. Shortest Railway
Angels Flight in Los Angeles is the shortest incorporated railway in the world.
56. Biggest Boulder (Transported, that is…)
LA is home to the largest boulder ever transported—the 340-ton chunk of granite that is the Levitated Mass at LACMA. It took 11 days to move it just 85 miles.
Sometimes you gotta kiss a lot of frogs. But in LA, you can't lick toads. Photo courtesy Monkey Mash Button/CC BY-SA 2.0
And Weird California Fun Facts, Just Because...
57. California was once a country
Before its statehood, California was an independent country for one month in 1846.
58. Did you feel that shake?
On average, California experiences over 100,000 earthquakes a year.
59. You can walk on guns here
San Francisco is the only city where you can walk on guns—in an attempt to make the city streets free of mud and dirt, settlers paved the streets with guns during the late 1800s and early 1900s.
60. California has the city of dogs
San Francisco has more dogs than children.
61. And the city of cars
There are more cars than people in LA.
62. Prison gets you (in) hot water
Alcatraz was the only federal prison to offer hot water. This was a kooky strategy to prevent prisoners from trying to escape in the cold San Francisco Bay.
63. The last Beatles concert was here
The Beatles performed their final concert (that you could buy tickets to) on August 29, 1966 at Candlestick Park in San Francisco.
64. You can eat at Central Perk
Warner Bros. Studio has a replica of Central Perk Café from Friends that serves real coffee and treats.
65. Bueller, Bueller … We have a solar powered Ferris
The Pacific Wheel at Pacific Park in Santa Monica is the world's only solar-powered Ferris wheel.
66. Bigger than Broadway
Los Angeles is home to the largest historic theatre district on the National Register of Historic Places.
These guys have been stuck in the tar for a long, long time. Photo by Meghan Rose
67. Most Ice Age fossils
The La Brea Tar Pits have the most Ice Age fossils in the entire world.
68. Turns out, there's money in Beverly Hills
An oil derrick on Beverly Hills High School grounds produces about 400 barrels of oil a day. The school earns about $300,000 a year in royalties. Not bad for a former Lima Bean Ranch.
69. The LA coroner's office has a gift shop
Just something to keep in mind, come the holidays.
70. It is illegal to lick a toad in the City of Angels.
71. The iconic palm trees are not native to SoCal.