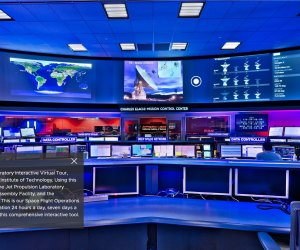 NASA's JPL Tours are Now Online: Kids Can Virtually Explore Where Space Robots Are Built
It was a bummer to watch as many favorite in-person activities had to move to a virtual format this year. Watching the Dodgers on TV was not nearly as fun as being in Dodger Stadium. Visiting favorite local museums online didn't have the same thrill, no matter how fantastic the virtual programming. (Though getting to tour some of the greatest museums of the world without leaving the house was pretty cool).
But this move from IRL to virtual is very exciting: NASA's Jet Propulsion Laboratory has created a new virtual and fully interactive tour. Now anyone, anywhere in the world, can get a peek inside the Pasadena laboratory—even seeing some of the places visitors aren't allowed in-person. Get the scoop on the new JPL tour, how to take it, and exactly why this move online is so exciting.
What is JPL?
NASA Jet Propulsion Laboratory manages many of NASA's robotic missions exploring Earth, the solar system, and our universe. The roots of the lab go way back to the 1930s when a group of CalTech professors moved their experiments off-campus. Moving through the decades from rockets to missiles to space satellites, JPL became a part of the recently formed NASA in the early 60s. Today, JPL continues to lead the nation's planetary exploration program. Yep, all that's going on in our backyard. (For a look at the kooky side of the lab's history, parents can watch the Drunk History episode featuring the history of JPL. It's got everything: the occult, Scientology, and lots of messy sex scandals. Really!)

Tour the museum without leaving the house!
Why Is the New Virtual JPL Tour So Exciting?
Getting a spot on one of the JPL in-person tours felt a lot like winning one of Willy Wonka's Golden Tickets. As in, nearly impossible. In theory, you could simply book a tour on a Visitor Day, for a small group. The tours initially ran once a week, on alternating days. They also had a yearly Open House event, which would book up months in advance. I tried for years to book either tour and never managed to go.
Even if you got the golden ticket, the tour lasted well over two hours, covering almost a mile and several flights of stairs. Not conducive to bringing along younger kids, strollers, interested grandparents, etc. However … none of that is a problem anymore! Because it has all moved online.
This is one of the Clean Rooms, where rockets are built.
All About JPL's Interactive Virtual Tour
Now, you can take the tour at your leisure, taking bathroom and snack breaks, watching the videos, reading the captions, and playing the games that intrigue your family—and glancing over the things that aren't as gripping.
There are several locations you can explore virtually across the 177-acre laboratory. The tour begins in the Mission Control Room, where kids can move about the room and get a sense of everything that happens at JPL. If a white box lights up as you mouse over it, you can click on it for more information. Each location has dozens of things to click on, including videos, fun facts, and images. For example, you can drop by the control room for the Deep Space Network, where JPL staff communicate with every NASA spacecraft flying beyond the orbit of the moon. Clicking on one of the embedded links yields real-time information about which spacecraft is returning data to each of the three Deep Space Network facilities.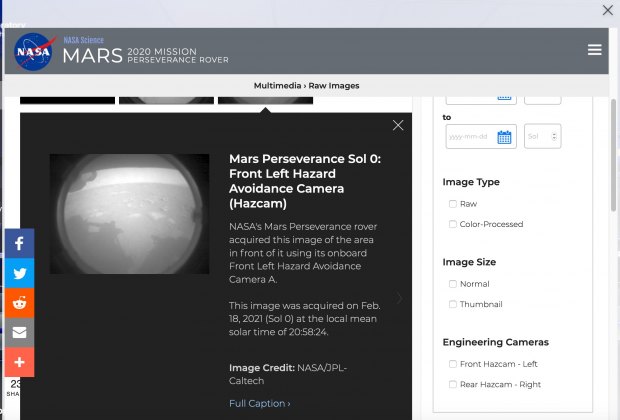 See the latest images from space. It even tells you what time the images were taken in solar time!
We happened to take the tour right after Perseverance Rover landed on Mars and there were fresh images of the landing. Pretty cool!
Other places to tour include the Visitor Center Museum (there's a game hidden in here, which my son played for a loooooong time), and the spacecraft assembly facility, where engineers and technicians are constructing future spacecrafts. Click on the space mission logos on the wall to learn more about each mission.
Parent and Kid Reviews
Our family took this tour together with varying degrees of interest. We all agreed that it's a fascinating tour, but can't possibly compare with really being at JPL and seeing these things in person. It's best suited for kids ages 8-14 (according to my son), and will mostly appeal to those with a strong interest in space exploration. The information is pretty detailed, and not for young kids, or those with no interest in space. While my son wrestled the computer away from me to play the games, and my daughter explored the assembly facility to learn about how scientists had to clean and gown themselves to work in the Clean Room, I was most fascinated by the short videos sprinkled throughout the tour that gave detailed (bite-sized) information about our solar system.
It's an interesting experience for the family to do together, and honestly only serves to whet your appetite for when JPL opens again for live tours.
The tours are free and available on the JPL website.