25 Free Things To Do Near DC this Summer with Kids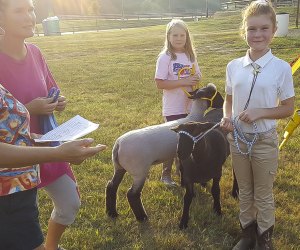 School's almost out, summer is unofficially here, and we're on a mission to keep kids busy and having fun all summer long without breaking the bank. Luckily, there are tons of free things to do near DC this summer with kids, from free outdoor movies and outdoor concerts to free summer festivals and swimming pools.
Here is a list of 25 free activities for kids and families in DC, Maryland, and Northern Virginia. How many of these free things to do near DC can your family fit in before school starts again? And don't forget: we are constantly updating our event calendar, so keep checking back for more free things to do near DC this summer with kids.
Free Things to Do Near DC this Summer with Kids

Watch a movie al fresco all around the DC area, including National Harbor. Photo courtesy of Movies on the Potomac
1. Free Outdoor Movies
Summer is the time when many local parks and downtowns offer free outdoor movies for kids and families. Pack a picnic and chairs or a blanket and enjoy a free flick under the stars.
2. Free Outdoor Concerts
Free outdoor concerts are another summertime staple in the DC area that are fun for the whole family. Check out our massive list of free outdoor concerts for families in DC, Maryland, and Northern Virginia.
3. Summer Festivals and Fairs
There are tons of great summer festivals and fairs happening across the DC area, and many of them are free to enter and enjoy live entertainment, children's activities, and more. But keep in mind that rides, games, food, and other activities often cost a fee, so you'll likely have to shell out some money during the day.
Related: 8 Great Water Parks for Kids in the DC Area

Make a splash at one of the area's many sprinkler parks and spraygrounds. Photo courtesy of Village of Leesburg
4. Sprinkler Parks, Spraygrounds, and Splash Pads
These 17 sprinkler parks, spraygrounds, and splash pads near DC are a fun, free way for kids to beat the summer heat.
5. Free Swimming Pools
Cool off and make a splash at one of these free public swimming pools in DC.
6. Free Museums
On sweltering DC summer days, enjoy the air conditioning at one of the many free museums in DC. These include all of the Smithsonian museums and several others like Planet Word and Fort Belvoir's National Museum of the United States Army. Don't forget to check out the Yayoi Kusama exhibit at the Hirshhorn!
Related: What is Juneteenth? Celebrating Juneteenth 2022 with Kids

Celebrate Juneteenth at Watkins Regional Park. Photo courtesy of the Department of Parks and Recreation in Prince Georges County
7. Juneteenth Commemorations
Juneteenth (June 19), the day slavery ended in the US, became a federal holiday in 2021. Celebrate it at one of many free Juneteenth commemorations across the DC area, most of which are taking place on Saturday, June 18 because June 19 is also Father's Day this year. Try Juneteenth at Watkins Regional Park in Upper Marlboro, Maryland; the Juneteenth Celebration at Frying Pan Farm Park in Herndon, Virginia; or the Juneteenth Freedom Day Festival in Waldorf, Maryland.
8. 4th of July Celebrations
It's no surprise that our nation's capital and its surrounding areas do it up big for Independence Day. Families can attend one of the area's many free 4th of July parades, celebrations, and fireworks shows all weekend long. Try the Takoma Park 4th of July Parade and Evening Celebration in Maryland, the City of Fairfax Independence Day Celebration in Virginia, or DC's famous National Independence Day Parade and 4th of July Celebration and fireworks.
9. Library Programs
Local libraries offer tons of free enrichment programs for kids during the summer, including storytimes, arts and crafts, puppet shows, and more. Some of them are walk-in and others require advance registration, so check the events calendar on your local library's website to see what's coming up and how to join. After the program, borrow some books for your kiddo to read at home. Also ask about your library's Summer Reading Program, through which kids can win prizes for reading.
10. Nature Centers
Little animal lovers can get up close to reptiles, amphibians, fish, and other small animals at one of these free nature centers near DC. Many of them also offer hands-on activities, crafts, and special programs such as animal feedings.
11. Fun Playgrounds
There are so many great playgrounds near DC, you could probably visit a different one every day this summer and still not hit them all. But if you truly want to blow your kid's mind, head to one of these 15 destination playgrounds in the DC area. Got toddlers? Try one of these fun tot lots and toddler playgrounds near DC.
Related: 100 Things To Do in DC with Kids Before They Grow Up

There's lots to explore at the United States Botanic Garden. Photo courtesy of the garden
12. Gorgeous Gardens
Take a stroll through the United States Botanic Garden and the US National Arboretum, both of which offer free admission and have children's gardens to explore. At the US Botanic Garden's Children's Garden, kids can gently touch plants in bloom and use gardening tools and watering cans to learn how plants grow. At the Arboretum's Washington Youth Garden, they can see crops growing and visit a butterfly garden to learn about pollination.
Smithsonian's National Zoo is free to enter every day (just reserve entry passes online) and is home to more than 2,700 animals. Families can see giant pandas, lions, tigers, elephants, and more. When you need a break from the heat, head to one of the indoor exhibits like the Great Ape House, the Small Mammal House, and the Reptile Discovery Center.
14. The National Mall
Warm summer evenings, when kids don't have to wake up early for school the next day, are the perfect time to see the National Mall's monuments and memorials all lit up at night. Grab a bite nearby at one of these kid-friendly restaurants near the National Mall.
15. Government Building Tours
Keep kids learning during the summer with a free guided or self-guided tour of the White House, the U.S. Capitol, and the Supreme Court. Check the individual websites to see how to schedule your tour.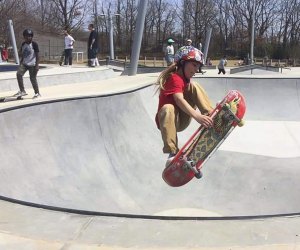 Skate or die, dude! Photo courtesy of Arlington Skaters for Arlington Skate Park, Facebook
16. Cool Skate Parks
Young skateboarders can practice their ollies, kickturns, and heelflips at these kid-friendly skate parks near DC. Some of them allow inline skates and bicycles, too. Don't forget the helmets, elbow pads, and kneepads!
17. Family-Friendly Hikes
From well-maintained trails in state parks and national parks to lesser-known paths along creeks and through neighborhoods, the DC area is brimming with easy hiking trails for kids and families. These 12 fall hikes near Washington, DC to see fall foliage are also gorgeous in summer, when trees are fully green and flowers are in bloom, and many of them are free. Great Falls Park offers free admission on August 4, one of the Free National Park Entrance Days
Kids can hang out with horses, chickens, peacocks, rabbits, sheep, goats, cows and pigs at Kidwell Farm, Frying Pan Farm Park's recreation of a '30s working homestead. Wagon rides and farm tours are also available. Once they've had their fill of the farm, kids can play on the playground and ride the 1920s carousel. Admission to the park and the farm are free!
Every Friday from 5-8pm, head to The Family Room to see classic cars, bikes, and trucks and enjoy oldies music. Kids are encouraged to bring their bicycles, electric or toy cars, or other rides every third Friday of the month to display for a chance to win a prize.
Fairfax City's summer Funday Monday program provides free children's programming at Old Town Square in Fairfax every Monday at 10:30am. The summer lineup includes a bubble show, My Gym activities, musical performances, and more.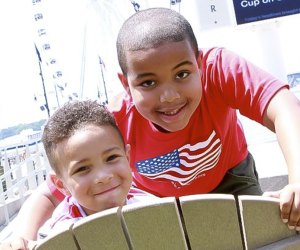 Your kiddo will look forward to Thursday mornings at National Harbor. Photo courtesy of National Harbor
Enjoy free kids' activities every Thursday at 10:30am in National Harbor. Activities include interactive storytimes, arts and crafts, meet-and-greets with police officers and firefighters, and more.
This outdoor street festival, held the first Thursday of each month in Del Ray, offers a different theme and fun family activities every month.
23. Free Parks Playhouse Jr. Shows — Montgomery County, MD
Throughout the summer, Parks Playhouse Jr. presents free kids' shows in parks across Montgomery County. Try a puppet performance of Rapunzel in Cabin John Regional Park, a hands-on music workshop at Wheaton Local Park, and more.
24. Arts in the Parks Children's Entertainment Series — Fairfax County, VA
As part of the Fairfax Summer Entertainment Series, a different children's entertainer will perform for free on Wednesday mornings at Frying Pan Farm Park and Saturday mornings at Burke Lake Park, Mason District Park, and Ellanor C. Lawrence Park. Performers range from puppeteers to magicians to musicians.
As part of its Summer of More, Gaylord National in National Harbor is offering free family movie nights in its atrium and free live animal encounters. Check the resort schedule upon arrival for more information.
Additional reporting by Christine Mooney