What is Juneteenth? Celebrating Juneteenth 2023 with Kids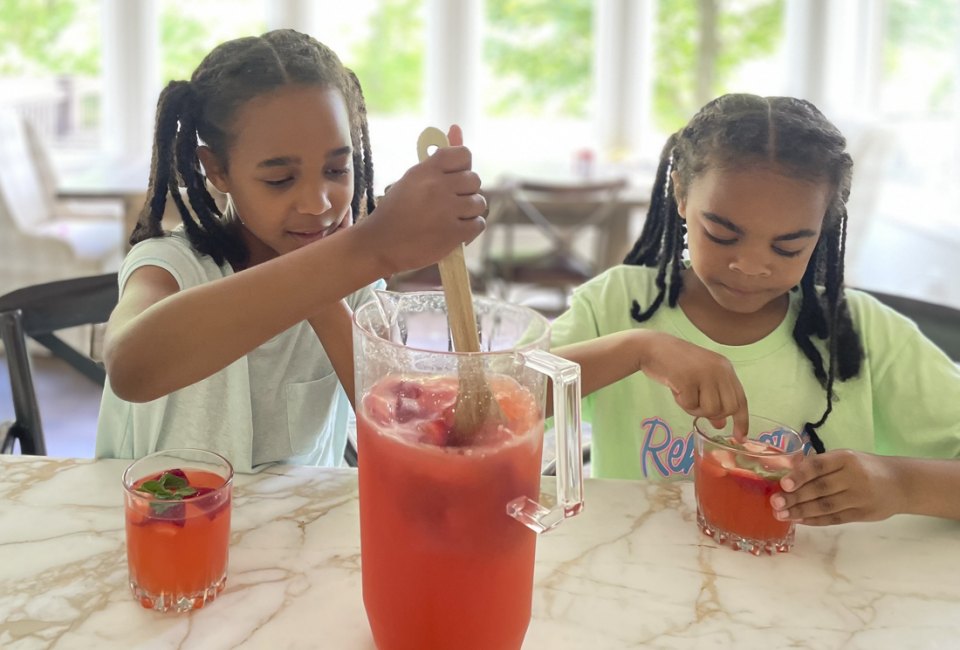 6/2/22
- By
Danielle Smith
Juneteenth, the holiday that observes and commemorated the end of slavery in America, was designated a federal holiday in 2021, and celebrations are becoming more widespread as people come to understand the historical significance and importance of this day for all Americans. Juneteenth has long been marked by large family and community gatherings in the south, particularly in Texas. Now that it's receiving more of the recognition it deserves, we've gathered a few ways for families to have discussions about the holiday and celebrate Juneteenth 2023 together.
For more ways to celebrate Black culture, browse our favorite 30+ Children's Books to Celebrate Black History Month, and read on to discover and support a Black-owned business near you.

Seek out some living history. Photo courtesy of NYHS and Living Historians
What is Juneteenth?
Juneteenth is the official commemoration of the end of slavery in America. On June 19, 1865, enslaved people in Galveston, Texas were notified by a Union general that the Confederacy lost the Civil War and all of the enslaved were finally free. By the time the news reached Galveston, it had been about two months since the war ended and over two and a half years since the Emancipation Proclamation.
When is Juneteenth 2023?
Juneteenth is short for "June 19th" and is observed every year on that day. Juneteenth 2023 falls on a Monday, the day after Father's Day, giving families the opportunity for a long weekend celebration.

From the Juneteenth Celebration at Watkins Park. Photo courtesy of the Department of Parks and Recreation in Prince George County, Maryland
Teaching Kids About Juneteenth
Juneteenth goes by many names, including Freedom Day, Jubilee Day, and Emancipation Day. Slavery is a difficult topic to tackle with young children and their ability to grasp the concept will vary with age; but when we talk to kids about Juneteenth, the tone of the discussions can be more joyful and uplifting, with a focus on freedom.
We can ask kids what freedom means to them, and what they think it might feel like to not be able to make their own choices. We can explain that enslaved Africans and African Americans weren't entitled to any freedoms, and that was unjust and wrong. However, Juneteenth meant that Black people in America could begin a new life with new freedom and hope for a better future, and that's an important thing to celebrate.
Juneteenth is also a time to celebrate Black culture in general, through the music, food, and cultural traditions of Black Americans that have evolved since slavery. Supporting Black-owned businesses, visiting African American museums or African American exhibits, volunteering, or simply spreading the word are all ways to acknowledge the holiday. Below are some more kid-friendly ideas to celebrate Juneteenth 2023.
RELATED: 20 Kids' Books About Racism, By Age

There's likely to be a Juneteenth celebration near you.​ Photo courtesy of Matthew Dennis for Welcome America
7 Ways to Celebrate Juneteenth with Kids
1. Attend a Juneteenth Celebration
There's likely to be a parade, pageant, festival, block party, or some other Juneteenth celebration near you. Local museums, libraries, and community centers also host Juneteenth programming. Check your local events calendar to see what's happening in your neck of the woods.
2. Make Red Soda Water
Juneteenth's signature drink is red soda water, a strawberry soda served with meals at many Juneteenth get-togethers. Red foods and drinks are a staple of Juneteenth feasts, believed to symbolize the bloodshed throughout slavery as well as the use of hibiscus in West African drinks. The drink is slightly sweet, majorly refreshing, and requires only a few ingredients. My family followed this delicious recipe last year and we'll definitely be making it again!
RELATED: Ultimate List of Unique Grandparent Names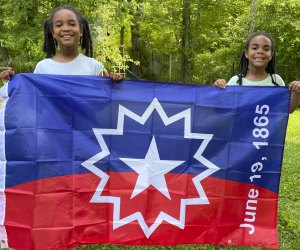 Make or fly a Juneteenth flag. Photo courtesy of the author
3. Create a Juneteenth Flag
Yes, Juneteenth has its own flag, and it's red, white, and blue just like the American flag. The design is simple and kids can write the date on the side to help them remember the history. My family followed this Juneteenth flag tutorial for an easy craft that came together in a few minutes.
4. Sing Freedom Songs
"Lift Every Voice and Sing," commonly known as the Black National Anthem, was first performed as a poem in 1900 and has since evolved into a gorgeous hymn with lyrics about hope and freedom. If kids aren't already familiar with the song, Juneteenth is a great occasion to teach it to them. But Juneteenth music doesn't have to explicitly explain the holiday's origins—we can take on that job as parents. Juneteenth music can be any family-friendly music by Black artists, from John Coltrane to James Brown to Beyonce. If I had to make one recommendation here, it would be Jon Batiste's 2021 album WE ARE. It's hard to imagine a better musical representation of Black Joy, with a title track featuring a high school marching band alongside a children's gospel choir. For a great, varied playlist that includes educational tunes and songs with historical significance, this is a wonderful choice:
5. Prepare a Juneteenth Meal
While there's no specific meal to eat, barbecue is a Juneteenth favorite due to the holiday's Texas roots, and the fact that families like to gather for cookouts. Some red foods traditionally served at Juneteenth festivities include barbecued meats, red beans and rice, red velvet cake, and watermelon. Outside of Texas barbecue, southern comfort foods and traditional soul food like fried chicken, grits, sweet potatoes, and collard greens are common. Sweet potatoes and collard greens are especially meaningful in many African American households since they were easy crops for the enslaved to harvest.
RELATED: June Is Pride Month: 24 Ways to Celebrate Pride

Freedom, We Sing is written by Amyra León, with illustrations by Molly Mendoza. Photo courtesy of Flying Eye Books
6. Read a Juneteenth Book
Picture books are helpful for younger kids to make sense of the holiday's origins and importance. Here are 5 picks that I like from the National Museum of African American History & Culture:
7. Support a Black-Owned Business
Buy books, food, clothing, and more from Black-owned businesses near you. If you need a place to start, we've compiled lists of great Black-owned businesses, shops, restaurants, and landmarks in New York, New Jersey, Los Angeles, Houston, Philly, Chicago, Long Island, Westchester, Orlando, Atlanta, Connecticut, Boston, and Washington DC.