Black-Owned Restaurants, Shops, and Landmarks to Discover in Philly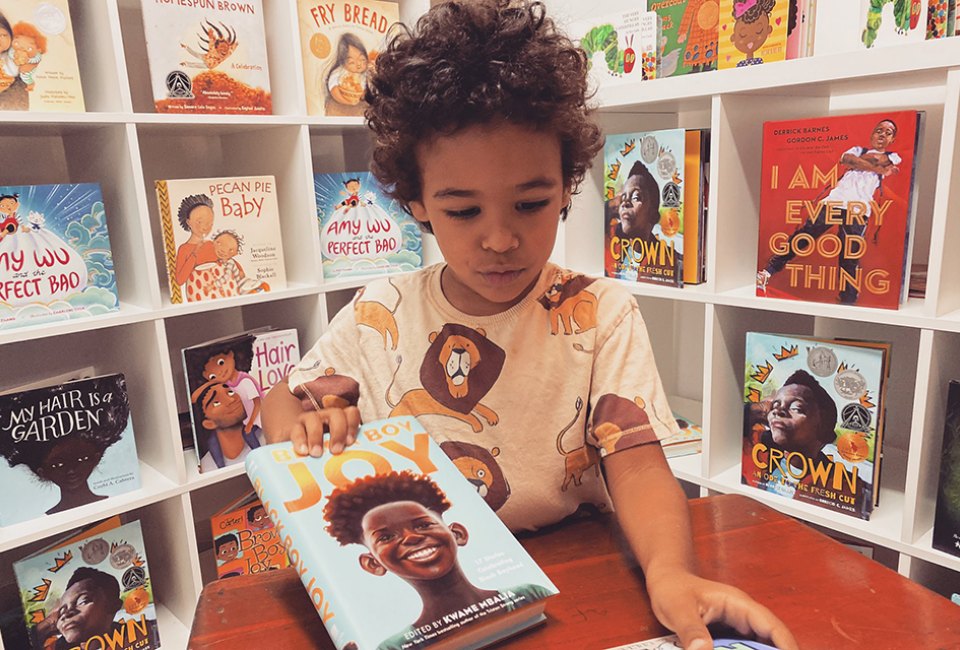 2/4/22
- By
Danielle Smith
Black-owned businesses in Philadelphia are thriving, and we're highlighting some of the kid-friendly places where families can show support during Black History Month, or any month. These Black-owned shops and landmarks reflect the diversity of Philly's Black community, teach our shared history, and enhance the culture of a city to which African Americans have made immense contributions.
Our list includes museums and historical sites that offer opportunities for important discussions around civil rights, alongside Black-owned restaurants and businesses where families will find some of the best eats, treats, and shopping in the city. For more family-friendly activities and events to celebrate Black History Month, browse our event calendar and the Best Things To Do in Philly in February with Kids. Check out 30+ Children's Books to Celebrate Black History Month for great reads that represent and affirm kids of color. If you'd like more stories like this sent straight to your inbox, sign up for our newsletters.
Black-Owned Restaurants in Philly and the Suburbs
Any conversation about the food scene in West Philly should include Booker's. Soul food favorites like fried okra and blackened catfish mingle on the menu with healthier options like beet salad and black bean burgers, but families know Booker's for its brunch. Kids will enjoy the pancake of the day on the grown-up menu or french toast sticks on the kids' menu, especially when you can book a table outdoors at one of the city's most beautiful streeteries. After the meal, cross the street for playtime at Cedar Park.
Pick from flavors like Cookie Monster or Unicorn at this Glenside scoop shop with an eclectic menu of ice cream options. Dreams also has vegan ice cream, a sugar-free selection, and water ice.
With a regularly-operating stand at Cherry Street Pier, you can nab a box of the most decadent, deep-fried french toast morsels, with a side of bacon-on-a-stick whenever you happen to be at Penn's Landing. French Toast Bites frequently brings their anytime-breakfast fare to events and pop-ups around the city, so check their website to find out where you can catch their food truck next.
Jamaican D's — Fairmount and Germantown
This is my family's go-to spot whenever we're craving jerk chicken, beef patties, and rice and peas. With a food truck location in Fairmount and a takeout-only restaurant in Germantown, you don't have to go far to experience authentic island flavors.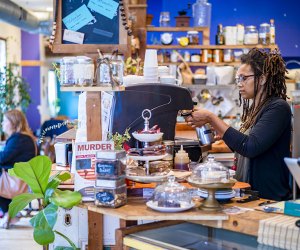 Come for the coffee, stay for the community at Franny Lou's Porch. Photo courtesy of the cafe
The name of this Kensington cafe honors the legacy of abolitionist Frances Harper and civil rights activist Fannie Lou Hamer. Serving coffee and tea with sandwiches like the Pro-Community (hummus and veggies) and Pro-Love (turkey sausage, egg, and cheese), the food is always organic and the vibes are always uplifting. Franny Lou's has a kid's corner, library, and garden for families to enjoy a meal and meaningful connection with others amid works by local artists and abundant greenery. Franny Lou's events include storytimes and craft sessions for children. The cafe also sells art and rents space for events.
Families can enjoy their meal with a side of Monopoly at this South Philly board game cafe, where kids can choose from a library of over 1200 games. Children 12 and under always play for free, and the restaurant has a full retail store for browsing after the meal is done, and someone is crowned the family Battleship champion.
Please do not show up at The Cheesecake Lady in Elkins Park in the late afternoon banking on a fresh dessert. As too many of us have found out the hard way, this bakery is known to sell out within a few hours of opening at 10am, and the line starts forming before then. Check the website or Facebook Page for updated flavor lists, which feature options like Twix, Fruity Pebbles, and Caramel Apple Crunch.
The versatile sweet potato is a cooking staple in many African American homes. Sweet T's Bakery uses the root vegetable to make almost all of its desserts, from sweet potato pie to sweet potato cheesecake to sweet potato pound cake. Sweet T's made history as the first Black-owned bakery in Reading Terminal when it opened in 2021.

Ashley at Active Mom Fitness prioritizes the health of mothers and mothers-to-be. Photo courtesy of Active Mom Fitness
Black-Owned Shops and Businesses Near Philly
This Fishtown fitness studio prioritizes the health of moms and moms-to-be through prenatal and postnatal training and classes focusing on cardiovascular endurance, strength training, breathing, relaxation, and stretching.
Harriet Tubman reimagined as a zombie-slayer and the Tuskeegee Airmen reimagined as an all-female crew are just a couple examples of the truly unique reads at Amalgam. Owner Ariell Johnson opened this store in 2015 when it became the first Black woman-owned comic book store on the East Coast. The selection at Amalgam is known for its commitment to inclusion and representation of children from all backgrounds. Let the kids pick out a book, toy, game, or poster, and enjoy Philly Fair Trade coffee while they browse.

Let the creativity flow at ARTrageous Brush & Flow. Photo courtesy of the studio
The studio at ARTrageous Brush and Flow is where Philly families go to create colorfully painted canvases. Or, owner Moneek and her team will bring the painting party to you. Check their calendar for kid-friendly events like pajama painting and family nights, and make sure to book ARTrageous for your next Philly kids birthday party.

Atomic City Comics is one of the coolest spots on South Street. Photo courtesy of Mommy Poppins
Among all the quirky vintage shops that make South Street cool, Atomic City Comics is one of the only black-owned businesses that the whole family can enjoy. Parents will immediately appreciate the nostalgia provided by figurines of Biggie Smalls and the massive collection of old-school comic books. There are plenty of newer titles for the younger generation, and lots of comics with Black superheroes and characters. Atomic City also carries popular graphic novels from the Dog Man series and books by kid-favorite author Raina Telgemeier.
With the tagline "The Culture Delivered," Black and Mobile is a Philadelphia-based delivery service for the city's Black-owned restaurants. Using BAM for your family's next food order is a great way to ensure that more of your money stays in the Black community.

Philly tots stay stylish and adorable with help from Buddha Babe. Photo courtesy of the shop
Keep your little ones laced in the cutest threads from Buddha Babe, a kids boutique in Germantown with to-die-for adorable outfits, blankies, and accessories. Buddha Babe also hosts sewing workshops, classes, camps, and sewing parties for your child's birthday.
For the family of sneakerheads that keep up with every trend, this consignment shop has everyone covered with vintage streetwear, pre-owned Yeezys, and stylish collectibles like a Supreme x Pyrex measuring cup.
Hakim's is the oldest Black-owned bookstore in Philadelphia, specializing in African American history. The same family has been running the store for over 60 years. A robust children's section has titles from the popular "Who Was" series as well as board books for younger kids like "A is for Activist."
If you see someone making book deliveries on horseback around the city, it's probably Jeannine Cook or one of the staff members from Harriett's Bookshop. The name is derived from Harriet Tubman, and visitors will find art and artifacts that pay tribute to the abolitionist's legacy throughout the store. Cook is an outspoken advocate for Philly's Black community, and Harriett's selection focuses on women authors, activists, and artists. In addition to frequent in-store events, the shop has a wide variety of children's books.
Families looking for braids, twists, dreadlocks, or other natural Black hairstyles should have the StyleSeat page for Marquita Carter bookmarked. She comes to your home in the city, suburbs, and even New Jersey with a full arsenal of products to create beautiful protective styles that last for weeks or something unique for a special occasion. Marquita makes her own products and is super patient with kids, which makes her tough to book. I use Marquita for my three (!!!) daughters and we're never disappointed.
Looking for one-of-a-kind scents to fill your home, or interested in creating your own? Love 'N Honey Candle Company in the Plymouth Meeting Mall can help. Scents like Dry Gin + Cypress and Pineapple Sage are hand-poured in Philadelphia, and the store has a candle bar that lets guests add multiple fragrances to a coconut wax blend for customized creations. Love 'N Honey hosts candle-making parties that are perfect for the scent-loving teen.
Regulars rave about the sweet potato pie here, which you can enjoy while getting cozy on a couch with a good book. Uncle Bobbie's is a favorite hangout of Germantown residents, and local families will find plenty of kids' books and games. The store hosts regular weekly children's storytime among other events on its packed calendar. Uncle Bobbies is owned by Philly Native Marc Lamont Hill, a Temple professor, and media personality.
Another great option for families looking for Black hairstyles, Versatilité has two stylists that cater to kids. Owner Teannia offers weekday specials, "camp" packages during the summer, and instructional classes for those looking to tackle hair care and styling on their own. You can book Versatilité on StyleSeat, which is a great place to discover Black beauty professionals.

The African American Museum in Philadelphia focuses on the contributions Black leaders have made to the city. Photo courtesy of the museum
African American Historical Sites Near Philly
Located in Philly's Historic District, AAMP has four galleries dedicated to African American history and culture and consistently hosts kid-friendly programs and events. Every second Saturday is Family Fun Day, with activities, workshops, and storytelling. The museum's exhibits draw from three themes—The African Diaspora, Contemporary Narrative, and The Philadelphia Story.
Exhibitions, events, and educational programs at the African American Museum of Bucks County share the history of the Black experience through the stories of African Americans from the Philadelphia region and beyond. Visitors to the museum can discover art and artifacts from throughout the diaspora.
The sprawling estate at Cliveden was the home of the Chew family and the site of the Revolutionary War's Battle of Germantown. The mansion employed enslaved Africans among its many servants, and tours of the property and educational programs offer a glimpse into what life was like for the enslaved. Historical reenactments at Cliveden often feature Black reenactors playing African American figures from the Revolutionary War.
The Germantown home transformed into The Colored Girls Museum defines itself as a memoir museum, with art and artifacts that pay tribute to the experience of growing up in America as a Black woman. Visitors will find objects belonging to Black women who worked as housekeepers when those jobs were one of few opportunities available, or porcelain statues representing the four girls killed in the 1963 Birmingham church bombing. Many of the exhibits are made up of everyday items that aim to start a dialogue about the struggle to be seen and appreciated felt by many African American women.
For a time during the 1850s, Harriet Tubman lived in Cape May among a community of anti-slavery advocates, where she worked to support her Underground Railroad missions. Housed in a 19th century home, the museum was built to honor her tireless work as a fearless abolitionist, activist, and slave liberator.
This former home of the Quaker abolitionists was a stop on the Underground Railroad. The Johnson family worked with other abolitionists in Philadelphia during the 19th century to secure freedom for enslaved Africans by offering them safe passage during their attempts to escape. The house is intact and open for tours.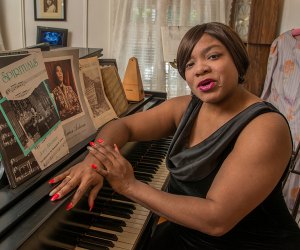 Find lots of memorabilia from one of the greatest contraltos of all time at Marian Anderson Residence and Museum. Photo by R. Kennedy for Visit Philadelphia
Barrier-breaking classical singer Marian Anderson bought the home at 762 South Martin Street in 1924. It's since been remodeled into a museum recognizing her pioneering accomplishments. Books, photos, memorabilia, and films make up the exhibits here, with a theme that changes yearly.
Reverend Richard Allen founded Mother Bethel AME church in the late 1700s, making it the oldest parcel of land continuously owned by African Americans in the country. The cavernous interior of the church is breathtakingly beautiful, with stained glass windows that depict religious and Masonic imagery. The church's basement crypt is home to a museum with Allen's tomb, original pews, the original pulpit, and muskets used by Black soldiers during the war of 1812.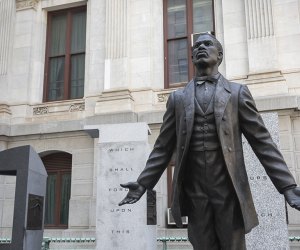 A Quest for Parity stands outside City Hall. Photo by E. Frizelle for Visit Philadelphia
As a free Black man living in Philadelphia in the 19th century, Octavius Catto was a teacher and scholar, accomplished athlete, and civil rights activist. A Quest for Parity is the name of the 12-foot bronze statue representing Catto at City Hall.
Visit this Philly landmark to learn about the singer, actor, athlete, and activist who lived out his last days in this West Philadelphia home.
Sign up for the Mommy Poppins Newsletter today!
i