Black-Owned Restaurants, Businesses and Landmarks to Discover in Orlando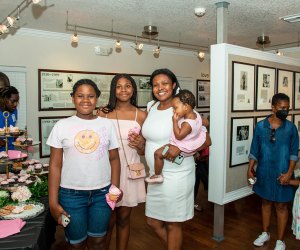 2/4/22
- By
Charlotte B
In honor of Black History Month, we've rounded up a list of black-owned businesses and historical sites and museums you can visit to learn more about African American history in Central Florida. From the first all-black incorporated city in the U.S., to the field where Jackie Robinson played his first professional baseball game, Central Florida has many historical sites and landmarks to explore.
We've also included a list of black-owned restaurants and shops near Orlando. Many local businesses have been impacted by the pandemic over the last couple of years; your family can support these establishments not just in February, but all year. While this is a spotlight of some amazing black-owned businesses, it by no means encompasses everywhere worth visiting.
For more things to do this month, check out our list of the Best Things to Do in Orlando in February with Kids. If you haven't already, be sure to sign up for our email list to get things like this delivered straight to your inbox.

You may want to get two cups of water when enjoying Chicken Fire's spicy creations.
Black-Owned Restaurants in Orlando
Chicken Fire offers Nashville-style hot chicken, where you can pick your own heat level: soulful (no heat) to insanely hot. A kid box is available for little ones.
Chill Pop Lounge is one of the coolest places to hang out in Orlando, serving gourmet ice-pop creations.
The menu at Island Thyme's fast casual restaurant is inspired by foods from the U.S. Virgin Islands. Popular menu items include coconut shrimp, jerk chicken, rice bowls, and more.
Central Florida snackers are sure to love Major Project Pop's take on kettle corn, offered in a variety of flavors. Popcorn can be ordered online or picked up on Edgewater Drive in College Park.
Enjoy outdoor lakeside dining with Memphis-style barbecue, as well as kayaking, corn hole, fishing, and more.
This popular soul food restaurant is located in historic downtown Sanford. Menu options include chicken and waffles, shrimp and grits, salmon croquettes, jerk chicken and rice, and more.
Visit Sister Honey's for a large selection of artisan baked goods including pies, cookies, cupcakes, pastries, and more.
This casual fast-service seafood restaurant is famous for its lightly breaded, hand-peeled, cooked-to-order shrimp, as well as the amazing cornbread!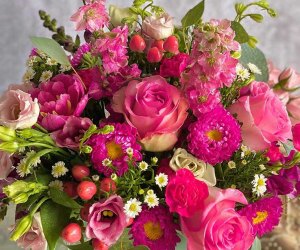 Bloom in Glory creates stunning floral displays.
Black-Owned Shops and Businesses Near Orlando
Bloom in Glory is a local florist studio servicing the Orlando, Wedgefield, and Titusville areas with high-styled floral designs.
Serving the community since 1992, C&C Pharmacy is committed to improving Orlando's health care with fast and personalized service.
This Longwood book store distributes and self-publishes a variety of books, including multicultural, religious, children, and more.
Naked Bar Soap Company specializes in natural bath and body products using whole ingredients and inviting scents to promote a routine of daily self-care and wellness.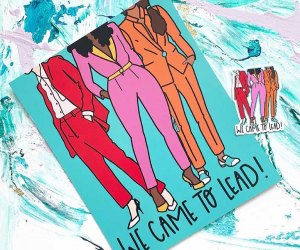 Pretty Peacock Paperie, founded by a local mom, sells witty paper products and gifts.
Founded by a local mom, this social stationary company offers custom wedding and event invitations, as well as a variety of greeting cards, apparel, and accessories.
update 2023: permanently closed
Princesses & Princes is an indoor playground in Ocoee geared toward babies, toddlers, and young kids. In addition to open play, weekly events are offered such as Music Mondays, Books & Cookies, and STEM.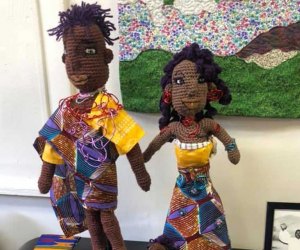 Head to DeLand to visit the African American Museum of the Arts (AAMA).
African American Historical Sites & Museums in Central Florida
Located in historic DeLand, AAMA is devoted to showcasing African American culture and art. The museum features works of established and emerging artists, as well as a permanent collection of African artifacts, including sculptures and masks. It is open Wednesday through Saturday, and admission is free.
The Goldsboro Museum highlights the history and culture of Goldsboro, Florida. Goldsboro was the second all-Black city to be incorporated in the United States. Near the museum is a heritage garden, art square, and historical cemetery.
Established by Crealde School of Art, the Heritage Center pays tribute to the Hannibal Square African American community in west Winter Park through its collection of photographs, public art, and oral histories shared from current and former residents. Currently, the center is open Tuesday-Thursday by appointment only, and allows walk-ins select hours on Fridays & Saturdays.
Harry T. Moore and his wife, Harriette, led the civil rights movement in Florida during the 1930s and 1940s. Both were educators in Mims and taught in segregated schools in Brevard County. The Harry T. & Harriette V. Moore Cultural Complex features a museum, memorial park, and replica house. The museum displays the couple's history through artifacts, films, and interactive exhibits.
Founded in 1887, Eatonville, Florida, is the oldest, self-governing, all-Black municipality in the country. The incorporation of this town marked a great achievement for once-enslaved African Americans. It was also the home to famous novelist Zora Neale Hurston, who wrote about her childhood town in several of her books. The town hosts an annual Zora! Festival in her honor.
Dr. Howard Thurman grew up in Daytona Beach and was a highly influential African American author whose voice helped to shape the non-violent foundation of the civil rights movement. His best known book, Jesus and the Disinherited, was inspiration for Martin Luther King Jr. leading up to the Montgomery bus boycott. Thurman's childhood home in Daytona Beach has been preserved as an educational center and is open for guided tours.
Visit the historic ballpark where Jackie Robinson played his first professional baseball game. In 1946, Daytona Beach was the first Florida city to allow Robinson to play, and the following year, Robinson broke Major League Baseball's color barrier by joining the Dodgers. The ballpark is now home of the Daytona Tortugas and the Bethune-Cookman Wildcats.
Mary McLeod Bethune moved to Daytona Beach in the early 1900s to establish a school for African American girls. The school later merged with a nearby boys school, making Bethune-Cookman College. Mary served as president of the college, now known as Bethune-Cookman University. Her Daytona Beach home has been maintained in its original state and is open for the public to visit.
About an hour outside Orlando, the Mary S. Harrell Black Heritage Museum is home to a large collection of artifacts, photos, and memorabilia to educate the public about Black history in small-town Florida during the 20th century. The museum hosts an annual Black Heritage Festival, as well as other events throughout the year. Admission is free, but donations are greatly appreciated.
The Orange County Regional History Center in downtown Orlando houses an ongoing historical exhibit to detail the triumphs and tragedies of African Americans as it relates to Central Florida's history. The exhibit also features paintings from Florida's Highwaymen, a group of self-taught Black artists whose work depicts Florida's landscapes and natural beauty.
Directly outside of Camping World Stadium sits the Tinker Field historic baseball diamond, landmarked in 2015 by the Orlando City Council. Martin Luther King Jr. gave his only Central Florida speech from the pitcher's mound of Tinker Field, a month before his death in 1964.
Converted from a hotel, this museum is home to Orlando African American memorabilia, displays about the civil rights movement, and African artifacts. The historic hotel served many now famous African American performers. It is part of the U.S. National Register of Historic Places.
Also known as The Hurston, this fine arts museum is named for African American writer and anthropologist, Zora Neale Hurston. She grew up in Eatonville, and her father became mayor in 1897, so it is fitting that the museum is located in this historic town. The museum features permanent and rotating displays from artists of African descent from around the globe. It is free to enter, but donations are appreciated.
Photos courtesy of the venues