30 Summer Day Trips in Connecticut To Take with Kids in 2020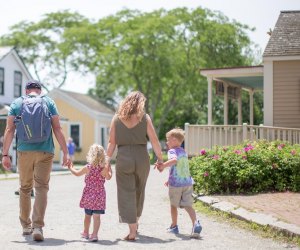 When you live in Connecticut and within a short drive of great beaches, state parks, and amusement parks, every summer weekend is an opportunity for a quick, easy family day trip with kids. Here, we've collected ideas for outings to attractions that are open or operating in 2020, usually with some extra restrictions or precautions (in line with Connecticut's reopening plan) to keep visitors safe.
Click through each link for more information and inspiration—whether you are looking to explore Connecticut's natural beauty, historic treasures, or thrills and chills (courtesy of a water slide or roller coaster). Remember to bring your trusty face masks and hand sanitizer along with your sense of adventure. Find even more summer activities in our Connecticut Summer Fun Guide.
Note: Attractions could change hours or close at any time due to shifting safety policies in 2020. Be sure to check in with each destination before heading out.
Summer Day Trips Around Hartford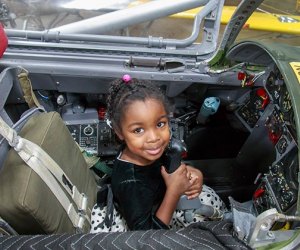 See what the inside of a cockpit looks like at the New England Air Museum. Photo courtesy of the museum
1. Sit in the cockpit of a fighter jet at the New England Air Museum. All three hangars are open to the public (and air) with 50 aircrafts to explore inside.
2. Admire restored carousel horses at the The New England Carousel Museum.
3. Enjoy unlimited rides on vintage vehicles at the Connecticut Trolley Museum.
4. Spend the day exploring water forces, bubbles, robots, galaxies, and more scientific wonders at the Connecticut Science Center, reopening June 26, 2020.
5. Get hands-on with prehistoric history at Dinosaur State Park. Trails are open, though the museum is closed due to COVID-19.
6. Mark Twain wrote some of his most famous stories while living in Hartford, and his gothic style home is a museum. Take a tour and learn all about Samuel Clemens and his family.
Summer Day Trips Around New Haven and Mystic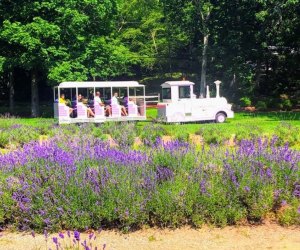 Family groups are welcome to board the trolley together for a "purple train" ride around Lavender Pond Farm. Photo courtesy of the farm
7. Take a deep breath and inhale the fragrant smell of lavender as you stroll (or ride a purple train!) around Lavender Pond Farm.
8. Spend the day ziplining, wake boarding, and cliff jumping at Brownstone Exploration & Discovery Park in Manchester.
9. Pack a picnic basket and blanket and head for the beautiful hills of Storrs/Mansfield at the University of CT. Park your family under a tree at Horsebarn Hill, then enjoy an ice cream cone at the renowned UConn Dairy Bar, run by the School of Agriculture. Currently available for curbside pick-up
10. Walk amongst the prehistoric giants at The Dinosaur Place.
11. Visit Mystic for the aquarium, seaport attractions, and, of course, pizza.
12. Visit Ocean Beach Park for swimming and old fashioned boardwalk fun.
13. Take a ride on a vintage 1927 wooden roller coaster at Lake Compounce, the nation's oldest, continuously operating amusement park.
Summer Day Trips Around Fairfield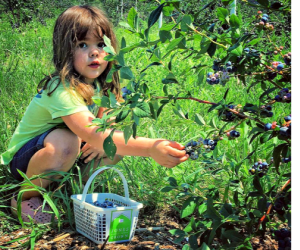 Blueberries are ripe for picking in July at Jones Family Farm.
14. Go berry picking at Jones Family Farm or one of the many others statewide.
15. Explore 80 miles of trails, Nature's Playground, Otter Pond, Bendel Pond Picnic Area, and the Animal Embassy at the Stamford Museum and Nature Center.
16. Race one another on SuperCharged, the largest multi-level go-kart track in the world—reopening June 26, 2020.
17. Spend the day at one of Connecticut's affordable beaches (state beaches are free!) on the Sound.
18. Sit on the edge of the Housatonic River and enjoy a lobster roll at Knapp's Landing in Stratford.
19. Head out to Hummock Island Oyster Farm, explore its beauty, and see how oysters are farmed.
20. Pack your sense of adventure and swing through the trees at Adventure Park.
21. South Norwalk is home to the Maritime Aquarium. The Maritime will provide visitors of all ages with insight into the rich biodiversity of Long Island Sound.
22. Cruise around Norwalk Harbor with the Seaport Association. The Lighthouse Cruise will take you by three historic lighthouses.
Summer Day Trips Around Litchfield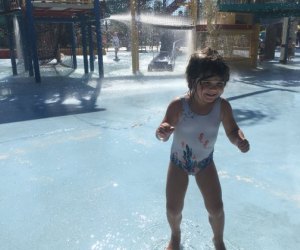 Cool off at Splash Away Bay at Quassy Amusement Park. Photo courtesy of Mommy Poppins
23. Soak in the fun at Quassy Amusement Park with old-fashioned rides, a small water park, and a lake with a beach...all opened with capacity restrictions, so be sure to book tickets before heading out.
24. Go on a drive-through safari and see exotic wildlife at Action Wildlife. Currently only open Friday-Sunday from 10:00-3:00.
25. Spend the day rafting down the scenic Housatonic River with Clarke Outdoor River Guides.
26. Go on a horseback trail ride or pony ride at Lee's Riding Stables.
27. Enjoy camping under the pines at Housatonic Meadows State Park. The cold river is also ideal for fly fishing. Tent camping will be open on July 8, 2020.
28. Enjoy a movie from the comfort of your own car at the Pleasant Valley Drive-In in Barkhamstead. Or, visit another one of Connecticut's awesome drive-in movie spots.
29. Pick your favorite fruits all summer long at March Farms. They have farm fresh cherries, blueberries, and peaches.
30. Experience the fresh air and quintessential New England charm in nearby Cornwall with a trip over the Cornwall Covered Bridge on an electric bike. Drivers need to be 18 or over, but kids can ride along on a cargo bike.