10 Winter Walks and Hikes to Explore in NYC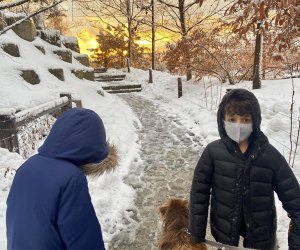 If your family is like mine, cooped up in an oh-so-cozy apartment, and desperate for extra chances to get moving, this list of winter hikes and winter walks across NYC is for you.
While it's easy to imagine the five boroughs as a concrete jungle with seasonal activities concentrated indoors, there is loads of exploring to be done outdoors. So, bundle up and get out to enjoy one of these winter walks. Our list includes both scenic hiking trails in our many parks and some off-the-beaten-path ideas for checking out a neighborhood you haven't perused in a while—if ever.
Read on for 10 winter walks within city limits, and find plenty more seasonal picks in our Winter Fun Guide.
Editor's note: While we are trying to promote safer activities that occur outdoors or with social distancing guidelines in place, please keep your family and others safe by always wearing a mask and maintaining an appropriate distance.

There's always something new to see on The High Line, including Simone Leigh's Brick House on the Plinth through spring 2021. Photo courtesy of Friends of the High Line
Gansevoort Street, 23rd Street, or 30th Street just west of 10th Avenue
The High Line is a beautiful, slender park in the sky, built on a historic, elevated railroad bed and accessible by elevator. It stretches out for almost 2 miles, running north-south along Manhattan's west side from the Hudson Yards to Chelsea. Several exits lead out of the park and back to ground level, allowing families to explore for as long as their feet stay warm. The park features many charming areas to wander to and through, including gardens, public art, and many spots perfect for a (cold!) picnic, snowman building, or some always-entertaining people watching. Following a pandemic-forced closure, The High Line is now open daily; weekend visits require FREE timed-entry tickets, which can be booked online. The one-way traffic flow restrictions have also been lifted so that visitors can walk in either direction.
700 Rockland Avenue at Brielle Avenue
The Greenbelt Conservancy offers six trails to explore, and each one is identified as easy, moderate, or difficult. The Multipurpose Trail allows for bike riding if weather and conditions permit. The best bet for little kids: The Nature Center Trail's "E Trail" section, which is specially curated for young children's smaller footsteps. You'll see various trees, wildlife, like birds and chipmunks, and cross a footbridge. As it warms up, you can watch the gardens springing back to life. Cross-country skiing and snowshoeing are both allowed on Greenbelt trails.
RELATED: 9 Best Ice Skating Rinks in NYC for Kids and Families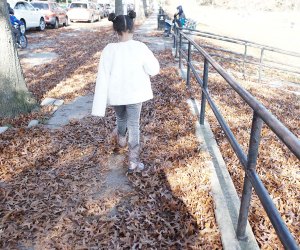 With five separate hiking trails, Van Cortlandt Park keeps nature enthusiasts entertained in any season. Photo by Jody Mercier
Broadway and Van Cortlandt Park South
Find five trails for adventurous nature seekers in the Bronx's beautiful Van Cortlandt Park. Though they vary from easy to difficult, none are longer than a mile and change, with the longest ones stretching for just 1.5 miles. Each trail offers its own majesty, as well as great opportunities for cross-country skiing and snowshoeing. On the Putnam Trail, train aficionados can admire the route where railroad tracks formerly ran through the park. The Old Croton Aqueduct Trail runs along a stretch that once brought water into NYC. This nature-packed green space is a perfect backdrop for a nature-themed photo shoot.
66th Street to 72nd Street
It's easy for New Yorkers to overlook Central Park, which tends to be thought of as a place for tourists. But it's got so much to offer; it's worth remembering. One short but notable stroll is The Mall and Literary Walk, the only straight line incorporated into Central Park's original design. This path is just long enough to get the blood pumping without any frostbitten fingers on a frigid day. Statues of famous writers decorate the quarter-mile path, which leads to the Bethesda Terrace and fountain, offering a visual cornucopia of intricate carvings and architectural eye candy. Just beyond, explore The Lake, where nature abounds, and during warmer months, rowboats and gondolas are available to rent. Afterward, veer "off-road" to explore more of the painstakingly-designed park at your leisure. Cross-country skiing and snowshoeing are allowed in Central Park, and it's also home to some of the city's best sledding hills.
RELATED: Public Art Lights up Downtown: Electric Dandelions, Talking Heads, and More Installations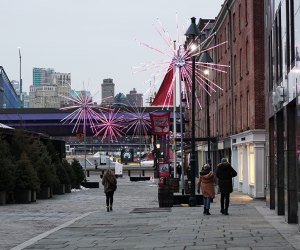 The cobblestoned streets and old-time architecture around the South Street Seaport make for a quaint winter walk. Photo by Jody Mercier
Fulton Street at South Street
The Seaport area in Lower Manhattan has come a long way since it was an active seaport. Cobblestone roads lead past historic buildings and shopping, coffee shops, destination playgrounds, restaurants, and more. You'll see public art displays and large boats (such as The Wavertree), accessible via tickets from the South Street Museum. There are many opportunities to quickly warm up on a cold-weather walk in the area. Follow Fulton Street to the water, and it's a game of choose-your-own-adventure. Turn left on South Street to find world-class, Instagram-worthy views of the Brooklyn and Manhattan Bridges and stroll the East River Esplanade. Go straight to explore the newly renovated Pier 17. Turn right to discover a floating park, ferries, and a heliport, where children of all ages love watching the comings and goings of the many giant "whirlybirds."
500 25th Street
This national historic landmark was built in 1838 and spans 478 acres of "art, history, and nature," as well as "hills, valleys, glacial ponds, and paths." It also happens to be the final resting place of 578,000 "permanent residents," including many notable celebrities like Jean Michel-Basquiat, Leonard Bernstein, and Civil War generals. It is free to walk the grounds and open every day until 5pm. PDF maps are provided via its website and are also available through its app.
RELATED: Cross-Country Skiing Near NYC: Where to Hit the Trails With Kids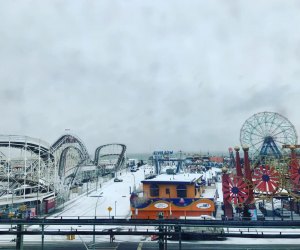 There's something endearing about seeing Coney Island's usually crowded shores, boardwalks, and seaside amusements deserted in the quiet of the winter. Photo courtesy of Coney Island
Stillwell Avenue
Taking the N, F, Q, or D subway trains to Stillwell Avenue leaves you just steps from Coney Island's Riegelmann Boardwalk. While many of the attractions (such as the infamous antique Cyclone roller coaster) are currently closed due to COVID, the nearly 3 miles of boardwalk are open year-round for walking, bike riding, or even cross-country skiing and snowshoeing. The rides may be still in the offseason, but Nathan's world-famous hot dogs and the New York Aquarium are open for business nearly every day. Taking in the area's murals and the sea breeze is free and uplifting.
Grand Central Parkway and Van Wyck Expressway
This Queens park hosted two New York World's Fairs in the mid-1900s. At 1,216 acres, the area's crowning showpiece is the Unisphere, a relic from its heyday as a fairground. While you're there, get out some energy at the cool-themed playgrounds, check out the USTA Billie Jean King National Tennis Center, or pop into the Queens Museum to warm up and find your home on the famous Panorama of NYC. You can also add a little wildlife viewing to your journey with a stroll through the Queens Zoo, whose collection is dedicated to North American animals.
RELATED: 9 Winter Hikes to Take With Kids in Westchester and the Hudson Valley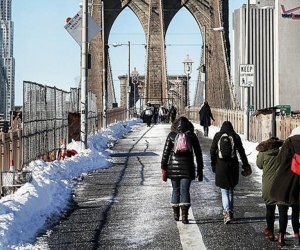 Winter is a great time to play tourist with a crowd-free walk over the Brooklyn Bridge. Photo courtesy of the Brooklyn Bridge
Entrances to the path located in City Hall Park
This looming, antique suspension bridge is known for its breathtaking vistas and a 1.1-mile long footpath connecting Lower Manhattan and Brooklyn. The length is perfect for a brisk winter day. Visit early in the morning or at dusk for the most crowd-free experience. From the Brooklyn side, access the footpath entrance at Cadman Plaza West and Cranberry and Henry Streets. From the Manhattan side, the entrance is located at Centre Street and Steve Flanders Square, off Park Row near City Hall.
Multiple entrances
If your legs still have life in them once you've made it across the bridge, consider picking up the Brooklyn Greenway and exploring the piers and paths in the beautiful Brooklyn Bridge Park. Eventually, the Brooklyn Greenway will connect all of the borough's waterfront neighborhoods through a series of bicycle and pedestrian paths spanning 26 miles from Greenpoint to Howard Beach.