Public Art Lights up Downtown: Electric Dandelions, Talking Heads, and More Installations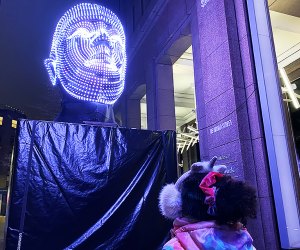 With Midwinter Break upon us, we've found the perfect excuse to blow bedtime: Strike out after dark for a Lower Manhattan art crawl where you can see Electric Dandelions, Talking Heads, and more fun public art sure to brighten these long winter nights.
So bundle up and hit the cobblestoned streets for a safe night on the town. From South Street to Wall Street, here are seven pieces of outdoor public art to see downtown right now.
Of course, we've got plenty more ideas to entertain your crew this school break week (30 to be precise!), plus this giant list of what's open now in NYC for families.
Editor's note: While we are trying to promote safer activities that occur outdoors or with social distancing guidelines in place, please keep your family and others safe by always wearing a mask and maintaining an appropriate distance.

The Electric Dandelions line Fulton Street putting on a stunning, multicolored display nightly.
Fulton Street
Through Friday, April 30
Fireworks in the dead of winter? That's the magic that these sculptures evoke after dark. During daylight hours, they're more seeded dandelions that look like they're ready to be carried off by the wind but come dusk, this series of 10, 28-foot-tall structures comes to life. Forty-one LED-laden tubes jut out from each sculpture's center, putting on a beautiful bright display. Some twinkle and sparkle, while others seemingly explode, and they're all a striking sight when taken in up close or from a distance. The display, which was created by artist Abram Santa Cruz and LA-based art collective Liquid PXL, has previously been displayed at Toronto's Light Festival, Jerusalem's Festival of Lights, and Burning Man. It's currently on display along Fulton Street and Pier 17.
Daisies – South Street Seaport
Seaport District
Through Friday, April 30
Curated by artist Paige Silveria, Daisies provides an art gallery experience in the open air and showcases the work of more than 30 emerging artists. The multidisciplinary collection includes mixed-medium pieces and photography and is best viewed after dark.
RELATED: Outdoor Art Day Trips Near NYC

Ziggy by Hou de Sousa was previously displayed in the Flatiron District in 2019 but finds a winter home downtown.
Three more notable installations in the neighborhood include The Hands of Inspiration on the facade at 195 Front Street, Ziggy at the 200 Water Street Plaza, and Peace, Love & Happiness on the Riverdeck at Pier 17.

Even the grayest of winter days can be brightened by Peace, Love & Happiness, and the view of the Brooklyn Bridge!
The Hands of Inspiration, by Kareem Fletcher, features two pairs of brightly colored, almost holographic looking hands framing the building's doorway and showcasing an array of multicolored faces meant to highlight diversity, unity, and equality. Ziggy is a series of neon cord-tied benches that manifest as a cool glow-in-the-dark installation at night. Peace, Love & Happiness add a little whimsy to the riverfront.
RELATED: 14 Family-Friendly Openings We're Anticipating in 2021

Position yourself between the Talking heads and prepare to be mesmerized by their light-powered conversations.
85 Broad Street
Through Sunday, March 21
Hungarian-based artist Viktor Vicsek designed this pair of 21-foot sculptural faces. Framing the entrance to the office building, the Talking Heads gaze down on passersby—my daughter commented almost instantly that she felt like she was being watched—but really come to life after dark. With the help of more than 4,000 LEDs, the Talking Heads communicate via light. They're mesmerizing to watch whether you're walking by or taking a seat on Pearl Street, which has been transformed into a lovely open-air restaurant row by local businesses.

After trekking across Lower Manhattan, C/C offered a welcome respite and a beautiful light show all its own.
C/C – Financial District
85 Broad Street
Through Sunday, March 21
Directly south of Talking Heads, at the corner of the public plaza outside 85 Broad Street, you'll find C/C. This semi-circle acrylic bench is a complex piece of public art meant to delight the senses day or night. In the sunlight, it casts an array of shadows. After dark, it puts on a rainbow-hued light show thanks to its own LED lighting. We had fun sliding along its edges and chasing the rainbow lights as they changed colors.
All photos by author