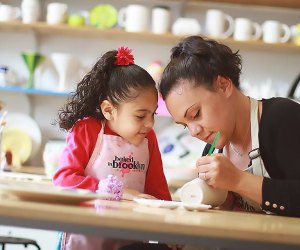 Kids' Happy Hour Activities in NYC to Keep 'Em Busy Until Bed
Even for the most innovative parent, the gap between late afternoon and bedtime can be challenging to fill—especially during bad weather. When it's too cold and dark for the park, the "witching hour" can feel like an endless desert of time. Most play spaces, libraries, and museums close the doors before 6pm, so it's hard to justify schlepping across the city for a short window of playtime, especially when getting everyone fed is a factor. What's a parent to do? Well, check out our borough-by-borough breakdown of kid-centric locales that are open "late!" to keep your kids (little and big) busy till bedtime.
Manhattan
Modern Pinball NYC — Kips Bay
Bring the kids to Modern Pinball NYC, an interactive salute to the beloved, iconic arcade game. Part museum, part arcade, this spot has plenty to keep kids immersed until it's time to head home. Open play stretches until 11pm, and admission allows you to come and go as you please. A wristband gets you a discount at the kid-friendly Mad Hatter next door, so you can indulge in some pub grub for dinner.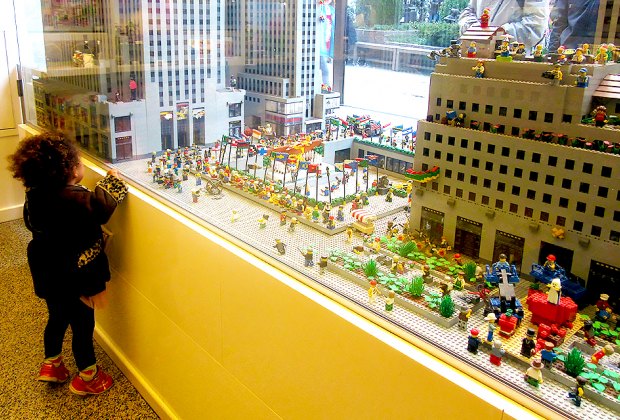 Kids will be amazed by the Lego Replica of Rockefeller Center. Photo by Jody Mercier
The Lego Store — Rockefeller Center/Flatiron
This spot feels less like a store and more like a play area where kids can get busy building! With displays to ogle and tons of Legos to play with, kids can get lost in a veritable Lego world until the store closes at 8pm. It's free to play, but be forewarned you may enter into some negotiating at the checkout counter. The best part about the experience is that you don't have to clean up!
Little Shop of Crafts — Upper West Side
Crafty kids will love an evening here. This gem goes beyond your average art space; the offerings include mosaics, T-shirt making, plastercraft, and painting. Kids can keep their hands busy with pencils, wood, paint, beads, and a laundry list of other materials. They don't charge by the hour, so you can take your time flexing your creative muscles up until they close at 10pm.
McNally Jackson — Soho
This bookstore's expansive children's section will keep your kids lost in the stacks until it's time to head home. If you get hungry, grab a snack at their cafe to tide you over. Its calendar is brimming with events of all kinds. Brooklynites, rejoice: a second location just opened in Williamsburg.
RELATED: 20 Indoor Places Where NYC Kids Play for Free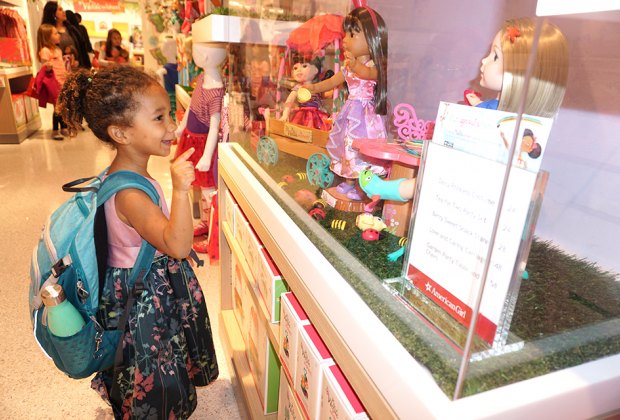 Check out the revamped American Girl store. Photo by Jody Mercier
American Girl Place — Rockefeller Center
If your kids aren't into Legos, try the American Girl Store right around the corner. It generally closes at 7pm, but check the calendar for events and extended hours.
Bowlmor at Chelsea Piers — Chelsea
Bowling, arcade game, and laser tag help burn off steam. More suitable for school-age kids (the height limit is 44 inches for most activities), there's plenty of fun to be had (and food to be eaten) before it's time to drag everyone home. Check out the Play Pass option for a free kids meal or appetizer and discounted rates.
Brooklyn
Aviator Sports and Events Center — Floyd Bennet Field
The list of activities available at this large indoor facility is impressive: ice skating, rock climbing, and a flight simulator, to name a few. There is a food court offering kid-friendly classics like burgers, corn dogs, and french fries. It stays open until midnight to appease the night owls, and even opens at 5:30am for the early birds. Though it's open seven days a week, not every activity is available all the time. Make sure to check the website before you go.
Play spaces are a sure fire way to tucker out a toddler before bed. Running Kids and Happy Cafe and Playground are two indoor options that will get your kids running, jumping, and playing until 9pm. Venture out into the neighborhood for some dinner, or eat at Happy Cafe before heading home.
Melody Lanes — Sunset Park
If good old fashioned bowling fun is more your speed, take the kids to up-and-coming Sunset Park to hit the lanes. They offer family specials on weeknights that include discounted prices and free popcorn for the kiddos. Score!
Baked in Brooklyn — Williamsburg
Now this is a relaxing end to the day. Try this craft studio when it's open on Wednesday, Thursday, and Friday until 10pm, so you can take your time perfecting your pottery. This is an activity that parents will likely enjoy as much as kids, and children of all skill levels will end up with a craft with which they are proud.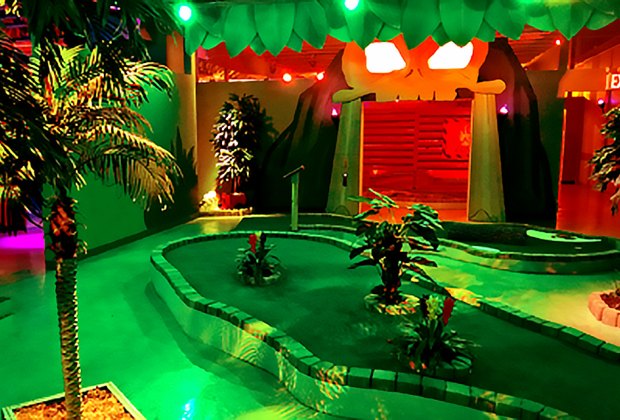 Try for a hole-in-one at Shipwrecked.
Shipwrecked Mini Golf — Red Hook
Another guaranteed crowd-pleaser. Kids under 2 play free, so no pressure if your toddler's putting game isn't up to snuff—there's plenty more to see, touch and explore. This playful, nautical-themed indoor course will inspire friendly competition that will make the evening hours fly by. Bonus: they serve food, and alcohol is available for the adults!
Staten Island
Fly High Indoor Trampoline Park
Trampolining is a notoriously tough workout, so while $15 for a 30-minute romp may seem pricey, that's really all the time you need to exhaust the kids before it's time to head home. Adventurous kids can bounce into a foam pit, or try their bungee slingshot for maximum air. Kids of all ages are welcome, but children under 5 probably should not bounce on the weekends due to high traffic. The Staten Island location is open until 8pm during the week.
Extreme Sports Paintball and Laser Tag
For the family looking for more than trampolines, this spot offers high-energy output fun for older kids. Aside from laser tag and paintball, visitors can escape the room if they're feeling like a cerebral adventure rather than a physical one with multiple VR experiences. No worries if you don't live on SI, there's also an LIC location. Leave the toddlers home for this one.
Showplace Entertainment Center
Nothing beats the classics, and Showplace Entertainment Center knows it. Bowling, arcade games, and pizza are a winning combination every time—and closing time is midnight most nights.
RELATED: Best Places for Family Playtime in NYC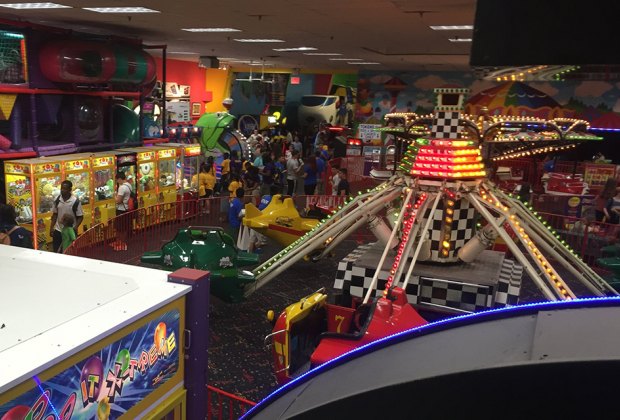 There's fun for everyone at Fun Station USA.
Fun Station USA
Another arcade that delivers on the classics: games and indoor rides for kids. It's essentially an indoor amusement park. It's open until 11pm and activities are offered a la carte, so there's plenty of time to beat your skee-ball score, hit the batting cages, or take one more spin on the mini-twister.
Everything Goes Book Cafe
Slow things down with Everything Goes Book Cafe. This quirky local shop is more than just a bookshop; it sells records and hosts events ranging from crafting to live music. There's a "kids corner," and a gallery space that the whole family can enjoy. It closes up between 9pm and 10pm, depending on the day, so you'll have plenty of time to peruse.
Queens
Funtopia USA — Middle Village
This one can't be beat when it comes to value and range of activities. Bumper cars for the older kids, a three-level playground for younger kids, and a toddler area for the littlest family members. It's open until 8pm on weekdays, and admission is just $10! As an added bonus, you can return and play for free within 30 days.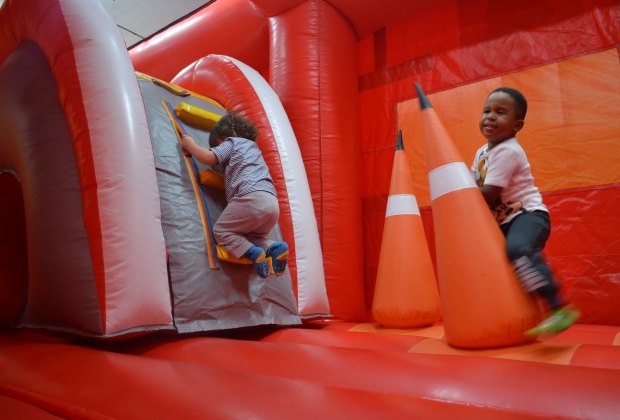 Jump n' Play is perfect for little ones and older kids too!
Jump N Play — Ozone Park
Say the word "bounce house" and watch your kids' faces light up. Head to Jump N Play to experience bounce houses galore. Don't forget to bring your socks!
Bounce N Play — Astoria
Explore Bounce N Play's creative indoor playground. Scale the rock climbing wall or take a spin on the carousel to cap off the day before heading home to bed.
Top photo of Baked in Brooklyn. All photos courtesy of the venues unless otherwise noted