10 Family-Friendly Restaurants in Sunset Park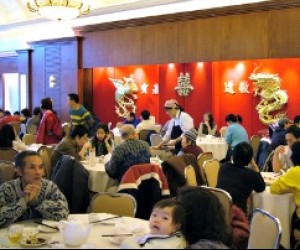 Our series of posts on Sunset Park continues with a look at some of our favorite family-family restaurants in the area. As the home of Brooklyn's Chinatown, Sunset Park has long been a foodie destination for authentic dim sum and Chinese cuisine, mostly on or around Eighth Avenue, which is where the neighborhood's annual Lunar New Year Parade takes place.

Sunset Park also has a rich Hispanic population, so there are a number of eateries serving up staples like Mexican tacos and Puerto Rican mofongo along Fourth and Fifth Avenues, plus one spot that harks back to the area's original settlers: the Danish Athletic Club. And while overall the community has been relatively untouched by the hipster artisanal dining scene in neighboring Park Slope, there are a few upstarts in the South Slope section of the nabe, like beer garden Greenwood Park, which occasionally hosts kids' events on weekends.

Here are our top 10 places to eat in Sunset Park with kids.
Taqueria El Maguey
3910 Fourth Avenue between 39th and 40th Streets
As you can tell from the name, tacos are the house specialty at this hole-in-the-wall. However, there are a lot of other Mexican staples on the menu, including excellent burritos, carnitas and tamales. Though Taqueria El Maguey hasn't yet been discovered by the larger foodie community, it's popular with locals. Since seating is scarce, on nice days you're best off ordering to go and eating in nearby Sunset Park, which is about three blocks away.

Café Zona Sur
4314 Fourth Avenue between 43rd and 44th Streets
If you're craving a sit-down spot, this bistro-style restaurant is a good bet. Opened by a couple who are both veterans of NYC's restaurant scene, Café Zona Sur serves "New American" cuisine so there's a bit of everything on the menu, from Italian (risotto, pasta) to French (Croque Monsieur) to Hispanic (tortas, guac) and the ubiquitous salads, sandwiches and burgers. Open for breakfast, lunch and dinner on weekdays, it has a super-popular weekend brunch with kid-pleasers like brioche French toast and Nutella crepes topped with bananas.

Don Paco Lopez Bakery
4703 Fourth Avenue near 47th Street
Opened in 1991, this family-owned bakery serves some of the best Mexican sweet bread in NYC, along with delicious tamales (the latter only on weekends). During Hispanic celebrations like Day of the Dead and Three Kings Day, Don Paco Lopez is the go-to place to pick up holiday treats like pan de muerto and pan de roscas.

Gina's Pizza
3905 Fifth Avenue near 39th Street
Hands-down the best pizza in the 'hood, Gina's has a variety of interesting specialty pies (vodka sauce pizza, taco pizza). But there's a lot more on its menu than pizza, including sandwiches, wraps, pasta dishes and traditional Italian entrees, plus a few Hispanic offerings like burritos and the Platano Loco sandwich: chicken or roast pork with lettuce, tomato, Swiss cheese and mayo between two large fried plantain halves (hey, always good to cater to the folks in the neighborhood).

Savoy 4 Bakery Inc.
4501 Fourth Avenue at 45th Street
Most of Sunset Park's other Chinese bakeries are located on Eighth Avenue but this one stands out on Fourth Avenue, which is filled predominantly with Hispanic businesses. Locals on their way to the R subway station across the street pack the place in the morning thanks to its flavored coffee and a large assortment of bubble teas. But you can also pick up delicious pork buns, sesame balls, fruit tarts and other Chinese pastries.

Pacificana Chinese Restaurant
813 55th Street between Eighth and Ninth Avenues
When it comes to dim sum in Sunset Park, you have a lot of choices. However, unlike eateries in Chinatown which are used to catering to Westerners, the ones in Sunset Park are authentic in every sense, so it can be a challenge to read the menu and communicate with the servers. Thanks to its foodie cred, Pacificana is a bit more accommodating of tourists. Though this banquet hall can hold up to 500, there's still a wait for dim sum brunch during peak weekend hours. Kids should enjoy perusing the carts jam-packed with dumplings and rolls, or you can order main dishes off the Cantonese menu. The dragon-filled decor is pretty awesome, too.

Bamboo Garden
6409 Eighth Avenue between 64th and 65th Streets
Another popular dim sum hall with lots of space and selection. On weekdays, you can snag Cantonese specialties like Peking duck at a fraction of what you'd pay in Manhattan.

Danish Athletic Club
741 65th Street between Seventh and Eight Avenues
Situated on the border of Sunset Park and Bay Ridge, this 120-year-old institution originated in Red Hook as a social club but now functions mainly as a restaurant/banquet hall. A remnant of when Eighth Avenue was known as Lapskaus Boulevard after the Norwegian dish, DAC is no longer just open to members, though it's best to check its Facebook group or call 718- 748-7844 to confirm public hours before you go. Enjoy authentic homemade Scandinavian comfort food like fish pudding, meat cakes, boiled potatoes, and sweet and sour cabbage while surrounded by decades of memorabilia. There is no menu, instead the waiter tells you the daily options. A one-of-a-kind Old New York experience.

Baked in Brooklyn
755 Fifth Avenue between 25th and 26th Streets
Located across the street from the historic Green-Wood Cemetery, this bakery serves freshly baked bread (you can watch the staff work!) along with a slew of homemade treats like cupcakes, muffins, brownies, doughnuts and pastries. Parents will also appreciate the strong coffee.

Greenwood Park
555 Seventh Avenue between 19th and 20th Streets
This amazing 13,000-square-foot indoor/outdoor restaurant, bar and beer garden was formerly an old gas station and body shop. It's been very popular with families since it opened in 2012, so much so there's now a strict 21 and up policy after 7pm. However, during daytime hours, kids and parents are welcome to enjoy the eclectic pub menu (burgers, mac 'n' cheese, pretzel-encrusted chicken fingers), the bocce courts and the spacious backyard. In the past (and we hope the future, too), Greenwood Park has hosted Hip Tot family concerts with local kindie bands.

Read all of our posts about exploring Sunset Park, Brooklyn with kids.