Three Kings Day Parades & Celebrations for NYC Kids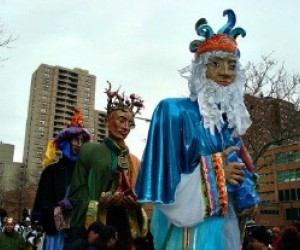 Christmas may come and go this week, but holiday celebrations continue into the New Year with Three Kings Day, which officially falls on Tuesday, January 6. Also know as Epiphany, Three Kings Day is the last official day of the Christmas season, or the "12th day of Christmas" as the song goes.

The holiday, which is especially popular in the Hispanic community, commemorates the Three Wise Men coming to visit the baby Jesus. The main event in New York City is East Harlem's 38th annual Three Kings Day Parade, which is sponsored by El Museo del Barrio. We've got the scoop on this procession and six other ways to celebrate Three Kings Day with kids in NYC. You can find even more seasonal fun in our Holiday Guide.
Click through to our listings for all the details, including location, time and appropriate ages.

Camels and Kings: A Gift-Giving Workshop – Morningside Heights
Saturday, January 3
$8 per adult-child pair
At this annual workshop, families can learn about the history of the holiday and then craft gift boxes, costumes and crowns inspired by the tale of the Three Wise Men. Online RSVP required.

Three Kings Day Celebration – Washington Heights
Saturday, January 3
FREE
This year marks the 10th anniversary of the Morgan Stanley Children's Hospital of New York-Presbyterian's Three Kings Day celebration. The first 500 kids to arrive at the indoor Wintergarden plaza snag a free toy and refreshments.

Three Kings Day Parade – East Harlem
Tuesday, January 6
FREE
NYC's biggest Three Kings Day celebration is also one of the best annual parades for families. Organized by El Museo del Barrio, this colorful procession features costumed school kids, live camels and sheep, floats, twirling dancers, rhythmic music and a trio of 12-foot-tall Magi puppets. The Three Kings themselves (or at least the local celebrities playing them), lead this merry band. It's a small community affair, but worth seeing for the live animals and exuberant elementary schoolers who participate. The 2015 edition honors the late Jack Agüeros, former El Museo director and founder of the parade back in the 1970s.

Three Kings Day Celebration – Lower East Side
Tuesday, January 6
FREE
Teatro SEA, NYC's only bilingual children's theater company, hosts its annual El Día de los Reyes Magos fete with crafts and live musical performances. Every child receives a small gift from the Three Kings themselves. However, in the past the lines have been long and time with the Magi limited.

Three Kings Day Celebration – Inwood
809 Bar & Grill, 112 Dyckman Street near Nagle Avenue
Tuesday, January 6
FREE
In years past, this fete sponsored by State Senator Adriano Espaillat and City Councilman Ydanis Rodriguez included a parade. But for 2015, it's a strictly indoors affair as the civil servants distribute toys to community children. For more information, call 212-544-0173 or email eventsRSVP@adrianoespaillat.org.

Three Kings Day Parade in Brooklyn – Williamsburg
Sunday, January 11
FREE
Yup, Kings County has its own modest parade and party. The festival starts at noon, and the procession kicks off at 2pm right under the Brooklyn-Queens Expressway and continues along Graham Avenue to Broadway.

Three Kings Day Show Un Canción de Dos Tierras – Williamsburg
Sunday, January 18
FREE
In this original show put on by local kids, Rafa, a young boy from the Dominican Republic, comes to NYC to study. Audiences experience the city through his eyes, including its sights and sounds.
Unconfirmed Events
The following annual Three Kings Day celebrations are not yet confirmed for 2015. We'll update this post as soon as we have the details.
Three Kings Day Community Celebration – South Bronx
FREE
Although the Bronx no longer has a parade (it used to years ago), it has a holiday celebration for families sponsored by State Senator Rubén Díaz and other local officials. The first 600 kids will snag a free toy.

Meet the Holiday: Three Kings Day Celebration – Crown Heights
Free with admission: $9
The preschool set can celebrate the holiday at the Brooklyn Children's Museum by crafting jeweled boxes and learning about the importance of the Three Kings in the Nativity story.
Find more seasonal celebrations in our Holiday Fun Guide.
Originally published in December, 2009.