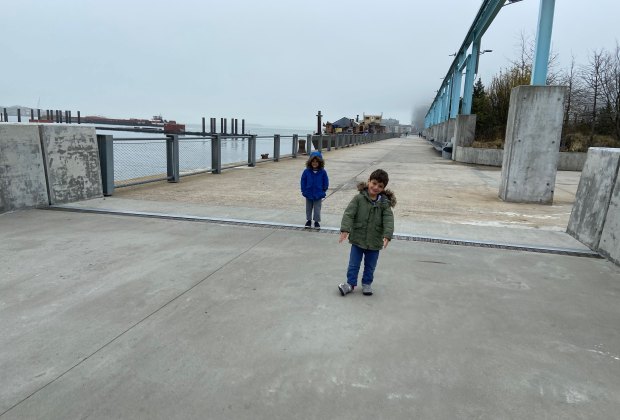 What's Open in Coronavirus Shutdown: Parks, Beaches, Hikes You Can do While Social Distancing
The first day of spring is usually filled with sunshine and plans for a care-free spring break, but this year things are shaping up quite differently. Much of NYC is closed thanks to the coronavirus shutdown, the Department of Education is shifting to a long-distance learning plan, and our event calendar has more virtual events than in-person ones to support the new norm of social distancing.
The rules of daily life are constantly changing, with Governor Andrew Cuomo announcing ever-tightening restrictions Friday afternoon. Individuals can go outside to collect essential supplies, like groceries and medicine, or for solitary, non-contact recreation, and must maintain a safe social distance of 6 feet.
But, no shelter-in-place order has been given, so if you need to get out with the kids, we've rounded up seven ways to do it safely during the coronavirus shutdown.
"There are people and places in New York City where it looks like life as usual," Cuomo said. "This is not life as usual. Accept it and deal with it. These provisions will be enforced. These are not helpful hints. This is not if you really want to be a great citizen. These are legal provisions; they will be enforced."
My 6-year-old and I have made a daily scoot part of our new routine. Show your kids what 6-feet of distance looks like before you head out, and then stretch your legs and let the kids get the wiggles out. Stop by a family-owned business and buy a takeaway treat if you feel comfortable. Even a few minutes of sunshine and fresh air can brighten the day.
Playgrounds and basketball courts aren't the best bet right now, and some other restrictions are in place, but there's plenty of green space in NYC. Head to your local park to toss a ball, play soccer, peep some nature, or just run free. We hear the cherry blossoms in Flushing Meadows Corona Park are starting to pop and imagine Central Park's Conservatory Garden is bursting with beautiful signs of early spring, so don't be afraid to take it all in, while keeping a safe distance from fellow park goers.
RELATED: Virtual Concerts, Storytimes, Events, and Classes to Stream From Home This Week
Like parks, bike paths are open for business, so dust off your steed, grab your helmet and pedal your worries away for a little while.
Many hiking trails are still welcoming visitors. Double-check with your chosen path before heading out, either by calling or visiting their social media sites and pack some snacks, water, and a sense of adventure. If you're stuck in the city, try and find an off-the-beaten-path route. We like the High Bridge in Washington Heights; Central Park's North Woods, as well as Staten Island's Greenbelt, Van Cortlandt Park's John Muir Trail, and the nature trails in Alley Pond Park.
5. Visit a State Park
There are 180 state parks in New York State, including nine within city limits, and Governor Cuomo has ordered all fees waived during the COVID-19 outbreak. While all programming is closed, there is plenty of space to roam and run. Be forewarned, though, that Saturday's sunshine meant some parks were overcrowded, prompting the state to close them early and send an email blast reminding the public that if a crowd begins to gather, you should find an alternate plan for solo recreation. City-based parks include Riverbank State Park, Shirley Chisholm State Park, Gantry Plaza State Park, Franklin D. Roosevelt Four Freedoms Park, Bayswater Point State Park, Clay Pit Ponds State Park, Hudson River Park, East River State Park, and Roberto Clemente State Park.
RELATED: Coronavirus Guide for Parents: 100s of Activities and Resources
6. Take a Drive
If you've got a car, hop in and go for a spin. Head to less-crowded streets, roll down the windows and let the breeze tickle your face. If you want a destination to stretch your legs, keep in mind much of the tri-state area is under some sort of coronavirus-induced lockdown. Still, many of the suggestions we've offered here are available in other localities. You can take a scenic hike to a New Jersey waterfall, or head east and visit a Long Island boardwalk for a fresh ocean breeze.
While beach season is still weeks away, New York City's 14-miles of shoreline make for plenty of open-air to roam. Heed the warnings from the Parks Department if you decide to visit. Orchard Beach is a great option if you've got a car. It's situated in the spacious Pelham Bay Park, which offers plenty of sand, plus nature trails and bike paths. There's a good, long, wide stretch of boardwalk stretching from Coney Island to Brighton Beach, too.