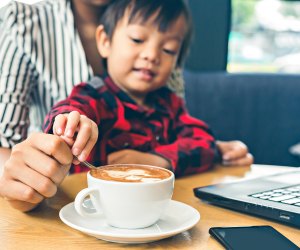 10 Best Kid-Friendly Coffee Shops around LA
After a long night with a baby, or a long day driving kids around, Mama needs a cup of coffee—and she probably still has that baby and those kids with her. A great coffee shop that caters to families is just the ticket, and LA has more than a few. We've rounded up 10 of our favorites: some are next to playgrounds or other fun locations; some have menus that little ones love, and some even have designated kid zones. Later in the day you may need some kid-friendly happy hours, but for a simple caffeine fix on the go with kids, here are 10 of the family-friendliest coffee shops in LA.
Want to see all 10 cafes on a map? Scroll to the bottom of the page.
Frogtown
Eat, drink, pedal, repeat. That's the slogan for this spacious outdoor cafe on the LA River bike path in Frogtown. Spoke's vibe is casual and cool, with plenty of picnic tables and colorful wall murals. Along with great coffee from local roaster Trystero, the menu includes breakfast, lunch, and snack items, as well as wine and draft beers for those who may need a different kind of pick-me-up. There are lots of options for children like a" kid-size burger" and PB & J toast. And while all of this is totally delicious, the real draw for families is riding bikes and scooters on the river after eating. Visitors can rent bikes and helmets by the hour from the on-site bike shop, as well as kid trailers for little ones who don't have their own set of wheels yet. Parking is limited to what's available on the street, but you can drop your car at Marsh Park before heading over to Spoke via the river path.
Spoke Bicycle Cafe is open Tuesday through Thursday from 8am to 6pm, Friday and Saturday from 8am to 10pm, and Sunday from 8am to 9pm, closed on Mondays.
RELATED: LA Restaurants Where Kids Can Play While Parents Eat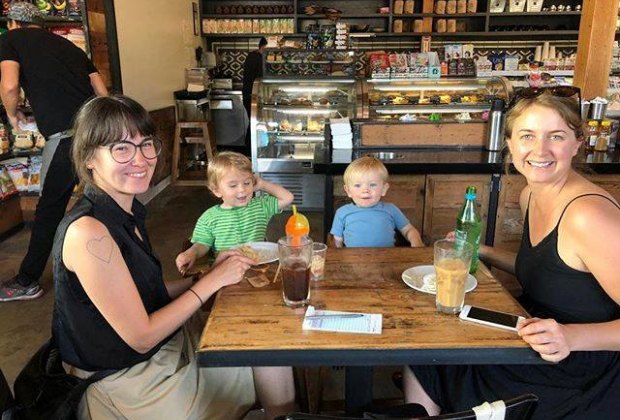 Photo courtesy of Habitat Coffee
Glassell Park
The website at this Glassell Park cafe says it all: your kids and pets are welcome here. And it does feel that way, thanks to friendly service and plenty of kid favorites on the menu, including healthy packaged snacks like veggie chips and dried fruit. Breakfast items are made to order; the salads are very fresh, and the cold brew coffee is especially good. The shop is pretty spacious, too, with seating inside and big tables out front. The best boon to parents, however, is Habitat's close proximity to Glassell Park and Rec Center, which is just one block behind the coffee shop on Verdugo Road. Parking is plentiful at this park, which has a playground suitable for big and little kids alike, along with picnic tables, a big sports field, and an outdoor pool that's open year-round (though it is closed until February 2020 for maintenance).
Habitat is open daily from 7am to 7pm.
Costa Mesa
Hot off the (French) press, this Costa Mesa coffee shop is so brand spanking new that it doesn't even have a phone number yet. Savvy Orange County parents have already started showing up to have coffee with their little ones in this clean space full of natural light, just a block off of Newport Boulvard. Sweet accents abound in the beachy cafe that also doubles as a sundries shop (don't be surprised if your little one asks you for worry dolls). A menu expansion is coming soon, but for now children can enjoy in-house baked pastries and cookies, chocolate milk, and kidccinos, all while parents fix up their own drinks at the "piano bar" (a brightly painted working piano where the cream and sugar are kept). Did someone say photo op?
Hola Adios is open every day from 6am to 4pm.
Brentwood / Santa Monica border
If you've never ventured into the Brentwood Country Mart, you've been missing out. The kitsch little collection of shops doesn't look much different than it did in 1948, when it first started attracting the celebrities of the area to its secluded courtyards surrounded by boutiques and snackeries. The upper patio is bordered by some tasty little food spots and pricey little shops, but the lower patio—frequently overlooked—is an especial gem for small kids: there is a coin-operated mini-carousel and an irresistible toy shop (Toy Crazy) in a walled courtyard, adjacent to Caffe Luxxe (gourmet coffee for true java enthusiasts)—which is in turn conveniently adjacent to Sweet Rose Creamery (quite possibly the best organic, hand-crafted ice cream EVER). A couple of moms could while away more than a while indulging in coffee while their kids play nicely and earn ice cream cones.
Cafe Luxxe is open every day from 7am to 6pm.
Mid-Wilshire
Perhaps you like your coffee with a side of culture and creativity. Within the grounds of the Los Angeles County Museum of Art is a boutique java spot called the C + M Cafe (not to be confused with Culver City's C&M Cafe). This shop, which serves up Intelligenstia Coffee as well as pastries and some sandwiches, earns parental points for its prime location: C + M is just a few doors down from the Boone Children's Gallery. Here, kids of all ages and their families can drop in for art making with watercolors, paper, and pencils provided by the vounteer staff. While at LACMA, also be sure to check out the Metropolis II exhibit, which is a kinetic sculpture of a fast-paced city (my kids call it the Hot Wheels and builder's block project of their dreams!). One last tip: through the museum's Next Gen program, all Los Angeles children under 17 can visit the museum for free anytime, and get free admission for one caretaker who accompanies them.
C + M is open Monday, Tuesday, Thursday, and Friday from 11am to 6pm, and Saturdays and Sundays from 10am to 6pm. It is closed on Wednesdays.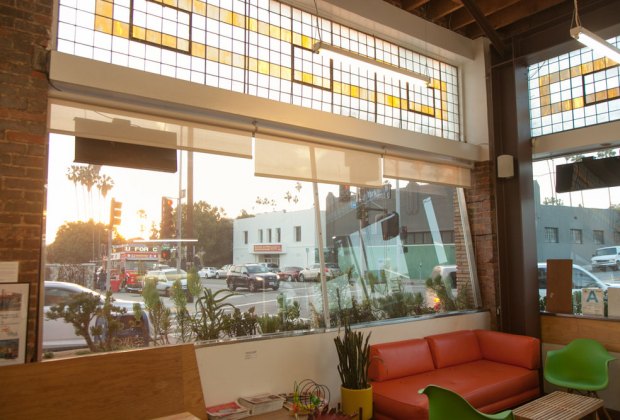 Photo courtesy of Cafe de Leche
Highland Park
Another coffee shop with a sweet location, Cafe de Leche in Highland Park sits directly across the street from both York Park and the Bob Baker Marionette Theater. (Another pint-sized version of the shop recently opened in Altadena.) The coffee is really good, roasted in small batches in the back of the cafe. Families can enjoy perusing the shop's collection of children's books. And don't forget to ask your barista for a unicorn sticker of the Cafe de Leche logo. My daughters and I like to take our coffee and breakfast snacks over to York Park, a gated neighborhood playground with a fun snake slide, climbing equipment, and musical instruments. This part of York Boulevard is bustling with hip parents and hip people, so street parking can be a little tricky, though I've never driven around more than 5 minutes looking for a spot.
Cafe de Leche is open every day from 7am to 5pm.
Valley Village
One of the first things you may notice when entering this diner-y Valley Village coffee shop is the table full of board games and coloring books near the door. "Sit down and relax for a while," they seem be calling. And while there are patrons who are simply picking up their java to go, most of the customers at Steampunk seem to not be in a hurry, and the waitstaff is especially friendly and patient. Perhaps it's because Steampunk serves up all-day breakfast comfort foods like French toast, egg scrambles, and sausage patty melts (there are lighter options too). There is no official children's menu, but plenty of kid favorites including lunch options like chicken tenders and burgers. I usually indulge my daughters with hot chocolate while I have an espresso, and we all enjoy a game of Guess Who? Street parking on Burbank Boulevard is usually easy to find. Strollers need to be left by the door, and there is limited outdoor seating.
Steampunk is open every day from 7am to 3pm.
Santa Monica
Kids can literally build sandcastles while you enjoy your morning cup of joe at this beachside cafe, located at the Annenberg Beach House in Santa Monica. With indoor and outdoor seating, Back on the Beach Cafe serves breakfast until 3pm, along with lunch options (the portion sizes are really generous). Don't feel like waiting for a table? The cafe does offer a to-go window during the summer, so parents can take their coffee over to the adjacent playground. Or the super fun splash pad. Or the public pool. Or the beach. So many options! The parking lot at the Annenberg Beach House does fill up early on hot days, so if you can get there before 9:30am, it's a good idea.
Back On The Beach Cafe is open Mondays through Fridays from 8am to 3pm and weekends from 8am to 4pm. There are extended hours during the summer.

Photo courtesy of Swork
Eagle Rock
Families have been flocking to this Eagle Rock cafe for years for the La Colombe coffee, tasty breakfast nosh, and in-house playspace. Swork was designed with parents in mind (thank you!). It boasts a families-only area featuring a magnet wall, children's books, and a toddler-sized table with chairs. (The coffee shop is also pet-friendly, with a jar full of free dog treats on the counter). While you enjoy your latte, your kid may like the cafe's Babyccino—steamed whole milk with a sprinkle of cacao. And don't be put off by the hipsters; this entire section of Eagle Rock Boulevard is very family-friendly. Swork is just a block away from kid's art studio Purple Twig and indoor playspace Peekaboo Playground.
Swork is open Monday through Friday from 6am to 8pm, and Saturday and Sunday from 7am to 8pm.
Echo Park
Hands-down, one of my favorite things to do with my daughters is to rent a swan boat and paddle around Echo Park Lake. It helps that there is an awesome lakeside cafe inside the park's old boathouse. Along with its full coffee bar, Beacon boasts a healthy breakfast and lunch menu that includes kids' options like avocado toast and a grilled gouda sandwich. We like to eat at one of the cafe's outdoor tables (there is no inside seating) before embarking on our boating adventure. Not only can you expect to see ducks and turtles out on the water, but the view of downtown LA's skyline is beautiful. Parents with young kids might enjoy taking their little ones for a stroller ride on the one-mile Echo Park Loop. There is a small playground adjacent to the lake, too. Free street parking on Echo Park Avenue is usually easy to find.
Beacon is open every day from 8am to 5pm.