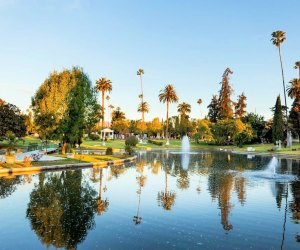 25 Iconic LA Adventures To Have with Kids Right Now
One thing this pandemic hasn't shut down is how darn fast kids grow up. Luckily, LA is (in my humble opinion) the best city in the country for raising kids, with the greatest variety of things for families to do. So even with indoor events and activities on pause, there are plenty of the best, most memorable things to do in Los Angeles with kids that take place outside, and these are all open.
Back when Mommy Poppins first launched, we came up with 100 not-to-be-missed, family-fun outings, and there are 25 of them you can still do today (or this weekend). So check out our list below and get exploring—there is still loads of fun to be had.
While we are trying to promote safer activities that occur outdoors or with social distancing guidelines in place, please keep your family and others safe by always wearing a mask and maintaining appropriate distance.
Drink Butterbeer! Right now is the first (and perhaps only) time Harry Potter fans can try Butterbeer without purchasing tickets to Universal Studios. Get it while you can.


Visit Griffith Observatory. The Observatory is closed, but you can still visit the landmark spot and hike and take in the views of the city, Hollywood sign, and even the ocean.


You can't camp in Malibu Creek State Park right now, but you can hike and picnic (and even swim, when it's warm enough!).


Go rollerblading along Venice Beach.


Watch one of LA's reigning world champs play a game. The Lakers are currently crushing it, and in the spring it's time for Dodger baseball. For now, we can only watch them on TV, but when kids get to know and love the players, it makes in-person games later that much more fun.


Giddy-up, little pony. Right around the corner is the Hollywood Sign. Photo courtesy of Sunset Ranch


Do a Sunset Ranch Hollywood sign trail ride—or hike up for a close-up view.


Ride a Fillmore & Western train.


Take a whale watching trip.


While you can't attend a hand print or a star laying ceremony right now, families can stroll down Hollywood Blvd. and see the sights without all those pesky tourists in the way.


The trains at LA Live Steamers and Travel Town are closed in Griffith Park, but the pony rides, which are suitable for kids ages 1 and up, are open. And for a totally unique way to experience Griffith Park, SunnydayScoot's thrilling tiny, open-air cars are still available to rent.


Get food to go and hit the beach at Paradise Cove (serving Wednesday-Sunday from 11am-5pm).


Biff! Boom! Pow! Holy Batcave, Batman. Photo by Al Pavangkanan/CC-BY-2.0


Hike to the Batcave in Griffith Park.


Take a surfing lesson or stand up paddle lesson.


Rent (or bring) a bike to ride the beach bike path.


Go for a walk through the Venice Canals.


See the buffalo on Catalina Island.


Ski or sled at a local ski resort, then have dinner by the beach.


Wander one of LA's iconic gardens, like The Huntington or Descanso.


Visit the Tar Pits! The museum is closed, but the park at La Brea Tar Pits is currently open, and families can see paleontologists working at the excavation site. Kids can even poke sticks in pockets of bubbling tar (wear old clothes, tar does NOT wash out).


West Coast kids get some winter sledding down these sand mountains. Photo courtesy of Tanya Rothman


Sled the Venice sand berms.


Do a beach clean-up. While organized group clean-ups are on hold, families can bring trash bags, sticks, and gloves and help keep our beaches clean any time.


Don't wait for Dia de los Muertos Festival to visit Hollywood Forever Cemetery—bring the kids to walk the beautiful grounds, enjoy the peacocks and swans, and look for famous graves.


Rent a family bicycle surrey or swan boat at Lake Balboa.


Check out the Jet Propulsion Laboratory Open House—it's virtual now!


Go on a Grunion Run. Open season starts in March, and you can track when the grunion will be at which beaches on this website, and plan your own family grunion run.
If you're in the mood for a more local itinerary, check out one of our neighborhood bucket lists for the many outdoor activities or takeout options. And finally a tip: keep an eye on our list of ages that kids get in free at SoCal attractions as you make plans for the future.
Speaking of future planning, we have a free printable checklist of our favorite 100 LA activities. Print it out and stick it on your fridge, and dream of days and outings to come...