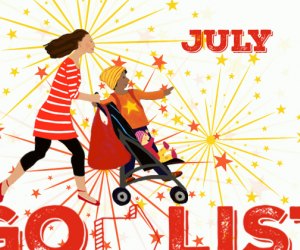 July GoList: Best Things to Do With Long Island Kids This Month
Independently minded almost from our inception, we Long Islanders have come to appreciate the month of July. After a lengthy winter and a dreary spring, it's an annual call to celebrate all we cherish about our country and our Island.
And yes, we will celebrate this year, with a thank-you to the 2019 calendar, which placed July 4 near the end of the work week. With school out and the holiday on a Thursday, we have the benefit of an extra-long Fourth of July weekend. That gives us plenty of time for fireworks, barbecues, beach days, and parades. What a great way to usher in a month chock full of family fun.
And hopefully, time for a bit of reflection, too, because as much as any region of the nation Long Island really can strut its Independence Day stuff. We boast communities named after two Founding Fathers – Port Washington and Port Jefferson. We are home to President Theodore Roosevelt, whose bust adorns Mount Rushmore, and we even have two villages that lay claim to being New York State's oldest community – Southold and Southampton, a friendly rivalry that has continued since 1640.
Though but 120 miles from tip to tip, Long Island is rich in the history and pageantry of America. And what better month to celebrate it than July? Enjoy a Roosevelt-style Fourth at Sagamore Hill, old time "base ball" in Old Bethpage, and fireworks shows from Valley Stream to Montauk.
Of course, there's more to this month than just the red, white and blue. But Independence Day is a great way to start. As always, our Long Island Events Calendar offers exciting family options as they develop throughout the month. Sign up for our FREE newsletters to get posts like this delivered to your inbox. Now on to what's happening.
Outdoor Music and Dancing – Islandwide
All month long
With the Fourth of July holiday looming, enjoy outdoor concerts, dancing, and more across Long Island. Take in FREE music in Garden City; on the greens in Montauk or Farmingdale; in the park in Copiague or Port Jefferson, and elsewhere. If you'd rather dance, why not sample the outdoor dance party at Mitchell Park in Greenport. All you need is a lawn chair or picnic blanket. See our guide to outdoor summer concerts for more options and details.
Community Movies Under the Stars – Islandwide
All month long
What's better than a night under the stars watching a new release or a classic with your friends and neighbors? And even better, these nights out often are FREE. We at Mommy Poppins have compiled an extensive list of outdoor movies in Nassau, Suffolk and the East End. Romance, action-adventure, or family films ...whatever your preference, you'll find it outdoors on Long Island this summer There's even a kids night series at Jones Beach, with films planned for July 11, 18, and 25. Again, all you need is a lawn chair.
RELATED: The Best Summer Fairs and Festivals on Long Island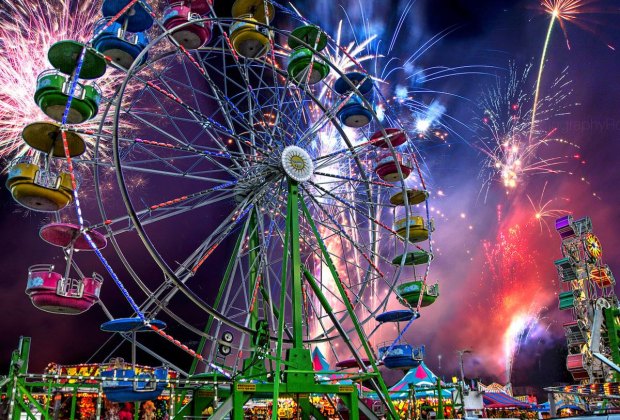 Enjoy fireworks and plenty more at the North Sea Carnival on the East End. Photo by Ron Esposito and North Sea Fire Department
North Sea Carnival — North Sea
Tuesday, July 2-Saturday, July 6
In the Hamptons for the holiday weekend? Why not enjoy games, rides, carnival antics, and more for the benefit of the North Sea Volunteer Fire Department. Enjoy fireworks shows on the spacious grounds of Firemen's Field on Wednesday, July 3 and Saturday, July 5 beginning at about 10 pm. Pay-one-price bracelet nights are Tuesday, July 2, Thursday, July 4, and Saturday, July 6.
More Fourth of July Fun – Islandwide
Saturday, June 29-Friday, July 13
The celebrations actually begin June 29 with the TD Bank Celebrate America show at Eisenhower Park, the Town of Hempstead's Salute to Veterans in Point Lookout, and at Riverhead Raceway. Independence Day tributes continue with a postgame fireworks show following Long Island Ducks home games in Central Islip on July 2, 3, 4, and 6. On Wednesday, July 3, you can Go 4th on the Bay in Oakdale; and on the holiday itself you can enjoy Grucci shows at the Pennysaver Amphitheater in Farmingville and on the beach in Montauk, as well as community celebrations in Asharoken, Glen Cove, Port Jefferson, and Valley Stream. The annual Jones Beach fireworks show is July 4 at 9:30pm. Celebrations continue through the weekend in Long Beach and North Sea before concluding in Massapequa (July 9) and Rockville Centre (July 13). Some of these celebrations are FREE; see our roundup of Long Island fireworks shows for more options.
RELATED: Water Parks, Water Slides, and Pools on Long Island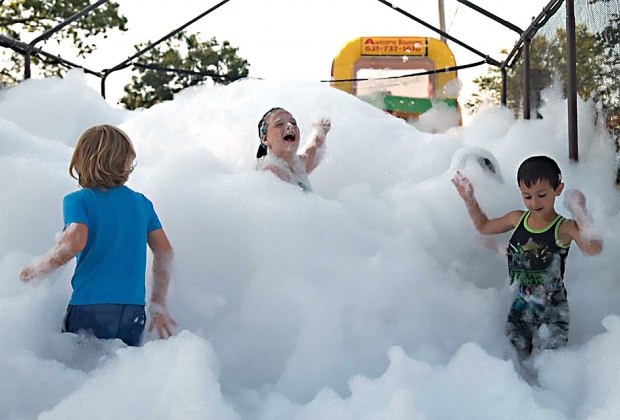 Head to Alive on 25 in Riverhead or Alive After 5 in Patchogue for music, food, and family fun. Photo courtesy of Alive on 25 Riverhead
Alive on 25 – Riverhead
Wednesday, July 3, Thursday, July 18
Riverhead's walkable downtown closes for these community street fairs featuring music, vendors, local beer and wine for the grownups, and even a classic car show. Enjoy similar street fairs in Patchogue on Thursdays, July 11 and 25. Enjoy a fireworks show in Riverhead on July 3, while Patchogue events celebrate the armed forces on July 11 and women in the arts on July 25. FREE
Long Island Summer Festival – Lake Grove
Friday, July 12-Saturday, July 13
Smith Haven Mall hosts this celebration of the season with high-flying hot air balloon rides, carnival rides, fair food, and plenty more. Admission is FREE for those 12 and younger. Enjoy this rare opportunity for an aerial glimpse of the island we call home.
RELATED: 25 Things We Can't Wait to Do With LI Kids This Summer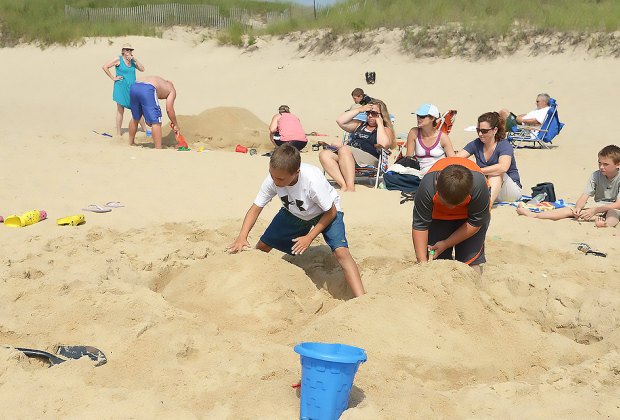 Channel your sand castle-making talents at Hither Hills State Park. Photo courtesy of LI State Parks and Recreation
Sand Castle Contest – Hither Hills State Park, Montauk
Thursdays, July 4, 11, 18, and 25
Using only native beach materials, kids are challenged to create the most ornate sand castles they can. Prizes are awarded to the best sculptors in a number of categories. Register at the Hither Hills State Park beach house.
Long Island Live Steamers – Brookhaven
Sundays, July 14 and 28
Got a train enthusiast in your family, or are you just eager to turn back the clock to a simpler time? Long Island Live Steamers holds twice-monthly run dates for the public at Southaven County Park. Ride-on trains are available from 10:30 am to 3pm; low-cost tickets can be purchased at the facility. Steam, diesel, and electric trains run over eight acres of scale tracks, perfect for kids.
Great South Bay Music Festival — Patchogue
Thursday, July 18-Sunday, July 21
Enjoy "America-themed" music, art, and culture at this family event at Shorefront Park. Come for the music, stay for the celebrations. Arts and craft lovers will appreciate Great South Bay's artisan market, while kids will thrill to the Kidzone, which features educational children's entertainment all day Saturday and Sunday.
Bellport Children's Festival – Bellport
Saturday, July 20
This fourth annual celebration of the wonder of wee ones is held on the estate of actress and filmmaker Isabella Rossellini in the seaside community of Bellport. Modeled after an English fair, the festival features storytelling, fairytales, a puppet show, live animals. music, artisanal food, garden games. and other creative workshops. Children are encouraged to become storytellers themselves.
RELATED: Nature Centers Sure to Delight LI Kids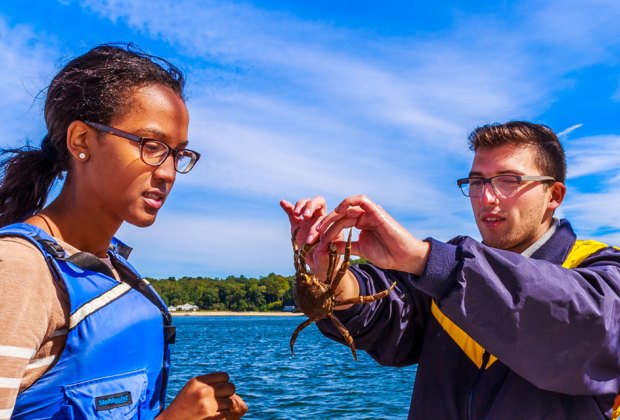 Experience Long Island aquatic life up close at the Marine Discovery Sail in Oyster Bay. Photo courtesy of The Waterfront center
Marine Discovery Sail — Oyster Bay
Sunday, July 21
Set sail on the sloop Christeen for an afternoon of aquatic discovery. Assist the skipper and crew in their sail around Oyster Bay. Enjoy touch tanks filled with live marine animals and more. It's a perfect afternoon for your aquatically inclined youngster.
RELATED: 50 Summer Things to Do in the Hamptons and North Fork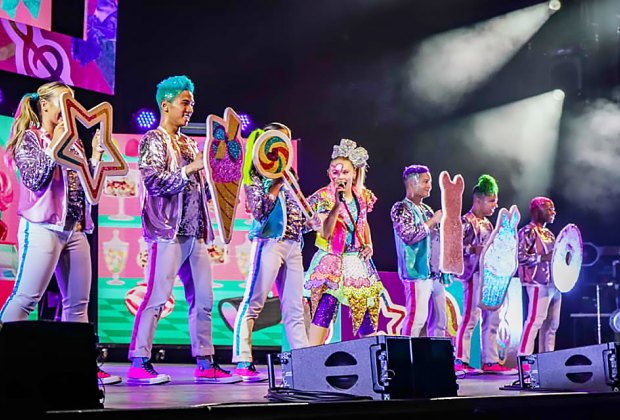 Treat your kids to JoJo Siwa's DREAM tour at NYCB Live Nassau Coliseum. Photo courtesy of JoJo Siwa
JoJo Siwa Live at Nassau Coliseum — Oyster Bay
Friday, July 26
The celebrated Nickelodeon star and social media personality brings her DREAM concert tour to NYCB Live Nassau Coliseum for one night only. The former Dance Moms star will perform her biggest hits and more.
Princess Tea Party at the Long Island Aquarium — Riverhead
Sunday, July 28
Treat your little princess to an afternoon of high tea at the aquarium in Riverhead. Choose from three sessions, at 10am, 12:30pm and 3pm. Kids will enjoy finger sandwiches and sweets in a formal white-glove service sure to bring a smile to even the most finicky child. Tea party patrons enjoy half-price admission to the aquarium on Sunday, July 28.