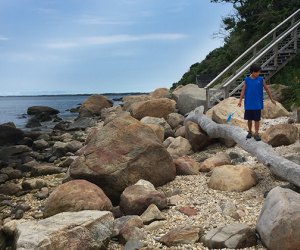 Things to Do in Southold Village With Kids
A trip to the North Fork offers vast opportunities. From nature explorers to foodie indulgers and self-proclaimed sommeliers, the village of Southold is hot, hip, and happening.
Located in the heart of Long Island wine country, the village of Southold is the seat of government for Southold Town. But there is much more to it than that. In Southold, you can enjoy beaches, museums, nature centers, family-friendly eateries, fall festivals, and then some.
Looking for more North Fork fun? Head east one village for must-try spots in Greenport. Staying over? Hop a ferry to Shelter Island and explore. And on the way home, check out the North Fork's gateway town, Riverhead.
Places to Visit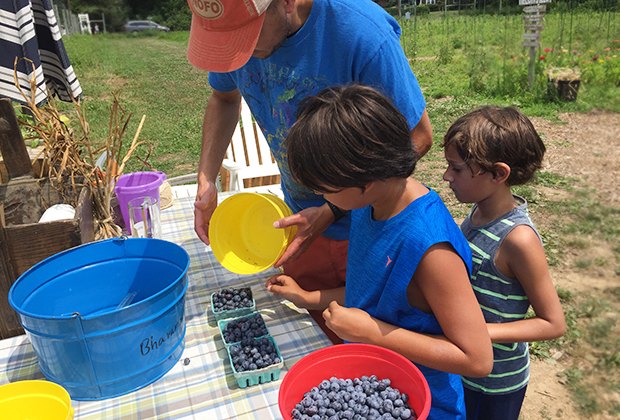 Pick six different species of blueberries at Bhavana. Who knew there were that many? Photo by the author

Bvahana Berries
During the summer, swing open the wooden garden gate at Bvahana and pick your own flavor-bursting blueberries for a few bucks per pint. There are six different kinds— who knew? Don't be alarmed when the owners' dog, Finn, bounds to greet you: He might expect a game of hide and seek. Pack a small spade (or use the farm's) to dig your own garlic and shallots. While picky eaters might not want them on their plates, they'll certain "dig" this farmhand experience.
Cedar Beach County Park
One of the few public beaches in Southold, this near 70-acre, bay-facing oasis is a sea-shell searchers delight. This rocky shoreline requires water shoes if bathing. There are no public facilities, so be sure to triple-check everyone's need to "go" before you go. Enjoy bay views, beach, fishing, osprey nests, etc. with the added bonus of no fees for Suffolk County residents.
Custer Institute & Observatory
Long Island's oldest public observatory welcomes visitors eager to use their high-tech equipment to gaze at the stars. Each Saturday night, friendly volunteers open the doors FREE to the public. Now someone can finally show me the Little AND Big Dippers.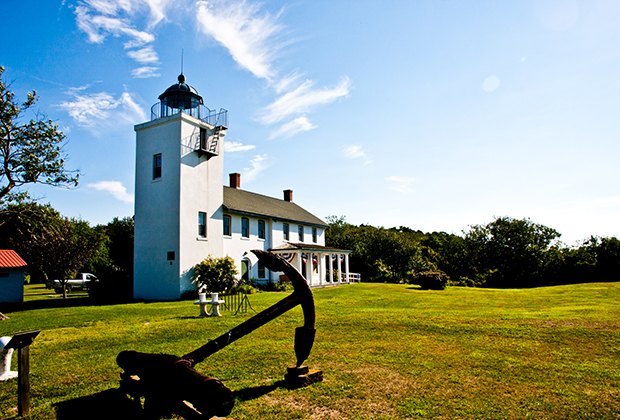 Horton Point Lighthouse was commissioned in 1857 and offers brilliant Long Island Sound views.
Horton Point Lighthouse
During our first visit to this 60-foot tall beacon of light, which opened in 1857, we roamed the grounds outside at length. The high vantage boasts sweeping views of Long Island Sound that are breathtaking. Our kids were then 4 and 6, and anything more than 50 steps was considered "exhausting." We packed up the plastic wagon and set off on foot—well, wheels for them. We easily navigated the trails to the south of the lighthouse. Then we stopped for a picnic lunch on the lush lawn. A super steep set of stairs was intriguing, and we made the voyage down to the beach. An entirely rocky shore made for uncomfortable swim conditions, but we did add some cool stones to our collection. These Stonehenge-esque rock formations made for cool photo-op backgrounds. It's free to chill outside, but there is an admission fee for the lighthouse tour, which is open Memorial Day through Columbus Day.
Southold Indian Museum
Share the story of Long Island's first people with your kids. Education and entertainment are entwined at this archaeological outpost. See how basic rocks and other natural elements were turned into knives and drills by the native Indians. Once your kids see, they might think twice before complaining about modern-day struggles. There are plenty of spiky arrowheads and spearheads to peruse. The museum is open on Sundays.
RELATED: Stunning Long Island lighthouses worth visiting with kids
Family-friendly wineries
Osprey's Dominion Vineyards
Technically in Peconic, Osprey's Dominion welcomes families, which is great for parents, because when they whine, we wine. Stroll around the vines or pop inside for a drool-inspiring homemade rosé cupcake. Live music fills the air and keeps the day rockin' and rollin' along.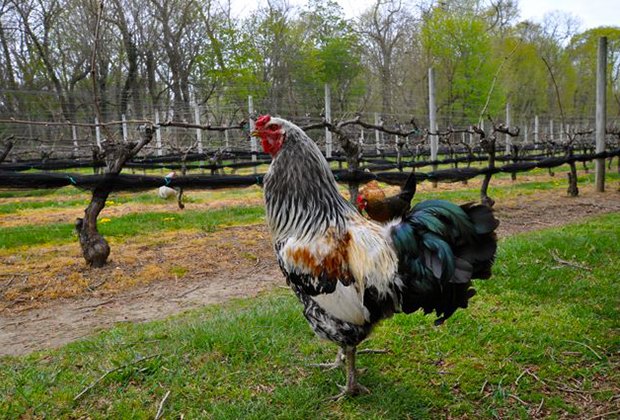 Meet the locals at The Old Field Vineyards.
The Old Field Vineyards
Location. Location. Location. A sprawling lawn with weeping willow trees and a bullfrog-laden pond, plus barn structures and roaming chickens (and a goose who thinks he's a chicken) make this a rustic vineyard experience. Bring your own lunch and set up shop at a picnic table. There are even children's lawn toys scattered about for communal use.
Where to Eat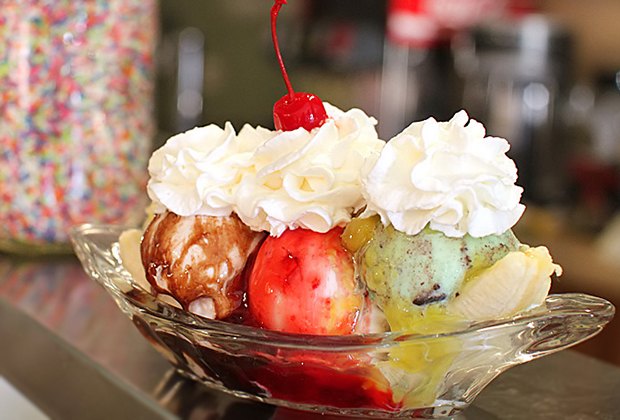 Dig into a sundae at the Country Corner Cafe.
Country Corner Cafe
This luncheonette/ice cream parlor serves up breakfast, lunch, and dinner with old-fashioned flair. While you're mulling over the menu, kids are given Wikki Stix to keep them occupied. From lighter fare to stick-to-your-ribs meat loaf and roast beef entrees, these deals include soup or salad plus choice of a side. The homemade crepes, stuffed with gooey goodness, are not to be overlooked. Breakfast for dinner is one of our family's vacay traditions.
Erik's in Southold
Open for breakfast and lunch, this quaint culinary cottage does not disappoint. Easy egg sammies or waffles piled high with fruit and whipped cream are our family faves. Adults can enjoy homemade soups and chili and arm-dripping saucy sandwiches, while kids can opt for staples such as grilled cheese or chicken fingers.
Top photo: Enjoy a day of beach exploration at Horton Point. Photo by the author