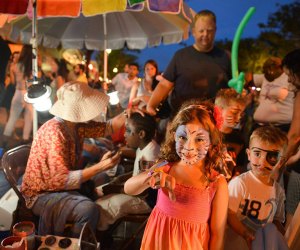 Great Summer Fairs and Festivals for Long Island Families
Nothing says summer more than spending time as a family at a fair or festival on Long Island. It's a chance to be outdoors, spend time with the friends and neighbors, and make lasting memories.
Whether your family enjoys an old-fashioned street fair in your neighborhood or ventures nearby to see how other communities celebrate summer, these family-friendly events are sure to leave everyone smiling. Plus, many of these events are FREE to the public. That's why we've rounded up a list of the best fairs and festivals taking place in Nassau and Suffolk counties and on the East End in July and August.
For more seasonal inspiration, check out our Summer Fun Guide and Events Calendar. And while you're at it, consider one or two of our 25 must-do activities with kids this summer. If you're on a budget, try a few of our 50 FREE things to do with LI kids before school resumes.
North Sea Fire Department Carnival – North Sea
Thursday, June 28-Tuesday, July 3
Join in the fun at one of the South Fork's largest carnivals. Enjoy thrill rides, kiddie rides, carnival games, and more. Don't miss the fireworks shows on Sunday, July 1 and Tuesday, July 3, beginning at about 10pm.
Family Fun @ Alive After Five – Patchogue
Fridays, July 6 and 20, August 3 and 17
This popular event is located right on Patchogue's Main Street. A number of themed events are planned for families, including live performances, puppet shows, teen bands, crafts, talent show, and lots more. Admission is FREE.
Old-Fashioned Street Fair – Mattituck
Saturday, July 7
Take part in a 40-year old Mattituck tradition. Enjoy food, live music, arts and crafts, and of course, Little Miss Mattituck and Little Mister Mattituck. Admission is FREE.
Alive on 25 – Riverhead
Thursdays, July 5, 12, 26, and August 9
Main Street closes to traffic for classic cars, live music, street vendors, and plenty of family-friendly activities. Adults can enjoy craft brews and wine while kids take part in art activities, touch a truck, and life-sized games of tic-tac-toe, Connect 4, and bowling. Admission is FREE.
RELATED: Free outdoor family movies for LI kids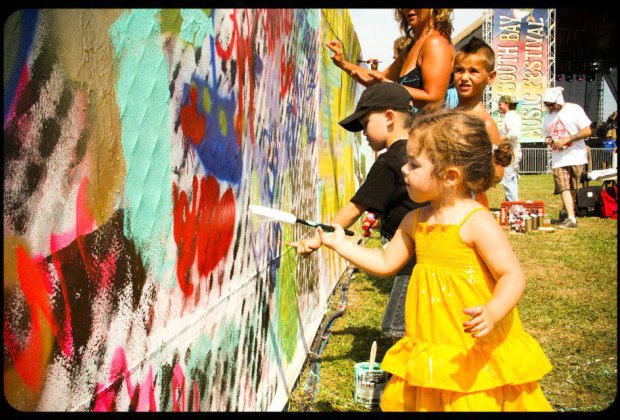 It's more than just a music fair: Kidzone at the Great South Bay Music Festival offers activities for the entire family. Photo courtesy of the Great South Bay Music Festival
Great South Bay Music Festival – Patchogue
Thursday, July 12-Sunday, July 15
This four-day music festival features more than 60 performers on four stages, including a Kidzone with educational activities. Known for its family-friendly vibe, this festival offers music, entertainment, shopping, and food for all ages. On Sunday, July 15, enjoy a performance by Disney's Imagination Movers. Tickets start at $35 per person for one day.
Huntington Manor Firemen's Fair – Huntington
Tuesday, July 17-Saturday, July 21
Support the fire department and have fun. Enjoy five days of amusement rides, concerts, parades, and fireworks. Admission is FREE and ride bracelets can be purchased for $30.
Annual Summer Art and Craft Festival at Deepwells – St. James
Saturday July 21-Sunday, July 22
Shop at more than 100 local artisan vendors in a beautiful country setting at Deepwells Farm. Enjoy craft demonstrations, music, kids' activities, and plenty of food. Admission is FREE.
Family Fun Day – Stony Brook
Sunday, July 22
The Long Island Museum opens its doors for a day of family activities. View the museum's exhibits, do a nature-themed craft, enjoy refreshments, and live musical performances. Admission is FREE.
RELATED: The best beaches for families on LI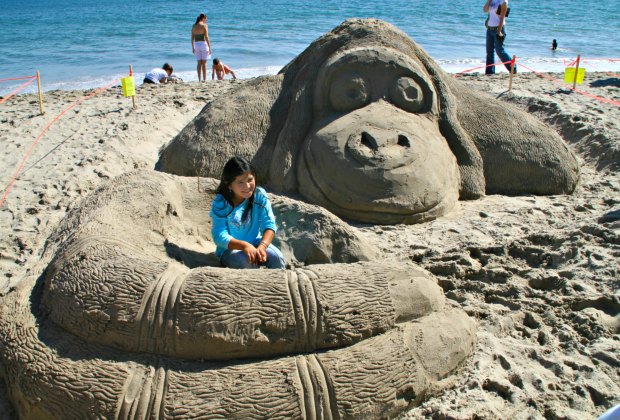 Create your own legendary sand castle at Hither Hills State Park. Photo by Doc Searls/CC BY 2.0
Sand Castle Contest – Montauk
Thursdays, July 5-August 30
This weekly sand castle-building contest at Hither Hills State Park encourages families to use sand, water, and natural elements found at the beach for their creations. Prizes are awarded in several categories. It is FREE to enter the contest; parking is $8.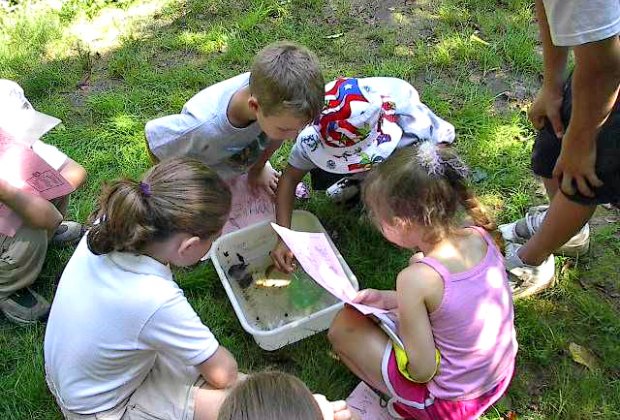 Explore our natural world at Garvies Point Museum Day. Photo courtesy of Garvies Point Museum and Preserve
Garvies Point Museum Day – Glen Cove
Saturday, August 4
Garvies Point Museum and Preserve celebrates nature with walks, insect study, butterfly and bird garden tours, bird watching, and more. View the museum's exhibits, and nurture appreciation for nature and local history. Admission is $5; children 4 and younger are FREE.
RELATED: The best places on Long Island for kids to learn about cultural diversity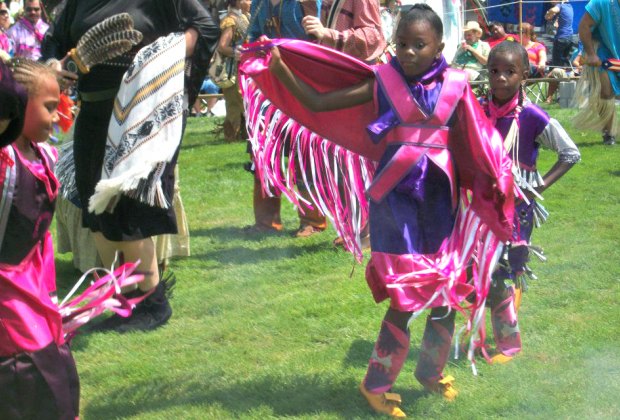 Experience Native American culture at the Paumanauke Pow-Wow in Lindenhurst. Photo courtesy of Paumanauke Native American Festival
38th Annual Paumanauke Pow-Wow – Lindenhurst
Saturday, August 4-Sunday, August 5
Learn about Native American culture from native people. Enjoy food, dance, and drums. Audience participation is encouraged. Admission is $12 for adults; 11 and younger are FREE.

Rides, food, and fun are on tap at Summerfest, a traditional carnival in Sayville. Photo courtesy of the fest
Summerfest — Sayville
Friday, August 10-Sunday, August 12
It's carnival time in Sayville with thrill rides, kiddie rides, food, entertainment, and more. Pay-one-price bracelets are available on Friday night and a classic car show headlines Sunday.
RELATED: Long Island state parks worth a visit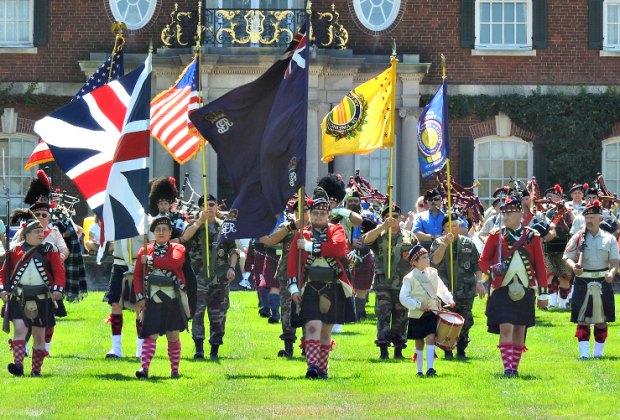 Enjoy bagpipe music and other Highland traditions at the annual Long Island Scottish Festival and Games. Photo courtesy of the festival
58th Annual Scottish Festival and Games – Old Westbury
Saturday, August 25
The Highland games celebrate Scottish culture on Long Island. Watch the caber toss, putting of the stone, and the tossing of the sheaf. Enjoy bagpipe music, Highland dancing, and a shortbread baking competition. Admission is $20 for adults, and $8 for children; kids 6 and younger are FREE.
Shinnecock Indian Powwow — Southampton
Friday, August 31-Monday, September 3
Join the 1,300-member tribe in one of the country's largest celebrations of Native American culture, held every year on Labor Day weekend. Marvel at the pageantry of the grand entry every day then enjoy native food, dance, crafts, and more.
This article, originally published in 2016, is updated annually. Writer Thien August contributed additional reporting.