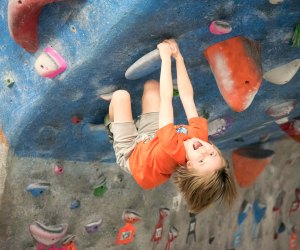 30 Fun Indoor Activities for Kids around Boston
When you have active little ones and live in Massachusetts, you better have some ideas up your puffer coat sleeve for indoor fun. Good news is, Boston and surrounding Massachusetts towns meet the needs of stir-crazy kids (and their parents) with plenty of options for things to do inside on cold or rainy days. From mega indoor play zones to award-winning libraries to world-class museums, we've assembled a list of our favorite indoor activities that are unique to our chilly city.
Don't miss our Indoor Fun Guide—we have the scoop on the best places for Boston kids to get their energy out when it's cold or wet.
Indoor Activities in Downtown Boston for Kids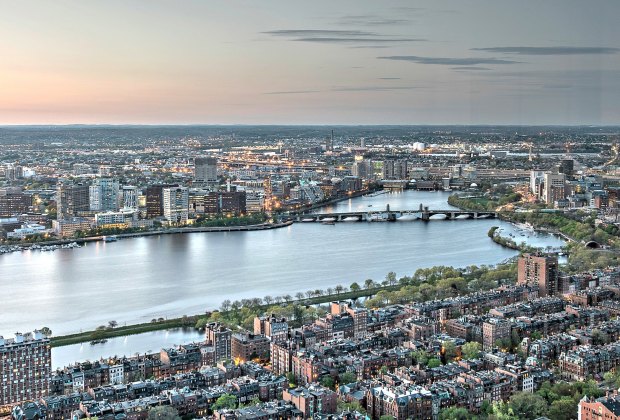 Here is the stellar view to the northeast from the Prudential Skywalk Observatory; Photo by Bill Damon/CC BY 2.0
1. Our skyscrapers aren't the tallest in the world, but the views from them sure are pretty. Travel up to the Skywalk Observatory at the Prudential Center to see a 360-degree view of the city, harbor, and the Charles River winding through it all. Boston
2. Conquer all three stories of the New Balance Foundation Climb structure at the Boston Children's Museum. And then, pull off the bigger challenge: Crawl back down the way you came! Boston
3. Warm up with our town's most iconic soup at Boston Chowda Company at Quincy Market Building at Faneuil Hall. Relax in a seat at the top floor of the rotunda and gaze around at the old-world architecture. Boston
4. Feel a spongy sea star or shy hermit crab at the Edge of the Sea touch tank on the second floor of the New England Aquarium. If you're extra brave—feel the sharks and rays in the touch tank downstairs! Boston
5. Skate in the warmth inside while you gaze outside at the DCR Steriti Memorial Rink, where floor to ceiling windows offer great views of the North End Waterfront. It's our favorite of all the great free indoor skating rinks in town. Boston
6. Go to a story hour at the candy colored Central Branch Library, the crown jewel of the Boston Public Library system. Boston
7. Lean back and study the heavens at the Charles Hayden Planetarium at the Museum of Science. Boston
8. Pretend you're a real firefighter and climb on an engine and ring the bell at the (free!) Boston Fire Museum. Boston
9. Drop the kids off for some indoor playspace fun while you get in an impromptu date night. Boston
10. Challenge yourselves on the bouldering wall at Rock Spot. Boston
Indoor Activities in Greater Boston for Kids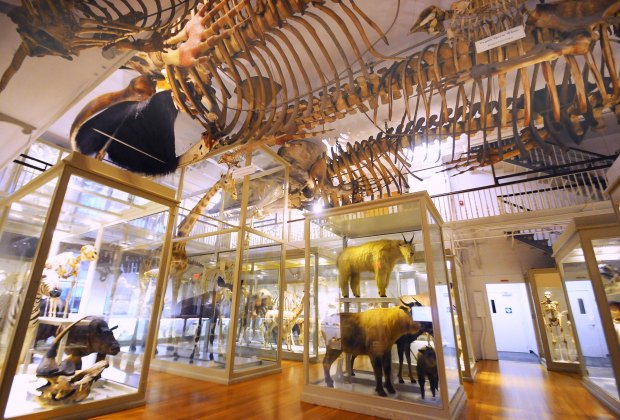 Gaze at the whales in the Great Mammal Hall at the Harvard Museum of Natural History. Photo by Alex Jaffe/ Massachusetts Office of Travel & Tourism
11. Look up and see three giant whale skeletons suspended from the tippy top of the Great Mammal Hall at the Harvard Museum of Natural History. Cambridge
12. Say hello to the famously friendly Kismet and his other AI robotic friends at the MIT Museum's Robots and Beyond exhibit. Cambridge
13. Pedal on the kid-powered Merlin's Apprentice ride at Legoland Discovery Center. Somerville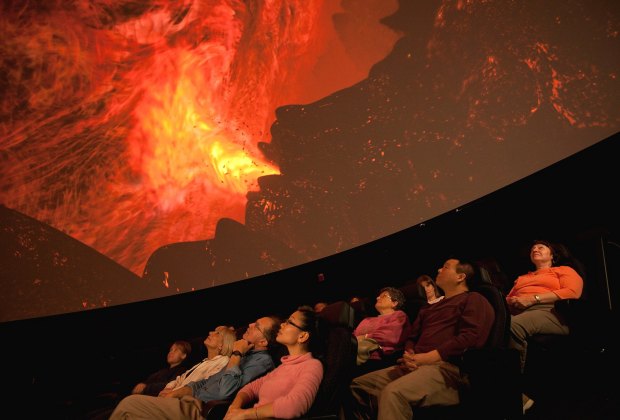 Study the heavens at the Charles Hayden Planetarium at Boston's Museum of Science. Photo courtesy of the Museum of Science
14. The Museum of Science is a must-do for everyone, but toddlers and preschoolers are particularly taken by the hands-on science in the museum's enclosed, for-little-kids-only Discovery Center. Cambridge
15. Catch a train to Brookline Village and walk across the street from the station to see a budget-friendly matinee at the Puppet Showplace Theater. Brookline
16. Get messy at Muckykids during open studio time. Cambridge
17. Catch a family flick at the Coolidge Corner Theater—the popcorn is the best! (We heart these other kid-friendly theaters, too.) Brookline
Indoor Activities in the West, North, or South Boston Suburbs for Kids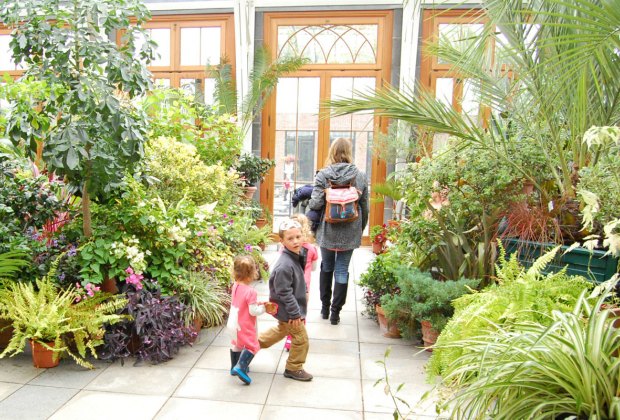 Warm up among the plants. Photo courtesy of Tower Hill Botanic Garden
19. Pretend you're in a tropical climate by wandering around the greenhouses at the Tower Hill Botanic Garden. Worcester
20. Brave 75 mph, hurricane-force gusts—but safely inside a wind simulation booth—at the Ecotarium. Worcester
21. Get out some serious energy out on the dodgeball court at the newest and biggest yet Launch—there are separate big kids and little kids areas. There are also two other locations so pick your closest. Framingham, Watertown, and Norwood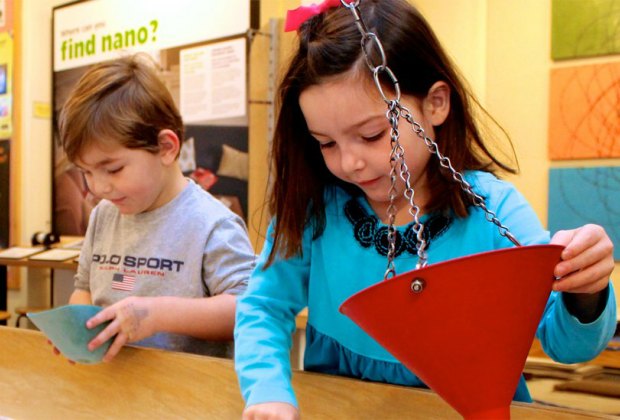 Sneaky science is on the table in Acton. Photo courtesy of The Discovery Museums
22. "Ride" a train, play with ball runs, splash at water tables, and marvel at just how much fun can be packed into one Victorian-style house at the Children's Discovery Museum. Acton
23. Learn all about local wildlife, including owl sounds and snake habitats, at the marvelous (and under-the-radar) Blue Hills Trailside Museum. Milton
24. Looking for some hands on fun? Take a day trip to New Hampshire's newest aquarium, Living Shores, filled with four touch tanks and loads of interactive exhibits. Glen, NH
25. Outdoor pools may be closed for a season, but your kids can still make a splash and ride the water slides at Coco Key rights outside of Boston. Make a night or weekend of it and visit one of these seven indoor water parks in the New England area. Danvers
26. Hit the green for a round of mini golf—indoors! Monster Mini Golf has a super cool glow in the dark course along with other indoor fun like laser tag and arcades. Norwood
Indoor Activites in Multiple Locations around Boston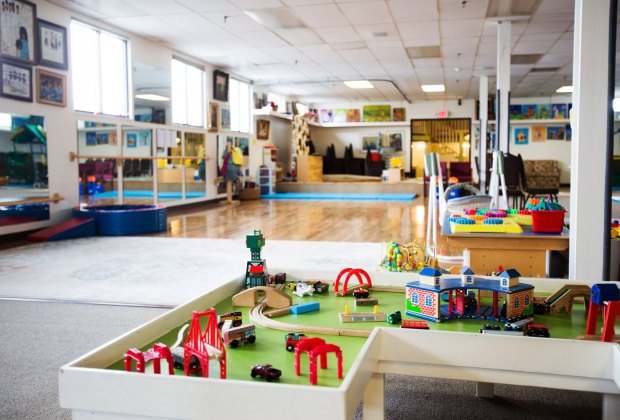 Let someone else clean up the playroom. Photo courtesy of Imagine Playspace in Cambridge
27. Spend a day playing at an indoor playspace in greater Boston. Multiple locations
28. Get out of the kitchen for a night and take the family out to eat at one of these restaurants where kids eat free. Or hit up one of these restaurants where kids may not eat free but they can play while you eat! Multiple locations
29. Challenge your little one to climb, balance, and run at one of these great ninja warrior courses. Multiple locations
30. Stop and smell the roses—and all sorts of other flowers—while staying warm and toasty at an indoor garden. Multiple locations