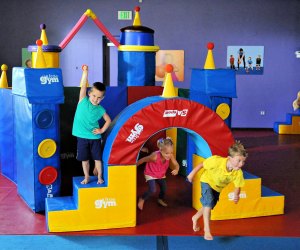 Drop-In Childcare and Date-Night Sitters for Boston-Area Families
Ever find yourself feverishly working your way through your babysitter Rolodex to find that not even one is available? Whether it's a last-minute work commitment, a random appointment, or a spontaneous date night after one of "those" weeks, a great Boston-area caregiver is available. From drop-in childcare to drop-off gym parties, these sitter services will save the day (or night)!
Don't have somewhere you have to be but need a moment to yourself? Check out these Boston area gyms that offer childcare while you break a sweat!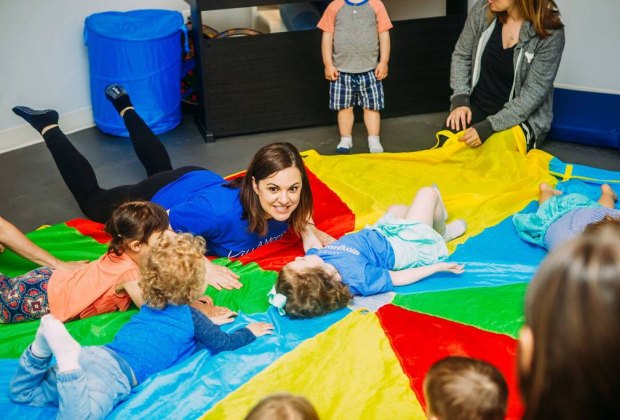 Drop kids off for up to three hours per week with A Mom's Village membership. Photo courtesy of Mom's Village
Drop-In Childcare Services around Boston
Art Barn Childcare—Weymouth
With both full-day and half-day options for drop-in daycare, this is the place for a parent in a bind! As the name implies, kids will have fun and get messy with fun art projects and then head outdoors for playtime. While there are set hours for full- and half-day programs, The Art Barn is super flexible, so reach out for any special needs. Full Day $60, Half Day $46
The Drop Spot—Braintree
This drop-in childcare option has flexible options for parents in need. Open from 7am to 6pm, the faciity charges by the hour or day, and optional breakfast or lunch is served. The Drop Spot includes nap mats, snacks, wipes, and drinks, so flustered parents just need to pack up their kid with the bare essentials (change of clothes and diapers if needed). Ages 2-12: $7 hour, $48 per day, $210 per week, special pricing for children under 2
A Mom's Village—Peabody
Their Drop and Go service, included in the monthly membership, allows parents to drop kids off for up to three hours a week. This self-proclaimed "Mommy Clubhouse" is all about connecting moms in need with health, fitness, and of course, help with the kiddos. You can use their Drop and Go service to leave the kids for outside commitments or take advantage of their space and catch a fitness class or work in the common area.
Choasset Recreation Department—Cohasset
At Choasset Rec, you can register your kids up until 8:30 am the day of childcare without penalty (paying a $3 late fee at drop off without pre-registration). Choose to drop your kiddos off for an hour or the entire day. The program accepts kids from 18 months to 6 years old. First Child $12 hour, Two Siblings $16 hour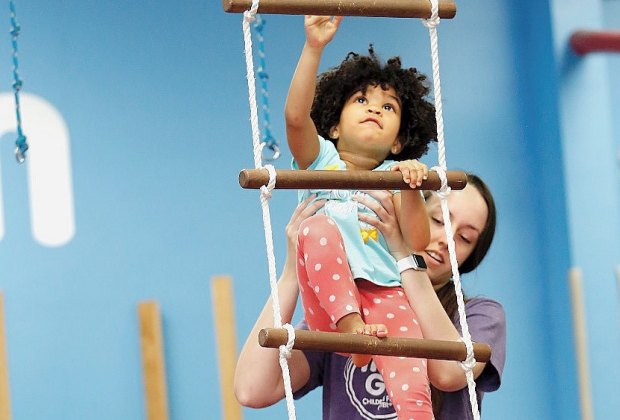 Kids ages 2 to 9 years old are welcome to play at Parents' Night Out evenings. Photo courtesy of My Gym
Weekend Date Night Drop-Offs around Boston
My Gym—Boston
Drop your kids off at Parents' Night Out for monthly themed date nights. Kids ages 2 to 9 years old will play games, enjoy activities, and have a pizza party. The gym's three-hour drop off events take place once a month on Friday nights, check their calendar for monthly dates and themes. Members $45, Non-Members $55 (sibling discounts are available)
Old South Church—Boston
Once a month, the church offers a date night for parents featuring games, activities, snacks, and a movie. While many date-night drops offs focus on slightly older and potty-trained toddlers, Old South Church date nights allow children from as early as 6 months (for a slightly higher cost) all the way up to 5th grade aged children. The drop off is from 6 pm to 10 pm, allowing plenty of time to go out for so much needed adult time! First Child $25, $15 surcharge for children 3 and under (sibling discounts available)
YMCA Greater Boston—Boston
The Y has eight locations in the Boston area that all offer Parents' Night Out. While you grab a bite or catch a movie, your little ones, ages 3 to 12, will play games, enjoy fun activities, eat pizza, and even swim at some of the locations. Pre-registration is required. Members $15 for the first child, Additional Children $10, Non-Members $20 for the first child, Additional Children $15
Little Gym—Waltham
Each month The Little Gym hosts Parents' Survival Night. These date nights are held on either a Friday or Saturday evening from 6 pm to 9 pm, check the calendar for exact dates each month. Kids 3 to 12 get to enjoy music, games, fun activities in the gym, and LEGO building challenges. Pricing also includes a pizza dinner for the kids. Registration fills up fast so definitely call in advance. Members $22, Non-Members $27 (sibling discounts available)
One Stop Fun—Westford
This play space offers different themed Parents' Night Out events on a monthly basis so you can keep coming back! Kids ages 4 and up will enjoy activities that promise to keep them moving (so, tired when you pick them up). Date night drop off events run from 6:30 pm to 9 pm and include a pizza dinner. First Child $28, Siblings $16
Dedham Health & Athletic Complex—Dedham
Their Kid's Night includes a major bonus—swimming! Sign up your kids, ages 5 to 12, for this three-hour drop off that includes a themed event along with a splash in the pool. Pizza is also served, so head out to dinner happily knowing your kids are dining too. Dedham Health holds their Kid's Nights twice a month from 5pm to 8pm; check the calendar for upcoming dates. Members $20, Non-Members $30