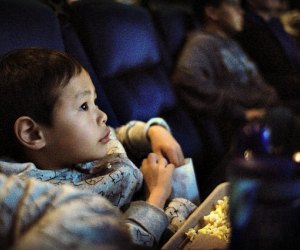 Best Movie Theaters for Kids Around Boston
Taking your kids to their first movie is a special rite of passage. So it's only fitting that you'd want to take them to just the right movie theater for the perfect experience. Boston is home to dozens of movie houses, but some are more suited to young audiences than others. So we've rounded up the best spots to take little ones to catch their first flick on the big screen, host a birthday party, or catch that hot new kids' movie they've been begging to see for weeks.
AMC Assembly Row 12, Somerville
One of the newest additions to the Boston movie theater landscape is the AMC Assembly Row 12 in Somerville. You can not only buy tickets, but also reserve specific seats online, so you never have to scramble to find enough together. And those seats are extra comfortable, many recline and all are extra large and plush. There's an extensive snack bar, easy free parking and access to the Orange Line. Plus, you can visit LEGOLAND, which is right next door, after the show.
AMC Theaters, Various locations near Boston
AMC Theaters understands that taking kids to the movies can be a challenge even under the best of circumstances. That's why several local outposts of AMC go out of their way to accommodate children with autism or other special needs. At the AMC Sensory Friendly Film screenings, the lights are turned up, the volume is turned down, and everyone is encouraged to do what they need to enjoy the show. Check local box offices for specific movie screening details.
Brattle Theatre, Cambridge
Harvard Square's Brattle Theatre is tiny—it has only one screen—but it shows some of the most unique films of any movie house in the area. The Brattle screens kid-friendly movies all the time, like Where the Wild Things Are and The Muppet Movie, but the true highlight of the year for children is the Bugs Bunny Film Festival. In its 22nd year, the festival takes place during February School Vacation Week so kids can catch all of their favorite Bugs Bunny, Daffy Duck and Looney Tunes flicks. The Brattle's calendar changes frequently, so check back often for the latest schedule.
Capitol Theatre, Arlington
The Capitol Theatre in Arlington gets new-parent cabin fever. That's why it hosts baby-friendly matinees every week. On Monday afternoons (except during vacation weeks and on holidays) new moms and dads can bring their babies to a screening of a new adult film. The theater keeps the volume a little lower and the lights a little higher so you can tend to your baby without shame—or having to miss a minute of the movie.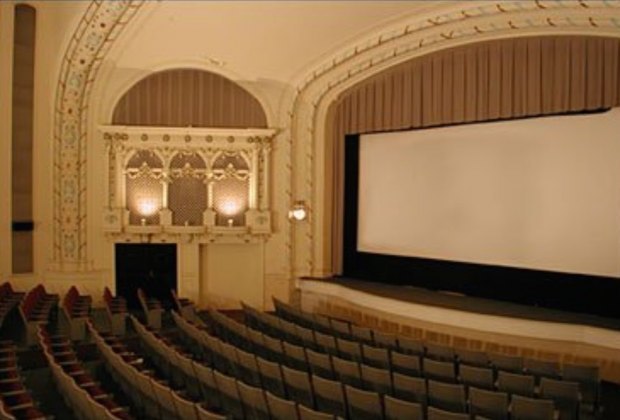 Capitol Theatre
CinemaSalem, Salem
If coming all the way into Boston for a baby-friendly movie isn't feasible, you can head to CinemaSalem on the North Shore instead. Every Monday at 10 a.m. the theater shows a first-run movie during its Baby and Me Shows. Special accommodations are made for parents and caregivers with little ones: The lights are left on a little higher and the movie's volume is set a little lower. Changing tables are available in the lobby.
Coolidge Corner Theatre, Brookline
There are two kid-friendly ways to enjoy the historic Coolidge Corner Theatre in Brookline. The first is with a monthly screening of a children's movie, like Willy Wonka and the Chocolate Factory or Despicable Me, on a Saturday at 10:30 a.m. These shows are usually recommended for kids ages 5 or 6 and up. The second way is through the Box Office Babies Program. Every other Friday at 11 a.m., the Coolidge invites parents and caregivers with infants to view a showing of a new movie with the lights higher and the volume lower to accommodate baby's needs.
Chunky's Cinema Pub, Haverhill
Seeing a flick at Chunky's Cinema Pub in Haverhill is far from any old movie night. The theater is equipped with extra comfortable reclining seats and serves full meals, so you can do dinner and a movie all in one place. The kids' menu is Toy Story-themed, with Jessie's Mac 'n' Cheese and Woody's French Bread Pizza, and every children's meal comes with a chocolate chip cookie. Looking for a unique birthday party location? Chunky's hosts special events complete with food, cake, invitations and, of course, a movie!
IMAX Theaters, New England Aquarium and Museum of Science, Boston
You won't find any of the popular first-run movies at the IMAX Theaters at the New England Aquarium and at the Museum of Science. But you will find a kid-friendly movie experience that's fun and educational. At these theaters, you can catch beautifully made films about the ocean and its creatures, national parks and outer space, among other topics. Plus, you can visit the Aquarium and Museum of Science as part of your outing.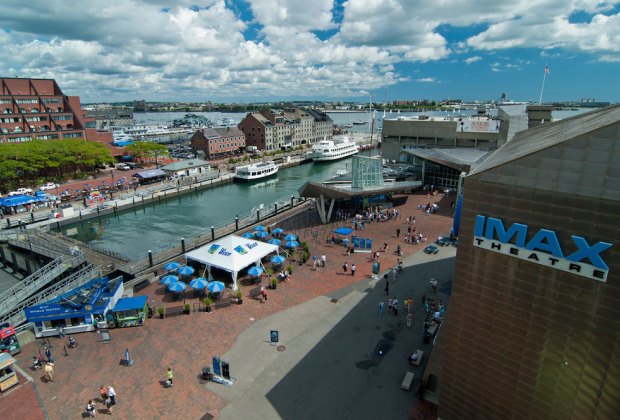 IMAX Theatre, New England Aquarium
Showcase Cinemas, Various locations near Boston
There are a lot of ways to enjoy a movie as a family at Showcase Cinemas, which has a plethora of locations in the Boston area. Showcase hosts the Family Favorite Film Series, where classics like Disney favorites are shown during the day for only $6 per ticket. Bookworm Wednesdays is a summer reading program developed by Showcase where children present a book report to the box office to gain free admission to a film. And perhaps most special of all, several Showcase Cinemas screen Holiday Classics on Saturday mornings for free!
---
Top image courtesy of mLiu92 via Flickr.