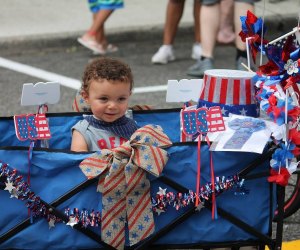 50 FREE Things to Do This Summer with Westchester and Hudson Valley Kids
Summer is here, and while the end of school can be a relief, the new challenge is to keep the kids busy seven days a week! Filling those long days can get pricey—fast. But fear not: We've been hard at work identifying tons of FREE things to do with the kids that will keep them entertained all summer long—and we're not just talking about crafts. We found multi-cultural festivals, admission-free days, magic shows, outdoor yoga, astronomy nights, animal encounters, 18th-century games, and loads more.
Read on for 50+ of our favorites below—and also note that our Event Calendar is your BFF all season, because we keep adding to that frequently, so it's always worth a gander. Want more that's FREE? Bookmark our guide to year-round FREE things to do and sign up for our newsletters.
In addition to the list below, check out our lists of free outdoor movies and free outdoor summer concerts, as well as our guide to local spraygrounds, several of which offer FREE entry.
The Westchester Library System offers annual Summer Reading Games to keep kids (and adults, with their own version) reading all summer long, with incentives like the chance to win prizes and loads of library events. Many host an official kickoff event in late June. Keep tabs on our Event Calendar for some of the highlights we're rounding up for our readers.