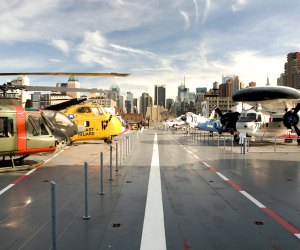 Things To Do in NYC This Weekend With Kids: Intrepid Reopens, Broadway Drive-in, and More
The last week of September is packing a sweet punch. We started the week with the first full-day of (remote) school and a treat at Krispy Kreme's new Times Square mega shop, and we're ending it with an Event Calendar jam-packed with things to do.
Most exciting is the return of one of our favorite kid-friendly museums, as the Intrepid lowers its gangplank once again. We've also got the news that two more of our favorite haunts, the Brooklyn Children's Museum and CMOM, have set October reopening dates.
We're also hosting an Online Back to School Fair with tons of enrichment options. Catch the last few FREE demo classes this week, including sessions from Atlantic Acting and Coucou French. If you're itching to get out, we've got intel on outdoor art trips near NYC, fall family day trips, pumpkin picking (tis the season), the best corn mazes nearby, and even some scenic, seasonal train trips.
Read on for all our top picks for things to do this week with New York City kids.