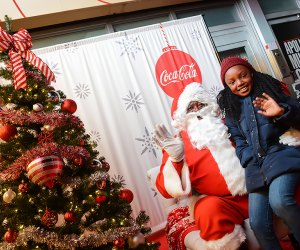 Santa in the City: 45 Awesome Santa Activities for NYC Kids
As always, be sure to click through to our listings for more details.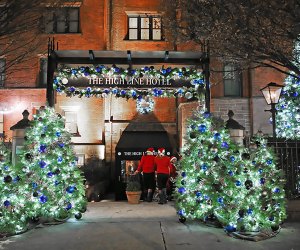 The High Line Hotel, will hold a special tree lighting ceremony on December 4. Photo courtesy of the High Line
1. Gather at the High Line Hotel Wednesday, December 4 as they prep for the holidays with crafts, carolers, biscuits and hot toddies, all presided over by Santa and Mrs. Claus. FREE
2. Sing carols along with Santa, then help him count down to the tree lighting in Washington Square Park Wednesday, December 4. FREE
3. Take a trip to Central Park Thursday, December 5 for the annual tree lighting and score some time with Santa in nature. Stay for the ice-carving demonstrations, caroling, cookies, and hot chocolate. FREE
4. Dumbo's tree lighting Thursday, December 5 wouldn't be complete without a visit to the on-site Santa photo booth. FREE
6. Book a holiday-card-worthy session with Santa at Big Apple Portraits: Sessions are available from December 5 through December 22.
7. Brooklyn's Atlantic Avenue lights its tree with help from St. Nick on Thursday, December 5, with plenty of other holiday happenings. FREE
8. Check out a Christmas marketplace with food, rides, and visits with Santa at the US Army Fort Hamilton Holiday Market & Tree Lighting Spectacular on Friday, December 6.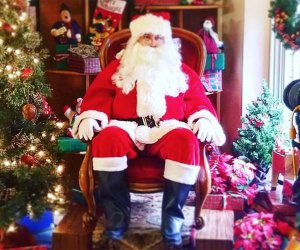 A photo with Santa at a Tartan Christmas, whether you are young or old, remains an amazing treasure! Photo courtesy of the First Presbyterian Chuch
9. Dress up in plaid to nab some facetime with St. Nick at a Tartan Christmas at the First Presbyterian Church, December 6 through 8.
10. Celebrate an old-fashioned Dutch Christmas at NYC's oldest house on Saturday, December 7 with a visit from St. Nick at the Wyckoff Farmhouse Museum.
11. Get photos with the big guy at the Union Square Holiday Party Saturday, December 7. FREE
12. Head to Brooklyn Saturday, December 7 for the Friends of Carroll Park Tree Lighting event. Enjoy songs, snacks, hang time with Santa, refreshments, and photo ops. FREE
13. Santa stops by to help light the Fort Greene Park Christmas Tree on Sunday, December 8. FREE
14. Sail away with Santa aboard a Spirit Cruise Saturday, December 7 or Saturday, December 14. You'll get kid-friendly eats and time to visit with Jolly Old St. Nick.
15. Children with special needs and their families are invited to a private photo session with Santa Sunday, December 8.
16. Sing old-fashioned Christmas carols and see if you can catch a peek of Jolly Old St. Nick at Christmas in Richmond Town on Sunday, December 8.
17. Experience a Dutch Christmas at the annual St. Nicholas Day celebration at the Onderdonk House in Queens, Sunday, December 8, featuring visits with St. Nicholas, a Sinterklaas exhibit, take home holiday crafts, treats and mulled cider, and music.
18. Visit the Queens Botanical Garden on Sunday, December 8 for its annual tree lighting where Santa will be on hand to assist and (most important!) take photos and gift lists!
19. Head to the Staten Island Zoo for a Beastly Feast with Santa, a carousel spin with Chuck the Groundhog, and more seasonal fun on Saturday, December 14.

The big man himself stops by Winter Village for free photos. Photo by Angelito Jusay for Bryant Park
20. Bring your camera to Santa's Corner in Bryant Park, where you can snap a free picture from Saturday, December 14 through Sunday, December 22.
21. Celebrate all the magic of winter at the Willamsbridge Oval Recreation Center Winter Wonderland Party on Saturday, December 14, where Santa will be on hand, along with crafts, games and (of course!) hot cocoa. FREE
22. Enjoy a soulful holiday celebration Saturday, December 14 at the storied Apollo Theater in Harlem, where Santa is on hand for photos and plenty of carols fill the air.
23. Celebrate the holiday season with community org NYSoM and East Harlem Tutorial Program as they host Santa and his crew, including Papa Kwanzaa, the Dreidelator, and Lady New Year for an inclusive holiday party Saturday, December 14. FREE
24. It's no surprise the festively-plump, cookie-loving man in the red suit shows up at the Taste of Christmas Cookie Walk, is it? This year the annual event at the East Village's St. Nicholas Orthodox Church takes place on Saturday, December 14 and Sunday, December 15.
25. Watch the city's bravest rescue a stuck Santa at the Annual Santa Rescue at the New York City Fire Museum on Sunday, December 15. FREE to watch the rescue; party entrance is extra and you must purchase tickets in advance.
26. Visit the spectacular Church of the Intercession for a reading of Twas the Night Before Christmas on Sunday, December 15, followed by a procession to the grave of the story's author, Clement Clark Moore. An old-fashioned St. Nick leads the way, and there's plenty of goodies and fellowship to share. FREE
27. Aviator Sports and Events Center's Santa event has grown so popular, he's hosting a pair of brunches on Saturday, December 15.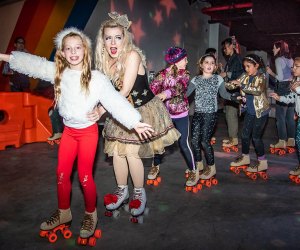 28. Come and skate with Santa and Mrs. Claus on the roller disco dance floor during the Santa Disco Party at Dreamland Roller Rink at Brooklyn's City Point, Saturdays through December 21.
29. Don't miss your chance to hang with Santa Claus at the Museum of the City of New York, Saturdays through December 21.
30. Catch a holiday show with the star of the season at the Paley Center, which hosts Holiday Time in PaleyLand with Santa visits on select weekdays and weekends through December. Classic holiday shows are screened and Santa will take requests and say cheese.
31. Dress your daughter and her favorite doll in their holiday best then head to the American Girl Store for a Santa brunch in the on-site cafe, Sundays through December 22.
32. Brooklyn home store Items of Interest offers five-minute mini photo sessions with the big guy weekends through December 22.
33. You'll be in stitches by the time you meet the big guy if you take in a Elfprov brunch show at the Broadway Comedy Club, weekends through December 22. Showtime is followed by selfies with Santa, though those laugh-inducing elves have been known to moonlight as photographers, too.
34. Bloomingdale's mounts its own Santa Experience where the big guy poses and takes requests daily until December 23.
35. Whether you're two-legged or four-legged, Santa's waiting for you at Brookfield Place through Tuesday, December 24, with photo sessions for kids and their dogs on Wednesdays. Special needs sessions are also available.
36. Splurge on a family meal with Santa at Rockefeller Center's Sea Grill or Rock Center Cafe through December 24.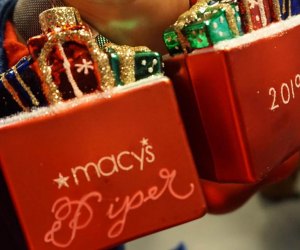 Nothing quite beats Macy's Santaland. Photo by Jody Mercier
37. The one true Santa (in my kids' eyes anyway) resides at Macy's Santaland. Be sure to book your reservation to meet the big guy in advance before December 24!
38. If Santaland isn't extra enough for you, Santa is taking reservations at Stella 34 Trattoria through December 24. You'll get a tasty meal, takeaway treats, and a bit of extra time to share your list, plus an iconic Santaland photo.

Join in the fun family event Tea with Eloise and Santa at the Palm Court at the Plaza. Photo courtesy of the Plaza
39. Share a rawther fancy mealtime with Santa at The Eloise Boutique's Tea with Santa, Tuesdays through Saturdays through December 28.
40. Trek to Dyker Heights, Brooklyn this month to play Santa I-Spy. How many glowing St. Nicks can you spot among the extravagant decorations? FREE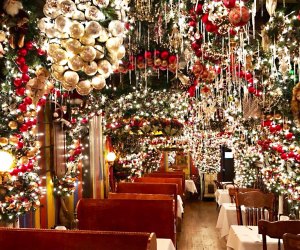 Rolfs, the Gramercy Park bar and restaurant, is famous for having the most Christmas decorations of any bar in NYC. Photo courtesy of Rolf's
41. Another spot full of over-the-top decor perfect for Santa spotting? Rolf's restaurant near Gramercy Park.
42. Spot St. Nick in one of the classic movies screened at the NYBG as part of the month-long festivities surrounding its annual Holiday Train Show.
43. Visit an outer-borough mall for a Santa photo op. This month he's holding court at Bay Plaza, the Bronx; The Queens Center Mall; Kings Plaza in Brooklyn; and the Staten Island Mall.
44. With apologies to The Rockettes, doesn't everyone visit Radio City to catch Santa doing his best high-kick? Tickets are available through Sunday, January 5.
45. For the most outrageous, un-PC, question-inducing Santa experience, venture out during SantaCon when twenty-somethings embark on a day-long bar crawl in their classiest Santa attire. The route isn't announced until the night before, but no matter where you go that day, you're likely to run into some especially festive Santas. Don't say we didn't warn you!
Still not enough Santa fun for you? Keep an eye on our packed events calendar, which will be updated continually as we learn of new, fun St. Nick sightings.
A version of this post was published in 2018; it has been updated for 2019. Katie Nave Freeman contributed additional reporting.