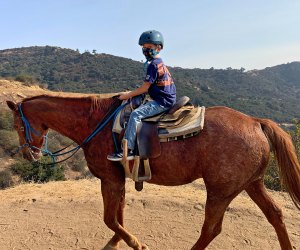 46 Fun Things To Do in LA with Kids this Holiday Break
From skiing in the mountains to building sandcastles at the beach (and even both in the same weekend!), no city has as many amazing and diverse winter break activities as Los Angeles. Not even a global pandemic can stop LA parents from finding innovative things to do with kids, like checking out the street art, exploring a private Japanese garden, or fishing off a pier. Take advantage of the quiet city and empty streets to zip across town in record time and explore a new neighborhood. And don't miss the last of the holiday lights and drive-thru Christmas events that continue into January.
LAUSD schools are closed from December 21, 2020 through January 8, 2021. So if (when?) you need more fun things to do over the 2020-2021 holiday break, check out our Weekly Picks and our daily Event Calendar.
Editor's note: While we are trying to promote safer activities that occur outdoors or with social distancing guidelines in place, please keep your family and others safe by always wearing a mask and maintaining an appropriate distance. If you arrive at an event that appears too crowded, try using the "nearby" search feature on our Event Calendar to find something else. Keep in mind, reservations are required for many of these events, so plan your outings in advance, and be sure to click through our listing for all the details, including address, time and pricing.
Los Angeles Arboretum
Hang with the peacocks on over 120 acres of natural beauty. Online reservations are currently required.
Visit Hansen Dam
The fabulous Discovery Cube LA used to be our whole reason for coming here. But while it's closed, don't sleep on Hansen Dam Park's other wonders, like the wide open spaces, bike paths, and natural beauty around the mini-lake.
Go on a sand sledding adventure
Head up the coast to the giant sand hill on PCH in Point Mugu State Park.
Ventura Harbor
Take a Boat Sleigh ride to see the holiday lights in the harbor.
Whale watching cruise
The season of the Pacific Gray Whale is just beginning, and boats are taking families on (reduced capacity) cruises.
Redondo Pier
When there's traffic on the 405 it sounds far away, but a drive to Redondo is an easy escape at this time of year. Stroll the pier, the beach, and get some takeout.
South Coast Botanic Gardens
Get lost amid the greenery and trails during the day, and stay for the GLOW at night.

RELATED: What's Open Christmas Day in Los Angeles


The peacocks at the LA Arboretum don't take a vacation. Photo by Mommy Poppins

Descanso Gardens
Descanso remains open with Reflections at Descanso, which features a beautiful Wishing Tree. (I wish 2020 was almost over. Hey, that worked!)
Cupcake ATM in Beverly Hills
Hit the ATM anytime of the day or night for a classic red velvet confection.
Local ski slope or tubing park
Hit the slopes or go sledding or for the day.
Camarillo Outlets or The Citadel
They're still open! Do some outlet store shopping for great deals—especially after Christmas.
Over-the-top Christmas lights around LA
Take a drive to see amazing neighborhood Christmas lights.
Over-the-top Christmas lights in the OC
Drive to Orange County see even more lights.


Photo by Jackie Jones

Check out the street art scene
Art is everywhere—and you can enjoy it even when our fabulous museums are closed. Take pics with Wild Things and against the second most photographed wall in the world (behind the Great Wall of China!).
Irvine Ranch
Explore the huge, beautiful wilderness just a short drive away.
Balboa Island
Take a walk around, smell the salt air, and get takeout from some great restaurants.
Montrose Village
Enjoy a stroll through twinkling holiday lights in this small-town village. (Help save America's oldest children's bookstore, which is located here, and is currently offering curbside pickup of pre-ordered books.)
See the sights of Newport Beach
Many of the tourist sights are closed, but that means it's less crowded. Enjoy tide pools, boat rides, and one of the local legendary milkshakes (to go).
Little Tokyo
Spend an afternoon soaking up Japanese culture. The museum (and a favorite bowling alley) are closed, but many shops are still open and takeout is available at plenty of delicious area restaurants.
Huntington Library
Though the exhibit spaces are closed, some of the most gorgeous gardens in the country are still open (with advance reservations).
Skypark at Santa's Village
Take a longer drive up into the mountains, for Lake Arrowhead's delightful Santastic theme park. If you have (or can rent or borrow!) an RV, this becomes a winter getaway, as the full service Recreational camping experience is open.


Tubing at the North Pole is not so far away. Photo by the author

Olvera Street
Local museums are closed, but it's still fun to soak up the history on DTLA's iconic, oldest street. Plus, Mr. Churro is still serving up those amazing stuffed churros.
Festival of Lights
See the famous festival at Riverside's Mission Inn.
Visit local Farmers Markets
Local farmers markets are open! While some of the stuff kids love most about the markets are temporarily missing (like animal rides, music, and samples), it's still a wonderful reason to go out and get some fresh fruits and flowers.
Santa Monica Pier
Watch the sunset over the ocean, see The Bob Baker Marionette Theater's Windows of Wonderment, take part in the Secret Story Experience, and even go fishing on the historic pier.
Winterlit's Augmented Reality Experience
DTSM has created a new experience along 3rd Street Promenade. Families can download the free experience by scanning a QR code and then transform buildings and trees along the Promenade into holiday elements.
Tanaka Farms
See the twinkling Festival of Lights or take a tractor ride with Santa through the u-pick fields.
Underwood Farms
Even after Christmas on the Farm closes, the Animal Center and Pick Your Own Fields remain open.
Go to trapeze school!
Your family (or pod) of up to 7 people, ages 6 and up, can book out a class on the Santa Monica Pier. Soon you'll all be flying through the air, with the greatest of ease!
Horseback ride under the Hollywood Sign
Kids ages 8 and up can take a one or two-hour ride in the storied hills.
Pedal around Echo Park Lake
Walk around the lake, bring a picnic lunch, feed the ducks, and then definitely take a pedal around the lake on the Swan Boats!
Visit Downtown Disney
For kids missing Mickey and friends (and Star Wars, the Avengers, the Muppets, Pixar friends … is there anything Disney doesn't own?), Downtown Disney shops are open and classic Disney treats are available.
Stroll Universal CityWalk
Oh, wait, we know who Disney doesn't own: Harry Potter! While Universal Studios Hollywood is closed, the CityWalk shops are open, the streets are decked, and treats to go are for sale. (That includes Butterbeer, available for the first time outside the theme park, and VooDoo Doll doughnuts.)
Hit the Courts
We all got whiplash over here, trying to figure out the playground closure rules. But tennis courts have been open all year long. Book a court and teach the kids to play on some of the very courts where Serena and Venus learned to play.
Hit the Links
Mini-golf spots have closed through the end of 2020, but big golf courses remain open. Get your little duffers out walking the links this season.
Eat all the ice cream
In most cities, ice cream isn't a Christmas food. LA isn't most cities. Get a scoop or pint to go at your favorite local spot, try the holiday flavors at the newest Salt & Straw in Culver City, or drive across town for family favorite Ginger's Ice Cream (on the westside) or kid-pleaser The Dolly Llama (multiple locations).
Visit LACMA
Finally, something that didn't close due to Covid! Sadly, LACMA actually closed earlier because a whole new museum is being built. However, the outdoor plaza is open daily, and families can view outdoor art and sculptures for free.
La Brea Tar Pits
The Tar Pit museum is currently closed, but the real star of the park is the actual tar pit, which remains open. Visitors can watch paleontologists at work at the excavation site in the park, and one of the best hills in the city for running and rolling down is along the side of the museum.
Eaton Canyon Natural Area
Timed (free) entry reservations make this hike super safe and ensure that there are no surprise crowds.
Exposition Park Rose Garden
The Tournament of Roses Parade is cancelled this year, so walk through the Rose Garden by USC (who will hopefully be playing in the not-yet-cancelled Rose Bowl!) to get your fill of fragrant flowers.
Malibu Legacy Park
This park is literally for the birds. It's part outdoor classroom, part living learning center, and all fun nature walk filled with giant tile animals to climb on. If kids want to see more birds (and surfers) up close, walk to Malibu Lagoon State Beach across the PCH.
Storrier Stearns Japanese Garden
This beautiful, off the beaten path spot is never crowded because guests have to register for 2 hour visit times on weekends only. But for a few, serene outdoor moments, it's definitely worth the planning ahead a visit requires.
California Botanic Garden
Take a drive to Claremont and see if kids can find all 14 of the ceramic sculptures dotting the garden as part of the current "Clayfornia" outdoor exhibit.
Bike along the beach
If the kids got new bikes for the holidays, now is the time to test them out on over 20 miles of beach bike paths! But if they didn't, several bike rental shops are open along the strand from Santa Monica to the South Bay.
Walk, jog, or bike the Hollywood Reservoir
With sweeping views of the Hollywood Sign and city skyscrapers, this peaceful lake is both a piece of LA history and a great spot to jog, teach kids to ride bicycles (no cars!), and look for wildlife, right in the heart of the city.
Bliss out with kittens
CatCafe Lounge reopened just in time for the holidays. Lose any end-of-year stress by booking a private session cuddling with adorable rescue cats and kittens.
Originally published on December 21, 2012