Holiday Break in Los Angeles: 75 Things to Do Between Christmas and New Year's Eve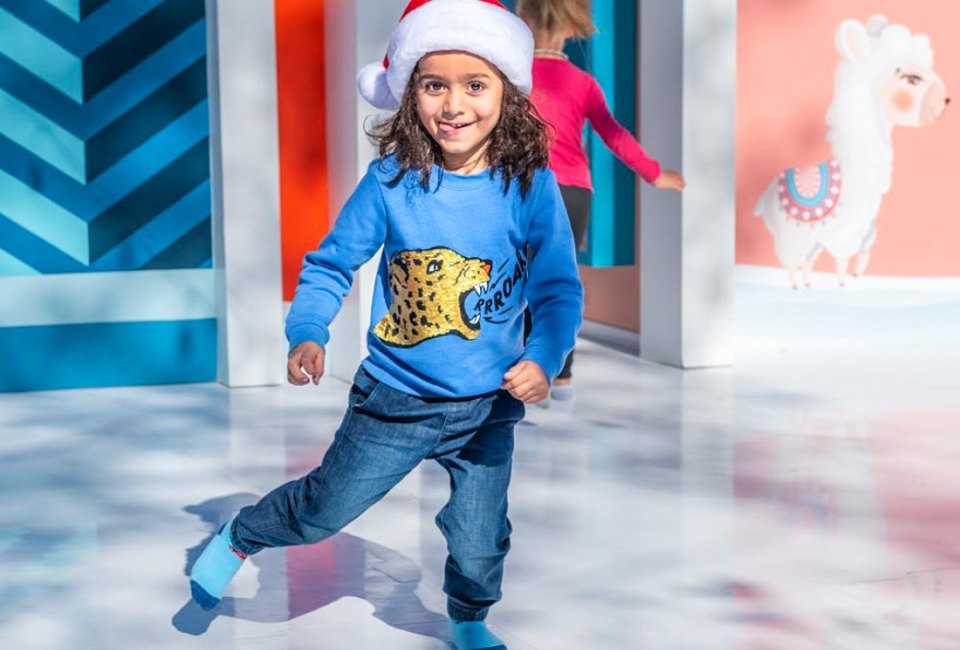 12/18/22
- By
Roberta B
Holiday break at schools in Los Angeles seems to last an awfully long time, and that makes for a whole lot of fun things to do you need to start planning. Luckily, you live in Los Angeles, where you can fill the days between Christmas and New Year's Eve with loads of activities, and your kids will never be bored. In fact, this is my favorite time of year in LA...
Here's why: Do you hear that silence? They're gone! Those people standing in their socks at airport security, telling their kids to knock back the juice box, they've all cleared the highways. While all those other Angelenos are away, you can do anything, anywhere, and it probably won't take you more than 20 minutes to get there.
Try a few of the far-fetched and fun outings below that won't feel nearly so far during Christmas vacation. And if you still need more suggestions, it's a great time to start checking items off our 100 Things To Do in LA Bucket List.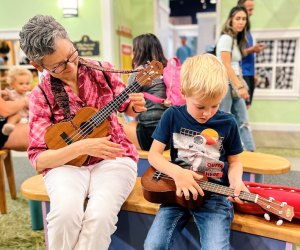 Photo courtesy of Pretend City
LAUSD schools are closed from December 19, 2022 through January 9, 2023 for the holiday break. If you're taking advantage of this long vacation to travel, be sure to check our other cities for the coolest things to do all over the US. We've got whole sites dedicated to the best things to do with kids in most major US cities, complete with calendars filled with events for each and every day. Heck, even if you're traveling abroad, we've got you covered!
If you're staying in town and plan to visit multiple attractions in the Los Angeles area (we're looking at you, people with visiting relatives you'll be squiring around town), it's worth it to look into a Go City - Los Angeles All-Inclusive Pass or Explorer Pass which includes entry to Legoland, Universal, Warner Bros., Knott's Berry Farm, Six Flags Magic Mountain, the Aquarium of the Pacific, the San Diego Zoo, the LA Zoo, and more—all for one ticket price.
Yes, this is always a fabulous museum for the under 7 set. But one of the reasons we really recommend visiting during winter break is that the museum is fabulous at holiday programming. Whatever your family celebrates, this little hands-on museum has an event for you: from Christmas countdowns to Kwanzaa celebrations to Noon Year's Eve and more.
See the rescued animals perform in animal shows, assisted by students at Moorpark College. If you go before Christmas, you can take part in Wild Nights and Disco Lights.
You could see the sequel to James Cameron's fan-favorite animated saga—in 3D—at the grandest movie theater in town! Also, this movie is loooong. It'll eat up a good chunk of your day.
RELATED: Holiday Light Shows and Christmas Lights in Los Angeles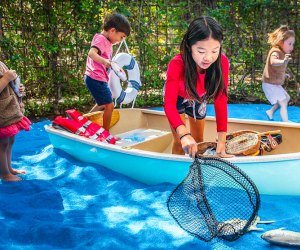 Row, row, row your boat, gently down the sand? Photo courtesy of Kidspace Children's Museum
Pasadena's kid heaven is a must for anyone growing up in LA. This winter vacation, kids can take part in the second annual Winter Frolic, complete with a Sock Skating Rink.
History comes to life in this Carson museum showcasing the history of printing. This lesser-known museum is one of our favorite hidden gems.
Pay a visit to the rescued sea lions at this seaside center. Let me say that again: visit adorable rescue sea lions! What are you waiting for?
Wander the woods of Descanso Gardens in the evening, and bring your camera for lots of photo opportunities.
RELATED: Visiting the Aquarium of the Pacific with Kids

Explore the Leo Carrillo Tide Pools in Malibu. Photo courtesy of Yes for State Parks
Explore the tidepools and marine life at this gem of an aquarium. Did you know tidepooling is best in the winter? True fact.
Attend events before, after, or during this iconic parade. You could even help decorate a float!
Tour the historic ship down on the LA Waterfront. Be sure to check the website in advance because it's occasionally closed for private events.
Spend the day with bumper boats, go karts, bowling, VR, arcade games, laser tag, axe throwing, mini golf, and more.
Visit the South Coast Botanic Gardens at night for an enchanting night walk. Depending on where you live in LA, Palos Verdes at night can be too much of a drive on a regular night. But during the holidays, with no traffic, it's a breeze!
CAMP opened a new store at the Westfield Century City mall. Step behind the magic door to discover the ever-changing fun. This winter break, the theme is Nike Kids Camp. It's like camp without paying for camp. Perfect.
RELATED: Where To Go Snow Tubing in Los Angeles

A gingerbread Hogwarts illustrates the Science of Gingerbread. Photo courtesy of Discovery Cube, Facebook
Build and learn holiday-style at the Discovery Cube. This is perhaps the greatest holiday museum exhibit in town, and this year it's at both the OC and LA locations. If you're willing to drive south, the Orange County location has a new Winter Lights musical spectacular from December 16-January 8.
Head north (maybe on the train?) to a great little zoo that feels like an adventure.
See some really awesome light shows and displays, on a night when you don't have to get up for school the next morning.
Take a drive to see amazing neighborhood Christmas lights.
Skate at LA Live. It's not Rockefeller Plaza, but it's not too shabby! There are more places to ice skate in the LA area, too!
RELATED: Snow Play Near Los Angeles

Visit Little Tokyo for great food, shopping, and culture. Photo by Florent Lamoureux, Flickr
Spend an afternoon steeped in Japanese culture.
Tee off with the whole family in a game of golf. Because, you know, it's not snowing here!
Have a bite and a holiday drink, while your kids watch the planes and explore the airplane playground at the place recently named LA's hottest new food hall by Food Network.
Visit the gardens and exhibits in this gorgeous museum. The Children's Garden is open again and the newer additions to the Chinese Garden are spectacular. Be sure to check out the special exhibit Inspiring Walt Disney: The Animation of French Decorative Arts, which is on display all winter.
Learn some real cowboy history, and check out the new family play space that just opened up this fall!
RELATED: Best Things To Do with Kids in Lake Arrowhead

Check out a great museum that kids and adults alike love. Grammy Museum photo courtesy of Mommy Poppins
Rock out at this unique music museum.
The kid-favorite exhibit, Yayoi Kusama's Infinity Mirrored Room—The Souls of Millions of Light Years Away, is open again. After that, the bright colors of the Warhol, Basquiat, and Lichtenstein exhibits delight kids.
See why the swallows are so into this place.
Take a drive to this hands-on museum.
Take a longer drive up into the mountains, for Lake Arrowhead's delightful Santastic theme park.
Enjoy some treats (Mr. Churro!) and shop on DTLA's iconic, oldest street.
Visit the Skirball's wonderful, endlessly entertaining play space.
RELATED: What's Open on Christmas Day in Los Angeles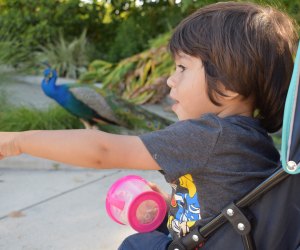 The peacocks at the LA Arboretum don't go on vacation. Photo by the author
Hang with the peacocks on over 120 acres of natural beauty. Or head over in the evening for Lightscape at the Arboretum.
The fabulous Discovery Cube LA used to be our whole reason for coming here. But while you're visiting the Science of Gingerbread exhibit (mentioned above), don't sleep on Hansen Dam Park's other wonders, like the wide open spaces, bike paths, and natural beauty around the mini-lake.
Head up the coast to the giant sand hill on PCH in Point Mugu State Park.
Take a Boat Sleigh ride to see the holiday lights in the harbor.
The season of the Pacific Gray Whale is just beginning, and boats are taking families on cruises.
When there's traffic on the 405 it sounds far away, but a drive to Redondo is an easy escape at this time of year. Stroll the pier, the beach, and get some takeout.
Get lost amid the greenery and trails that are the garden less traveled for Angelenos who typically visit Descanso or the Arboretum.
Take advantage of the non-existent traffic to drive out to these lovely lavender fields that are all lit up for the holidays.
RELATED: The Most Over the Top Desserts in Los Angeles

The Cupcake ATM is always open. Photo by the author
Hit the ATM any time of the day or night for a classic red velvet confection. There are Cupcake ATMs all over town now (at the Americana in Glendale, Hollywood & Highland, USC, LAX, and more!) but we're still partial to the original one in Beverly Hills.
Hit the slopes or go sledding or for the day.
Do some outlet store shopping for great deals—especially after Christmas.
RELATED: Winter Activities Guide for LA Kids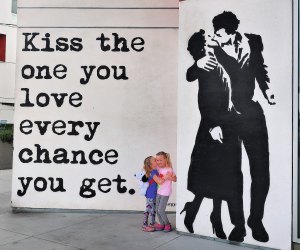 Art is everywhere you look. Photo by Jackie Jones
Art is everywhere. Take pics with Wild Things and against the second most photographed wall in the world (behind the Great Wall of China!).
Take a walk, smell the salt air, and enjoy some food or snacks at one of the great local restaurants.
See the famous festival at Riverside's Mission Inn.
45. Local Farmers Market
Go out and get some fresh fruits and flowers and savor living in LA, while the rest of the country is shopping in the frozen food aisle.
Watch the sunset over the ocean, ride the Ferris wheel, and play a little Skeeball.
See the twinkling Festival of Lights or take a tractor ride with Santa through the u-pick fields.
Even after Christmas on the Farm closes, the Animal Center and Pick Your Own Fields remain open.
Your family can book a class together on the Santa Monica Pier. Soon you'll all be flying through the air, with the greatest of ease!

Take a horseback ride in the heart of the city. Photo courtesy of Sunset Ranch, Hollywood
Kids ages 8 and up can take a one or two-hour ride in the storied hills.
Walk around the lake, bring a picnic lunch, feed the ducks, and then definitely take a pedal around the lake on the swan boats!
The Happiest Place on Earth becomes the merriest place on Earth this holiday season.
RELATED: Best Amusement Parks for Preschoolers in Los Angeles

It's a winter wonderland at Hogwarts. Photo courtesy of Universal Studios
At night, Hogwarts Castle is illuminated in a dazzling display of festive lights and music. And the Who-tacular festivities are back with The Grinch, Max, and all the Who-ville denizens.
Because where else can you see Merry Christmas, Snoopy!, an ice show featuring the Peanuts Gang and a cast of world-class ice skaters?
LACMA is under construction, but while many galleries are closed (or rather, while many buildings are missing), you can still visit works of art at the Resnick Pavilion and Broad Contemporary Art Museum. This includes Metropolis II, which can entrance kids for hours.
While you're Mid-City, check out the newest museum to open in Los Angeles: the incredible Academy Museum of Motion Pictures.
RELATED: 25 Things To Do in Newport Beach with Kids

The Page Museum at the Tar Pits and a perfect little museum for kids. Photo courtesy of Mommy Poppins
Visitors can watch paleontologists at work at the excavation site in the park, visit one of the best hills in the city for rolling down, and check out the mammoths stuck in the Lake Pit. And that's all before you even go inside the museum!
Take advantage of the cooler weather to take a nice long hike. We've got favorite family hikes, hikes for toddlers, hikes for strollers, and even wildlife walks for little animal lovers.
Take the perfect winter photo-op at Exposition Park's iconic Rose Garden.
Literally. It's part outdoor classroom, part living-learning center, and all fun nature walk filled with giant tile animals to climb on. If kids want to see more birds (and surfers) up close, walk to Malibu Lagoon State Beach across the PCH.
RELATED: An Insider's Guide to LA's Best Garden for Kids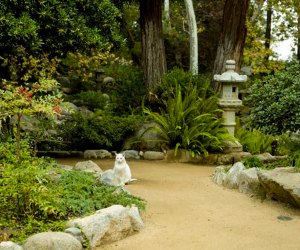 Storrier Stearns Japanese Garden is a gorgeous getaway in town. Photo courtesy of japanesegardenpasadena.com
This beautiful, off-the-beaten-path spot is located right across the street from Arlington Gardens in Pasadena. While walk-ins are welcome, the garden recommends registering ahead of time.
Take a drive to Claremont and enjoy a garden you may not have visited before.
63. Bike along the beach
If the kids got new bikes for the holidays, now is the time to test them out on over 20 miles of beach bike paths! But if they didn't, several bike rental shops are open along the strand from Santa Monica to the South Bay.
With sweeping views of the Hollywood Sign and city skyscrapers, this peaceful lake is both a piece of LA history and a great spot to jog, teach kids to ride bicycles (no cars!), and look for wildlife, right in the heart of the city.
And stay into the evening for the Holiday Light Show.
Tickets to see the Rams or Chargers can get a little pricey, but if you want to check out the state-of-the-art SoFi Stadium, you can book tickets for a tour that includes a tunnel run onto the field.
Sure you can't catch a ballgame in the winter, but you can do the next best thing with a tour of the iconic Dodger Stadium.
68. See a game
Speaking of sports, the Lakers, Clippers, Kings, and Ducks all have home games over the holiday break, so take your little leaguer to see some pros at work.
Even teens who think they're too cool for immersive adventures will get a kick out of Stranger Things: The Experience. I was genuinely surprised by how much fun we had at this as a family.
The California Science Center currently has a new exhibit called Amazonia, which is all about life on the Amazon River, along with fascinating and educational exhibits like The Rot Room and the LA Zone.
The NHM features special exhibits like LA Underwater and an Electron Microscope Lab along with permanent exhibitions like the Dinosaur Hall and Age of Mammals.
RELATED: Why Preschoolers Love the California Science Center

Don't miss this LA classic! Photo courtesy of the Bob Baker Marionette Theater
If you haven't ever seen this marionette show, you simply must. It's an LA classic.
The Holiday Light Festival Train Ride is back, through Jan. 6, and you do not want to miss it!
This winter wonderland is complete with everything from the North Pole, Elf Village, Gingerbread Lane, light tunnels, and Christmas tree forests.
Zoo Lights shines at the LA Zoo until Jan. 22.
Originally published on December 21, 2012
We may earn a small commission if you click through our link and make a purchase. This revenue helps us maintain this site, so thank you for supporting us.
Sign up for the Mommy Poppins Newsletter today!