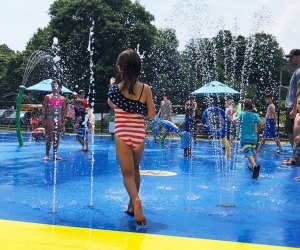 The Best New Entertainment Hot Spots for LI Kids, 2018
Read on for more details about all of Long Island's best new hot spots. Here's to a Happy New Year to you and your family.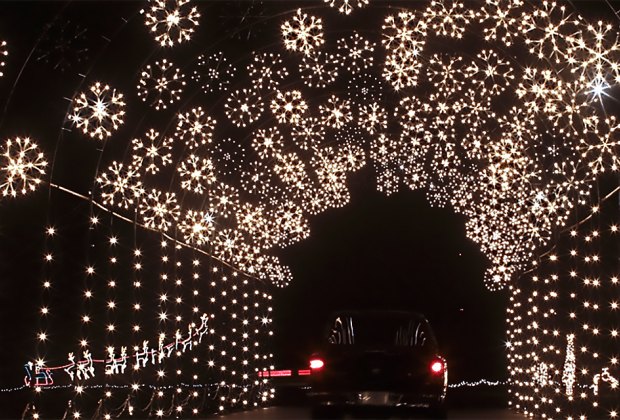 Promoters hope the Holiday Light Show in Calverton will become a Long Island holiday tradition. Photo courtesy of the show
Holiday fun
Holiday Light Show — Calverton
This 20-minute light show is sure to have your kids staring in wide-eyed wonder as you ride by the more than 60 giant, illuminated displays that include an Advent wreath, riverboat, dragon, and much more. Located at the Long Island Sports Park, it's an East End alternative (or an addition) to other Long Island holiday light shows such as the Magic of Lights Show at Jones Beach or the Girl Scouts of Suffolk County light show. Promoters say they anticipate the Calverton show will become a Long Island holiday tradition.

Party City's Toy City Pop-Up — Islandwide
It's no secret the closing of Toys R Us stores made toy shopping more difficult for Santa's helpers this year. To the rescue is Toy City, Party City's pop-up stores that have opened around Long Island at former Halloween City locations. Use the store's online locator and search via zip code for a location near you. Stores are open for the season and will accept returns and exchanges until December 31, 2018 (items must be unopened and accompanied by a receipt.)
RELATED: New Year's celebrations for LI kids

The whole family can get in on the action at 2018 new addition Xplore Family Fun Center. Photo by Thien August
A new play space
Xplore Family Fun Center — Port Jefferson Station
The owners of Safari Adventure in Riverhead took over the space that used to be Fun 4 All, creating a brand-new indoor play space. The enclosed and fully padded "Toddler Zone" for kids ages 3 and younger has blocks for building, interactive puzzles, musical toys, and more. For the older set, there are giant inflatables, a climbing slide, and an obstacle course. There is also a 20-foot, multilevel soft playground, arcade and video games, and lazer tag. Enjoy lunch at the café. Birthday party packages are available.
RELATED: Great science museums for LI kids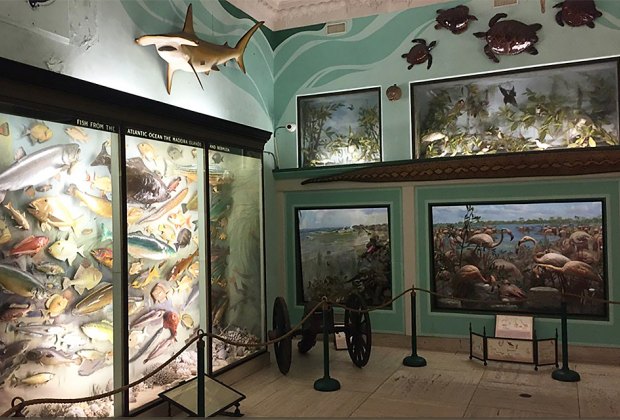 Explore marine life at the redesigned Hall of Fishes exhibit at Vanderbilt Museum. Photo courtesy of the museum
Museums
Hall of Fishes at Vanderbilt Museum — Centerport
The recently reopened exhibit on the first floor of the Vanderbilt's marine museum has been in the making since 2015. Visitors now have the chance to see restored and/or repaired taxidermied flamingoes, dry-mounted fish specimens, shorebird dioramas, and the diorama background paintings, along with the creation of a new undersea painting for a large exhibition case. Other exhibits in the museum include a 3,000-year-old Egyptian mummy and a 32-foot whale shark.
Long Island Explorium — Port Jefferson
Formerly the Maritime Explorium, this rebranded space in the heart of Port Jefferson Village lets kids explore science, technology, engineering, art, and math with its STEAM-based programs. There are plenty of interactive exhibits and activities to keep kids happily engaged, including a Lego robot that teaches coding. Science programs are offered every weekend, as well as weeklong summer camps and birthday party packages. Every June, the explorium hosts the Eastern Long Island Maker Faire, which focuses on tech creativity, innovation, and entrepreneurship.
Nature
Marine Nature Study — Oceanside
Plan to spend about two hours here hiking and exploring the more than 50 acres of wetlands that surround Bedell Creek and open into Middle Bay. Before embarking on your outdoor excursion, check out the (ever-changing) displays at the interpretive center to learn more about the area's inhabitants. The one-mile trail is flat and easy to navigate and there are eight observation and study sites to stop at for a rest and to look at educational displays. Be sure to bring a stash of supplies, including snacks, water, binoculars, camera, bug/tick spray, and sunblock.
RELATED: Nature centers sure to delight LI kids

The Mystery Mansion Ride debuted at Adventureland in spring 2018. Photo courtesy of Adventureland
Adventure Park
Mystery Mansion Ride at Adventureland — Farmingdale
When this popular Long Island park opens for the season again in March (weather permitting), be sure to take a ride on one of its newest attractions, Mystery Mansion. Not your typical haunted house, riders sit in a gondola-like chair as they are elevated through the ride, and taken inside and outside of the mansion. Restricted to riders 48 inches and taller, it's not for little ones, but there are plenty of other rides and attractions for younger children.
RELATED: Great holiday season day trips near Long Island

Daredevils can test themselves on the new water slides at Splish Splash that debuted in 2018. Photo courtesy of Splish Splash
Water and Spray Parks
New Water Slides at Splish Splash — Riverhead
Two new high-speed water slides made their debut this season at Splish Splash, and they are not for the faint of heart. Riptide Racer takes four people for the ride of their lives as they careen down enclosed tubes headfirst on mats. Bombs Away entices two daredevils to sit atop a 300-foot-long slide that is 50 feet high. As the floor drops, the riders spiral through a translucent tube that allows them to get a look outside as they get soaked inside. Obviously, these rides are for adults and older kids, but the water park has lots to offer kids of all ages.
Sgt. Paul Tuozzolo Memorial Spray Park — Elwood
A first for the Town of Huntington, this 2,500-square-foot spray park lets residents young and old cool off in the hot weather. Named after a Greenlawn resident and New York City police officer who was killed in the line of duty, the spray park is located inside Elwood Park. It includes a padded floor, push-button activation sites, point-and-shoot "cannons," and a "car wash" for kids to run through. For added fun, atop a tower sits a giant NYPD blue bowl that fills with water and spills out on revelers below.
RELATED: LI destinations for delicious hot chocolate

The Coder School added a second Nassau County location, in Roslyn. Photo courtesy of the school
STEM Classes
Coder School Second Location — Roslyn
This fall, The Coder School opened a second location in Roslyn, bringing the high-tech world of learning to even more kids. Offering after-school, summer, and school-break camp programs to kids ages 6-18, this school is all about teaching kids to code. Whether they need classroom or homework help, assistance developing an idea for a new app, or want to take their gaming skills to the next level, The Coder School has customizable classes for every level of learning.