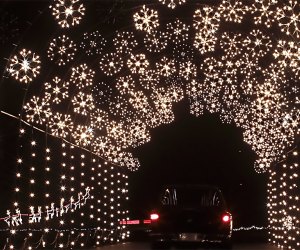 Review: Holiday Show in Riverhead Lights Up the Season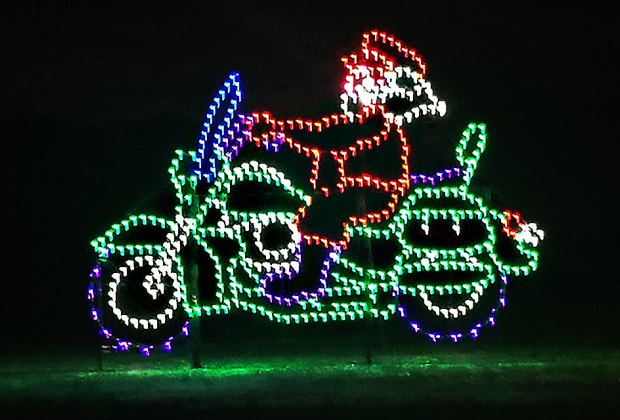 Who needs reindeer? In Riverhead, Santa rides his motorcycle.
Upon entering the Calverton show, eager kids can ask adults to turn their radio stations to 104.7 WELJ, where spirited carols accompany the magical drive through the displays. A Frozen castle, Santa on a motorbike, and a hockey player are artfully created from a kaleidoscope of twinkling lights.
RELATED: 20-plus FREE things to do with LI kids during the holiday season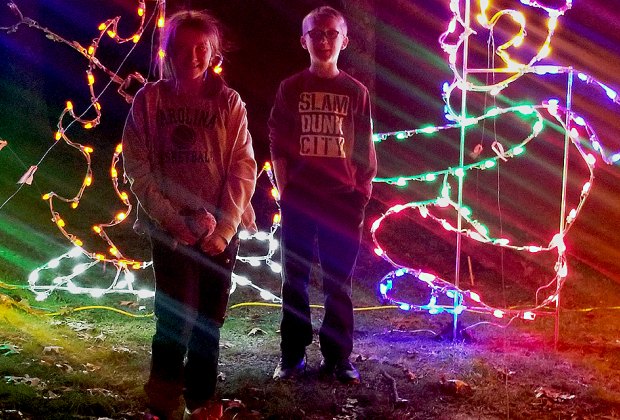 Kids will thrill to the family-friendly adventure. Parents will appreciate the reasonable price.
In total, there are 60 to 70 displays, some as high as three stories tall. The ride is about 1½ miles long, lasting about 20 minutes. Children are enchanted as they drive through the Advent wreath, a riverboat, an illuminated dragon, traditional sleigh and coachman, and more. Photography is encouraged, but, with limited exception, visitors are not permitted to leave their vehicles. Drivers are asked to turn off their headlights, or at least dim them.
RELATED: Great holiday season days trips from Long Island

The beautiful Advent wreath is a sight to behold. Photo courtesy of the show
The debut seems to be more popular than expected. According to Tawni Otterman, account executive for BOLD Broadcasting, one of the show's parent companies: "We were originally expecting 20,000 people, but we are now expecting somewhere between 40,000 and 50,000. We are planning to bring it back every year and expand every year."
You can buy tickets ahead of time on the show's website for $23 per car, or pay when you arrive for $25 per car. All major credit cards are accepted.
The show is open every Friday, Saturday, and Sunday in November from 5 to 11pm. In December, you can also cruise through on Thursdays from 5 to 11pm.
If you are making an extended excursion to Riverhead, you might want to visit the Long Island Aquarium. It is hosting brunches with Santa in addition to its regular displays.
To get to the Riverhead Light Show, take the LIE to exit 71. Head north on Edwards Avenue, and the entrance to the Long Island Sports Park is on your left. Alternatively, you can take the Long Island Rail Road to the Riverhead station and take a short cab ride to the sports park.
Unless noted, photos by the author