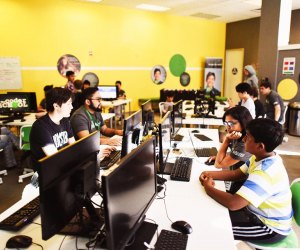 The Coder School Expands to a Second Location on LI
You can never have too much of a good thing.
Luckily, Nisha Bhalla and Noreen Kazi, co-owners of The Coder School in Syosset, feel exactly the same way, especially when it comes to providing kids ages 6-18-plus with a cool place to learn about coding. The entrepreneurs recently opened a second Nassau County location, in Roslyn, at 17-21 Lumber Road, Suite 3.
"Our new location is about 900 square feet and we have about 1,000 students," Bhalla said. "Our students range from novices and beginners to the more experienced." The school's large, brightly lit main room holds sleek desks with Dell computers. "We also have a few Apple computers. Those are for our more advanced game development classes," Bhalla added. If anyone needs to take a break from coding, a foosball table stands waiting.
Coding powers today's technology, Bhalla explained. Kids learn about it in school, but often the STEM curriculum only takes them so far. At The Coder School, kids can build on what they've learned in the classroom and take their skills to a higher level.
RELATED: The best science museums for kids on Long Island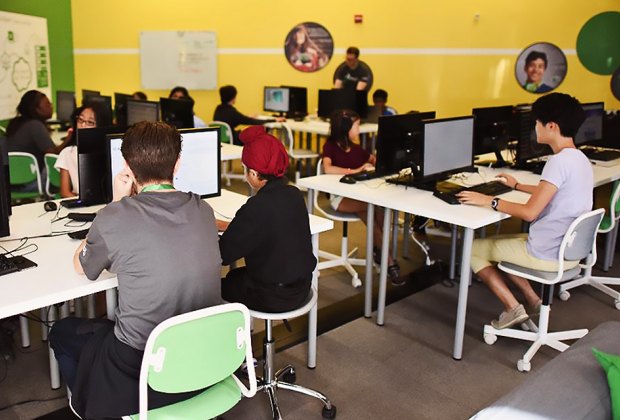 The Coder School can accommodate students from 6 years old to 18-plus.
Six is the optimal age to start at The Coder School, experts say. At that age, kids can usually type and move the mouse around; they should definitely be able to read. Some students are older than 18 and some are on the autism spectrum. "We have kids who come here because they need homework help," Bhalla said. "We've had kids in college who come for 'bootcamps' because they need help with their classes."
The Coding School offers a number of weekly after-school programs. Code Coaching has a 2:1 student-to-coach ratio. It's for all levels and ages, and focuses on game development, web apps, and more. Code Class is a larger-group format that's perfect for the younger set just beginning to code. More advanced classes include Code Coaching PLUS, which incorporates presentations and teamwork, and Code Coaching PRO, an invite-only advanced program for high-schoolers. Summer camps and special programs during school breaks are also available.
"At The Coder School, we offer programs that are customizable to every student," Bhalla said. "Some come here knowing what they want to do. They have their own ideas for apps. Others need help generating ideas so we offer ways to do that and help get them engaged. Our students also learn presentation and critiquing skills."
RELATED: STEM and STEAM summer camps for kids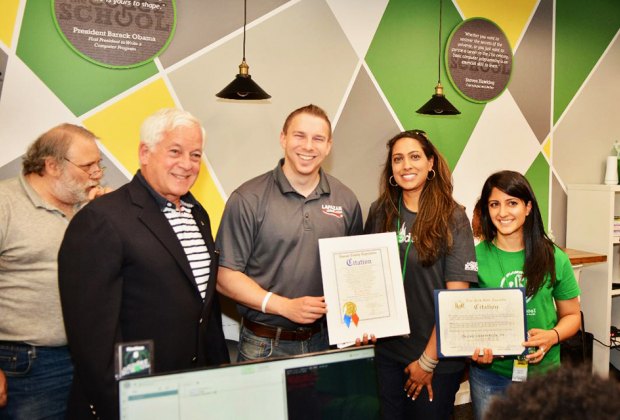 The Coder School co-owners Nisha Bhalla, right, and Noreen Kazi, second right, hope to open more learning centers in Nassau County and across Long Island.
The Coder School's Syosset location is at 45 Ira Road. Bhalla said she and Kazi have plans to eventually open additional schools at other locations on Long Island. As parents, they are excited to open up the world of coding to even more children, especially young girls and minorities.
Photos courtesy of The Coder School