Great STEM Classes for Long Island Kids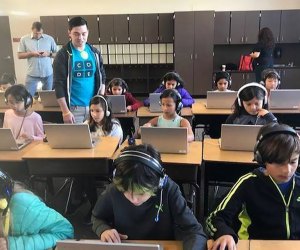 If science and technology are to continue to develop, the world would seem to need innovative minds that keep dreaming and creating. STEM and STEAM programs emphasize science, technology, engineering, art, and math to develop the brains of the future, our Long Island kids. More schools, camps, and museums across Long Island are offering classes and workshops with a focus on STEM education. Check out some of our favorite programs below.
Little engineers, rejoice.
Great STEM Classes for Kids Across Long ​Island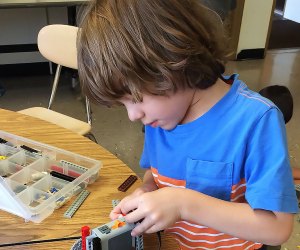 Enjoy a Lego-based approach to STEM learning at Bricks4Kidz.
Bricks4Kidz​​
Using Legos, kids build and create objects based on themes, including cars, outer space, or the ocean. Depending on the location, Bricks4Kidz offers before-school, after-school and summer camp programs. There are locations on the north and south shores and the East End.
Mathnasium​​
At Mathnasium locations across Long Island, children and teens can hone their math skills. Whether your child struggles in math and needs tutoring, or excels and needs an extra challenge, Mathnasium is the place for all things mathematics.
​Sylvan Learning
With locations in Mineola, Port Washington, and Huntington, Sylvan learning isn't just for tutoring. It also offers camps during school breaks as well as weekend workshops in robotics and coding.
Great STEM Classes for Kids in Nassau County
Coder School — Roslyn, Syosset
​Are your kids glued to their video games or iPads? The Coder School takes that passion for technology and teaches kids how to code. It offers after-school programs as well as a camp in summer. Kids ages 7 to 18 are welcome, no matter the skill level. ​A Commack location is set to open in Fall 2019.
RELATED: The Best Family-Friendly Museums on Long Island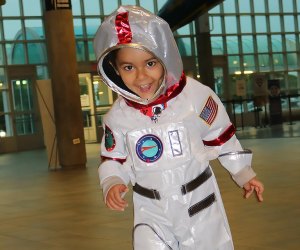 Channel your inner astronaut at the Cradle of Aviation Museum's summer space camp.
Cradle of Aviation Museum — Garden City
In the summer, children ages 9-12 can participate in the Cradle of Aviation Museum's STEM and space camp. Each week explores a different theme, from coding to machine engineering. During the school year, the museum offers programs geared toward Boy, Girl, and Cub Scouts. Scout leaders can choose from different STEM classes, including robotics and space exploration, where Scouts build and launch their own rockets.
RELATED: Planetariums and Observatories for Kids on Long Island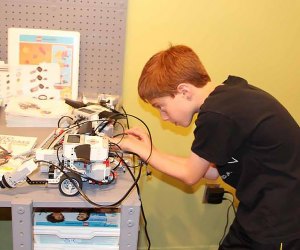 Tech classes for older kids at Culture Play can get pretty sophisticated.
Culture Play — East Meadow
In addition to summer camps, Culture Play offers mini-camps throughout the year during school breaks. It also offers an after-school program where children in grades K-8 are picked up from school and transported to the East Meadow location. While there, kids spend time doing homework before attending an hourlong technology class.
​Gaming Studio — Syosset
​The Gaming Studio focuses on all things gaming, from coding and development to animation and design. It offers classes for every gamer's interest, and accepts students in grades K-12.
RELATED: Nature Centers Sure to Delight Long Island Kids

Slime is never more fun than when it's made at the Long Island Children's Museum.
Long Island Children's Museum — Garden City
The museum offers classes and workshops Fridays through Sundays. Activities are geared toward preschoolers, giving parents an opportunity to get little ones exploring in science and art. Check its calendar for more information on specific classes and age ranges.
Science Museum of Long Island — Plandome​​
A trip to this museum is a must for little scientists, but it's also great for any curious child. Similar to the Cradle of Aviation, the Science Museum offers special programs for Boy and Girl Scouts. For aspiring artists, it also has a weekly drawing class for kids ages 6-9. If you're an artist yourself, consider an adult class here.
Great STEM Classes for Kids in Suffolk County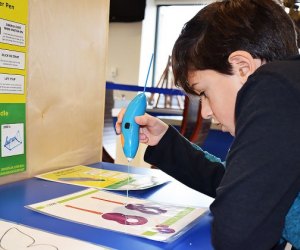 Kids can create 3-D artwork at the Long Island Science Center. Photo by Jaime Sumersille
Long Island Science Center — Riverhead
Recently relocated back to Riverhead, this museum is full of interactive science exhibits for children of all ages. It offers programs for Boy and Girl Scouts, as well as science events on Saturdays throughout the year. Its summer camps focus on robotics and STEM.
RELATED: Great Programs for Long Island Kids With Special Needs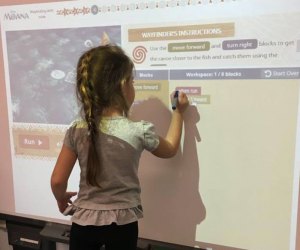 Park Shore Day Camp offers a state-of-the-art science center and more.
Park Shore Day Camp — Dix Hills
At Park Shore Day Camp's Extreme STEAM Science Center, preschoolers and kindergartners have access to state-of-the-art equipment, including iPads and Einstein tablets. Kids who are interested in wildlife and nature will love the marine touch tank and aquarium. Park Shore Day Camp has a preschool program for 4-year-olds, a kindergarten program, and a summer camp for kids ages 2-14.
Photos courtesy of the venues