Online Robotics Camp
Young Gates - Kids Online Personalized Classes

Artificial Intelligence with Scratch Online Camp
Young Gates - Kids Online Personalized Classes

Spark Math: Free Trial Class
Virtual
Sign up for our free newsletters.
The Gaming Studio: Technology and Coding for LI Kids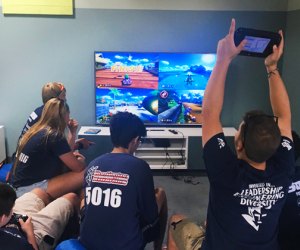 10/23/17
- By
Jaime Sumersille
Get your gaming faces on and your digits ready. The latest technology-focused space on Long Island, The Gaming Studio, in Syosset, teaches real-world tech skills in an entertaining and productive environment.
For more enrichment opportunities, peruse our camps and classes guide. Want more birthday party ideas? Pop over to our Party Place. Plus, our STEM page is a central spot for all things science, technology, engineering and math.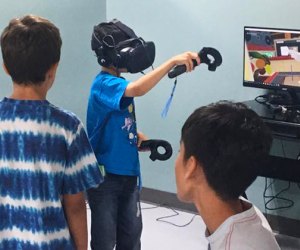 Enjoy virtual-reality technology and more.
Embrace the age of technology while kids learn the nuts and bolts behind it all. That's the core of The Gaming Studio's philosophy. High-level instruction and hands-on teaching methods create an optimal STEM-focused environment for gamers ready to take it to the next level.
During weekly classes, kids can explore video game design, coding, robotics, 3D game design, animation, Minecraft, and computer programming alongside a team of aspiring game designers. Classes are divided in blocks of grades ranging from K to 12.
Besides regular classes, the center hosts some special events, including birthday parties. You can select an interactive technology birthday party package that is designed to fit your child's gaming interests. With birthday activities such as building and programming a robot, designing an animated character, creating a 3D model using a 3D printer, or exploring Minecraft worlds, it is sure to be a one-of-a-kind party.
Mini camps appeal to tech enthusiasts of all levels with projects that include robotics, coding, video game design, technology field trips, and more.
Fridays at this techy hot spot are all about fun and gaming. Drop off kids in grades 2-12 for socialization and supper. Super Smash Bros. tourneys, Minecraft play, and gaming with virtual-reality equipment keep kids engaged while parents enjoy a few hours "off."
The entrance to The Gaming Studio is in the rear of 180 Michael Drive, which is located south of Jericho Turnpike. The Gaming Studio also has a sister location, Culture Play, in East Meadow. For more information, see tgscoders.com.
RELATED: The best indoor play areas in Nassau and Suffolk counties.
Top photo: Kids will thrill to the opportunities at The Gaming Studio. Photos courtesy of The Gaming Studio