Long Island Science Center Returns to Riverhead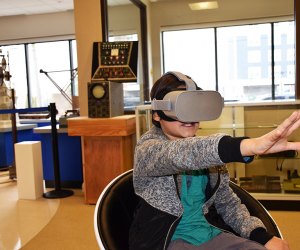 Back in Riverhead from its brief relocation in Rocky Point, the Long Island Science Center boasts an edutainment experience for kids and adults.
Stop in for a visit, and remember there are plenty of other museums on Long Island to explore.
Eager for some more indoor fun? Check out our indoor activities guide. Or maybe you want to start planning for a day trip?

Da Vinci's models come alive via an augmented-reality app.
The interactive exhibits at the Long Island Science Center are as much educational as they are entertaining and engaging. Upon arrival is a marvel of sight: a handcrafted collection of working Leonardo da Vinci models. Grab a museum-issued iPad and the models come to life right before your eyes in an interactive experience. Da Vinci's famous designs of bridges, cranes, gears, and propellers all can be experienced using this augmented technology.
The alternative-user encounters continue as you place virtual-reality goggles on your head and enter a parallel universe. Really, it's just outer space or an ocean rift, but the technology makes your feel as if what you're seeing is tangible. We had quite the laugh watching our 8- and 10-year-old sons grasping at air when they thought they were petting dinosaurs.
RELATED: The best science museums on Long Island for kids

Kids can use the 3D Doodler to create 3D artwork.
For creative types, there's a handheld 3Doodler pen, where visitors can create and keep their molded plastic creations. Alongside is an augmented-reality coloring station that brings kids' drawings to life. Create a colorful landscape and watch as the "artwork" walks around exploring the world you made.
RELATED: Nature centers sure to delight LI kids

Create a marble run at the magnetic ramp-up wall ...
At the magnetic ramp-up wall, use gutters to create the ultimate marble run. Rearrange at will and let gravity do the rest.

... Or make your own creation on the larger-than-life Lite Brite.
The illumination station, an 8-foot-wide lit pegboard, is really just a larger-than-life Lite Brite. Use lucite pegs in a back-lit board to create words, emojis or a colorful ROYGBIV rainbow.
From there, step up and dig in the augmented-reality sandbox. Burrow, pile, and tunnel granulated sand into mountains and valleys and watch as the Earth's watershed creeps into your landscape as represented on the overhead projection.
In the construction zone, use K'nex and Kiva tiles to build towers or moving vehicles. Up the difficulty a notch and follow available card challenges. Thinking caps on, tongues out for this one: It certainly helps 8-year-olds with concentration.
RELATED: Great STEM classes for LI kids

Don't miss the retro video game display. Explain to your kids how different video games were in the '80s.

On your way out — or in, it's a pretty small space – former gamers will want to relive their youth at the video game history display. Be sure to tell your kids the woes of pixelated graphics and blowing into cartridges to "fix" them.
Throw a STEM birthday party for your budding robotic engineer or coder. Packages for up to 20 kids include hands-on projects and exclusive use of the museum.
Winter hours are Wednesday to Friday, 1 to 5pm and Saturday and Sunday 11am to 4pm. Admission is $10 per person or $125 for an annual family pass. On Saturdays, visit the maker space for STEM-related activities (additional fees apply). The Peconic Avenue facility is one level and completely handicapped accessible. Supported by a grant from Bridgehampton National Bank, the center should remain at this location for at least the next year before seeking a space nearby.
Once you're done exploring, head out in walkable downtown Riverhead. Continue the learning at the Long Island Aquarium, walk the Peconic River boardwalk, or grab a bite at throwback diner Star Confectionary or a sweet nibble (and coffee refuel) at the Blue Duck Bakery Cafe.
Photos by the author