Artificial Intelligence with Scratch Online Camp
Young Gates - Kids Online Personalized Classes

Online Robotics Camp
Young Gates - Kids Online Personalized Classes

Spark Math: Free Trial Class
Virtual
Sign up for our free newsletters.
New Spray Park Splashes Into Elwood in Suffolk County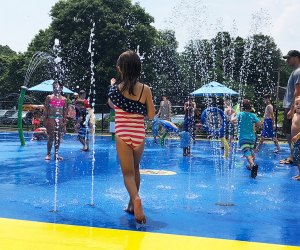 7/22/18
- By
Jaime Sumersille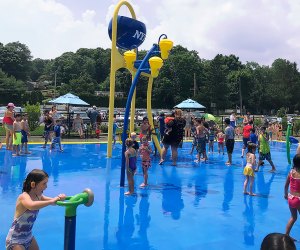 The NYPD bowl in the background spills water on eager parkgoers. It is dedicated to the late Officer Paul Tuozzolo.
The Sgt. Paul Tuozzolo Memorial Spray Park park boasts push-button activation for curious hands who like to touch. The floor is well padded, but water shoes are recommended. An NYPD blue bowl fills with water, then spills on unsuspecting parkgoers below. Water also shoots from below, and there's a looped "car wash" for kids to race through. There are also point-and-shoot cannons that are sure to serve up some sibling rivalry.
Eight shaded benches surround the square spray area, so we suggest towing along your own lawn chairs. Otherwise, you'll be pulling up on a piece of concrete at rest time. Save snack time for after because outside foods are a no-no inside the park.
RELATED: Family Fun in Northport: 20 Great Things to Do With Kids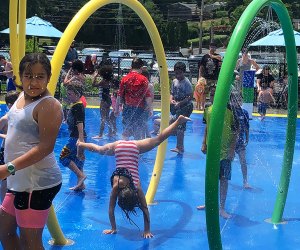 Kids can cool off and practice their gymnastics at the spray park.
While there are no lifeguards on duty, town staffers are on site and there's an AED defibrillator and a first aid kit for the littliest of ouchies.
Sgt. Tuozzolo was a Greenlawn father killed in the line of duty in November 2016 while serving in the New York Police Department. The 2,500-square-foot spray park was dedicated in his honor in mid-July and is located inside Elwood Park. Once you're done splashing around, dry off in the park, which has assorted climbing structures, swings, public restrooms, covered picnic areas, and ballfields.
Official hours are 11 a.m. to 8 p.m., although through Aug. 10 hours are 12:30 to 8 p.m. The spray park is open to Town of Huntington residents with resident recreation photo ID cards, which can be purchased here. Nonresidents can use the facility if they are accompanied by a resident with a rec card.
Elwood Park is located off Cuba Hill Road in Elwood, just north of Route 25.