Visiting Connecticut with Kids: 3-Day Itinerary from a Local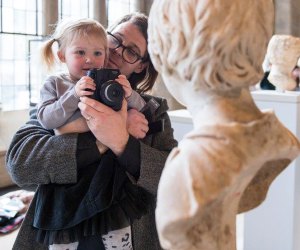 1/28/23
- By
Kelly Patino
Visiting Connecticut with kids is a great way to pack a lot of family fun into a short amount of time. While Connecticut is one of the smallest states, there are activities and attractions for all ages. The true benefit of being a small state is that everything is pretty much a short drive away. As a four-season state, Connecticut offers family-friendly beaches, swimming lakes, farms, parks, reserves, and more. There really is something for every interest. Plus, Connecticut offers delicious food! Home to the hamburger, Pez factory, CT-style lobster roll, homemade ice cream, and New Haven pizza. Who knew visiting Connecticut with kids would taste so good?
Here's your 3 day itinerary to explore all over Connecticut. You and your family will fall in love with the beautiful Nutmeg state. So pack your bags, snacks, and car ride entertainment for your trip around Connecticut! Check out our Family-Friendly Hotels and Inns to book during your stay. And we keep adding wonderful new posts to our travel guide, so be sure to subscribe to our newsletter.

The Mystic Aquarium is a must-see when visiting Connecticut! Photo courtesy of the Mystic Aquarium
Visiting Connecticut with Kids - Day 1: Things To Do From Mystic to New Haven
Start your first day by waking up at the Mystic Marriott Hotel and Spa. This hotel is amazing for families, offering an onsite restaurant, indoor pool, and large hotel rooms. Mystic, Connecticut with kids can be a 3- day itinerary alone—there's just so much to do. Mystic provides classic New England vibes, historic sights, and endless options.
Visit Deviant Craft Coffee & Donuts in Olde Mistick VIllage. Beyond their standard lineup, Deviant makes fun themed donuts that sell out by the afternoon. Vegan and gluten-sensitive donuts are available. Eat on their patio, or take your breakfast to-go and walk around the shops at Olde Mistick VIllage. Then head over to Mystic Aquarium. It's a top destination when visiting Connecticut with kids, and it's adored by all ages. Top 3 must-see exhibits while visiting: beluga whales, the sea lion encounter, and the jellyfish. Additionally, the seal pup play-space is a kid favorite (and gets some energy out). The aquarium is both indoor and outdoor, so dress accordingly.

Complete a visit to Mystic with a delicious ice cream treat! Photo courtesy of Mystic Drawbridge Ice Cream
On to lunch and more exploring! Drive 5 minutes towards historic downtown Mystic and eat at the Engine Room. Enjoy yummy Carolina hush puppies, burgers, sandwiches, and large salads. Kids options include standards like chicken tenders, burgers, and grilled cheese sandwiches. After lunch, walk around downtown Mystic. The drawbridge is super cool, walking over or seeing it rise to let boats pass. Mystic Drawbridge Ice Cream is right by the bridge and worth a post lunch treat—we recommend the Seaport Salty Swirl. Another great dessert option is Sift Bake Shop. Chef and owner, Adam Young, won "Best Baker in America," and everything is made daily. Be entertained with cute shops, eateries, and plenty of people watching. If the weather isn't great, head over to the Mystic Seaport Museum after lunch for an indoor option.

Connecticut is home to wonders like the Italian Bomb Pizza by Modern Apizza. Photo courtesy of Taste of New Haven.
After a packed day of fun, start driving towards New Haven where you and your family will stay the night. New Haven is known for pizza or apizza as it is better known. Dine where many famous presidents enjoyed a pie. Starting the pizza trend in 1925 on Wooster Street, Frank Pepe's Pizzeria is best known for white clam pie. Many will argue their favorite Pizza Places (Frank Pepe's, Sally's Apizza, Bar Pizza, and more). Mine is Modern Apizza - so, so good! Order a couple of pies for variety. And then check into the The Study at Yale, located in downtown New Haven, minutes away from Yale's campus.
Visiting Connecticut with Kids - Day 2: Things To Do From New Haven to Stratford
Wake up at the pretty Study at Yale. The hotel has modern amenities and is perfect to enjoy walking around New Haven. Stroll a couple of blocks downtown for awesome breakfast spots. Claire's Corner Copia offers amazing vegan and gluten free breakfast items like vegan pancakes, french toast, and breakfast sandwiches. Another favorite spot is Atticus Bookstore and Cafe. Savor delicious scones and pastry or breakfast staples. The best part of Atticus is browsing their bookstore, filled with selections for adults and kids.

Photo courtesy of Yale University Art Gallery
After breakfast, head over to Yale's campus, where the architecture is astonishing. The charming gates, arches, and doors are ready to be the backdrop for an awesome family photo. Silliman College is my favorite area. If rain starts or it's too cold, no problem - enjoy visiting the Yale University art gallery with kids. Picasso, Van Gogh, and Monet are featured with over 200,000 pieces of art. The gallery provides family guides and ways to introduce art to children.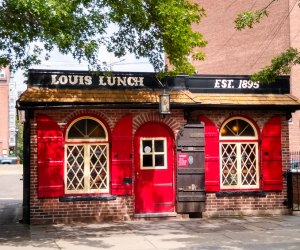 New Haven, Connecticut served the first hamburger sandwich. Louis Lunch photo courtesy of Wikipedia.
For lunch, head to Louis Lunch, where the hamburger sandwich was originated in 1895! Cooked on the original cast-iron grill and served with onion, tomato, and cheese on white bread, Louis keeps the recipe exactly he same. Also, don't ask for condiments. You won't find them as the burger features "meat's true flavor." Afterwards, get your sweet tooth ready. Downtown New Haven has three locations from our Best Ice Cream in Connecticut within walking distance from Louis. Milkcraft is a true experience for kids.
Hop in the car for a a visit to IT Adventure indoor ropes course! Located inside Jordan's furniture, IT Adventures exhilarates kids and adults. Suspension bridges, rope ladders, and zip lines are just some of the things offered. Truly something unique for the entire family.
For the last adventure of the day before dinner, hop on I-95 a few exits to the Pez Factory in Orange. You will see the billboards on the highway. Pez has a self-guided tour with a monthly interactive activity to complete for a prize. See Pez dispensers displayed from 1940s to present as well as watch the factory at work through glass windows.
Finish the day at the Surfside Hotel, a fun beach-side hotel. Check in and then relax at Point No Point Beach, outside the hotel's front door. Continue to admire the beach by dining at Little Pub, right onsite and super kid friendly. Request to eat outside so kids can enjoy the beach while you're waiting for food. Enjoy a post-dinner walk on the shore before going to bed.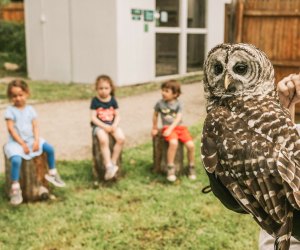 Small in size, Connecticut is big on natural beauty and engaging activities. Photo courtesy of Earthplace
Visiting Connecticut with Kids - Day 3: From Stratford to Stamford
Last day of Connecticut adventures! After a sound sleep, head to Harborview Market for breakfast. Harborview is a hidden gem; the food is delish, the environment is so fun and easy for families, and it's a great people-watching spot. You can't leave without fresh croissants and cookies for later! If it's a Sunday, take a quick drive to Monger's Market, where kids go in for free. Located in an old factory, Monger's is a unique spot for browsing vintage and antique items. It's worth the visit.
Next, continue on to the town of Westport, Connecticut. Check out Earthplace which has over 50 animal ambassadors on its 62-acre nature and wildlife sanctuary. Learn all about animals in a special setting, take a trail walk, or enjoy a cool outdoor playground. Earthplace offers many indoor options for an awesome experience in any weather. After spending time with nature, head to lunch down the road at Match Burger Lobster (it made our list for outdoor restaurants that are great for families). Of course, get the hot CT lobster roll and dine like a local. Other options include burgers, salads, soups, as well as fish and chips.
In nice weather, test your golfing skills at Norwalk Cove Mini Golf. A fun family activity that overlooks the marina and Long Island Sound. Then head to Mr. Frosty's Ice Cream for a post-game treat. The Paisley's Unicorn Craver is a kid-pleaser. But if weather isn't complying, go to Stepping Stones Museum instead. Or do both! Stepping Stones is an amazing indoor kids' museum that appeals to pre-crawlers and up. Just be prepared with extra clothes— the energy lab exhibit allows kids to explore water!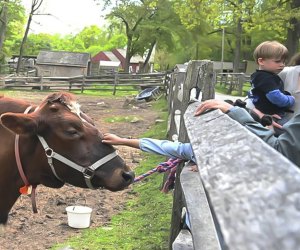 Visitng Connecticut with kids provides some hands-on fun! Photo courtesy of the Stamford Nature Center
End the 3-day trip visiting Connecticut by heading to the city of Stamford. The city's Mill River Park is family-friendly and offers a lot of options, like a carousel with a pavilion, a playground, and Whittingham Discovery Center. Afterwards, dine at either Bartaco or Elm Street diner. Bartaco offers a variety of kids' tacos, quesadillas, fruit skewers, and more. Adults can pick from over 10 different tacos, rice bowls, and street corn to name a few. Elm Street dinner is a unique dining experience. Their social media superstars items include PB&J pancakes, cereal bowl bec French toast, bacon mac & cheese curly fries, and lots more. Of course, end the meal with a famous milkshake!