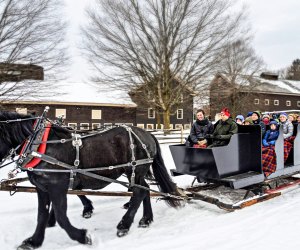 30 Must-Do Christmas Events and Activities in New England with Kids
Is there a part of the country that offers a more quintessential holiday experience than New England? From snowy vistas to historic town squares, it's tough to match our region's identity as a place where children can feel storybook Christmas magic come alive. We can (and do) fill our site with plenty of options for seasonal fun, but here are 30 activities and attractions that should be on your family's holiday bucket list.
1. Stroll under a trellis of lights—Boston, MA
The iconic tunnel at Christopher Columbus Park lights up the North End waterfront November 25, 2019, and stays aglow through the holiday season.
2. Marvel at more than 300,000 twinkly lights at La Salette Shrine—Attleboro, MA
See angels, snowflakes, and plenty more classic tableaus at the light display that's been enchanting southern Massachusetts since 1953.
3. Ride the North Pole Express—Essex, CT
This ride is like a storybook come to life. Cheerful crowds of pajama-clad children climb aboard a cozy old steam train to enjoy a musical performance, delight in hot chocolate and sugar cookies, and, of course, meet the man in the red suit.
RELATED: Polar Express and Holiday Trains in Boston and Connecticut
4. See Santa's Village transform into a busy workshop for holiday time—Jefferson, NH
Typically a summertime fave, Santa's Village is open November and December with holiday-themed rides, games, reindeer visits, and, of course, Santa sightings.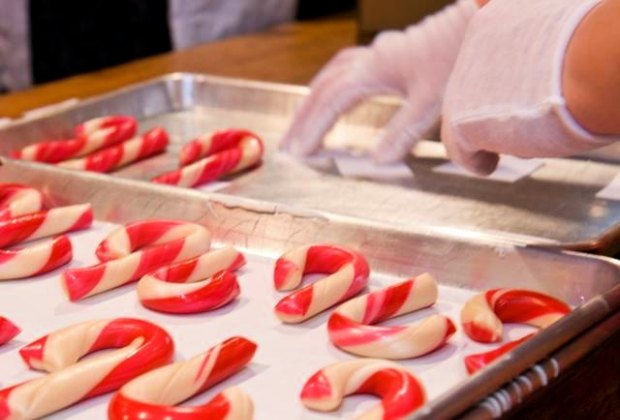 Kids can get an up-close look at the special art of crafting this old-fashioned treat in Vermont. Photo courtesy of Laughing Moon Chocolates
5. Watch candy canes being made—Stowe, VT
Candy makers boil, pull, turn, roll, and twist every weekend from November 29, 2019 through December 22, 2019 at Laughing Moon Chocolates in one of our favorite family ski towns.
6. Sing carols with a world-class orchestra—Boston, MA
Holiday Pops Kids' Matinees are perfectly timed and suited to families who want to enjoy the Boston Symphony Orchestra at Christmastime—and Santa always makes an appearance.
7. Sing along to familiar music and traditional dancing at The Christmas Revels—Cambridge, MA
Now in its fourth decade, this theatrical presentation is a Cambridge tradition that celebrates a different culture's music each year. In 2019, the revelers will enjoy an American celebration of the Winter Solstice.
8. Ride through a Tunnel of Lights - East Windsor, CT
Go back in time with a trolley ride (choose a closed car or brave the elements in an open "electric sleigh") through a tunnel of lights, then enjoy the museum, along with some cocoa.
9. Don your holiday finest and take in the sugar plum fairies of the Nutcracker Ballet—Boston, MA
There are several wonderful Nutrcrackers around the region, but the Boston Ballet production is a classic. Read our tips for taking little ones to the Boston Opera House.
10. Be there when the big tree lights up the Common—Boston, MA
After the mayor rings in Christmastime with the lighting of the city's official tree, Frog Pond is open for an evening skate.
11. See Victorian mansions done up for Christmastime—Newport, RI
December may be the best time to visit this summertime retreat, as three of Newport's iconic mansions are decked out in Yuletide finery for extra-special tours and caroler performances. Santa appears on Sundays.
RELATED: 50 Things To Do in Newport with Kids
12. Head north of the border for a Vintage Christmas—Portsmouth, NH
Gingerbread house displays, trolley tours, and classic treats add up to old-fashioned fun in this annual seaside New Hampshire event.
13. Get lost in a Fantasy of Lights - New Haven, CT
Enjoy a trip through the mile-long route features more than 60 animated displays and 100,000 lights, resulting in a colorful night of memories and delight at Lighthouse Point Park.
14. Catch a seaside Train to Christmas Town—Hyannis and Buzzards Bay, MA
There are cookies, hot chocolate, and a special gift from Santa as this coastal rendition of the region's holiday train rides chugs down the Cape.
15. Visit a real reindeer among the ZooLights at Stone Zoo—Stoneham, MA
A tree-lined path at this north 'burbs zoo is outfitted each year with thousands of twinkly lights that surround real-life reindeer and more.
16. Take a real sleigh ride—Woodstock, VT
The horse-drawn adventure at Billings Farm in Vermont is a regional favorite, with blankets and spiced cider to keep riders toasty over the frozen fields. For a snowy adventure closer to home, check out these Massachusetts sleigh rides.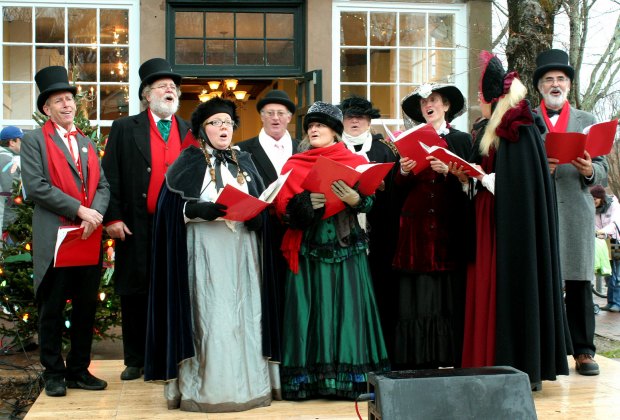 Revel in the season with a Christmas carol soundtrack as you stroll through Nantucket. Photo courtesy of Massachusetts Office of Travel & Tourism
17. Stroll historic cobblestoned streets with Santa, carolers, and other festive revelers—Nantucket, MA
The island that's heaven for families in the summertime goes all out for Christmas Stroll weekend, with carolers, special shopping deals, and Santa arriving on the ferry for a fire-truck parade up Main Street.
RELATED: What To Do in Nantucket with Kids
18. Admire the annual Gingerbread House Festival - South Windsor, CT
One of the largest gingerbread house displays in New England features local artists and bakers, wowing with their incredible array of candy-covered houses.

19. Cut down a fresh Christmas tree from a New England farm–various locations
Why buy from a parking lot when the area is full of farms that will sell you a spruce or fir straight from the ground? The outdoor adventure and long-lasting smell are reasons enough.
20. Sample sweet treats during the Inn to Inn cookie tour–White Mountains, NH
Now in its 23nd year, yuletide-decked country inns will offer signature cookies and recipes to take home during the second weekend in December.
21. Tour the Bavarian Christmas Village and buy some holiday gifts at Yankee Candle—South Dartmouth, MA
The South Deerfield flagship store is a winter wonderland, where kids can see it "snow" indoors and make their own candle gifts to take home. The Santa's Parade is on December 7, 2019.
22. Spend a day in a Norman Rockwell painting—Stockbridge, MA
The author's classic portrayal of Christmas in this quaint Berkshires town comes to life during the first weekend of December, with house tours, carols, holiday readings, and more.
RELATED: 25 Things To Do in the Berkshires with Kids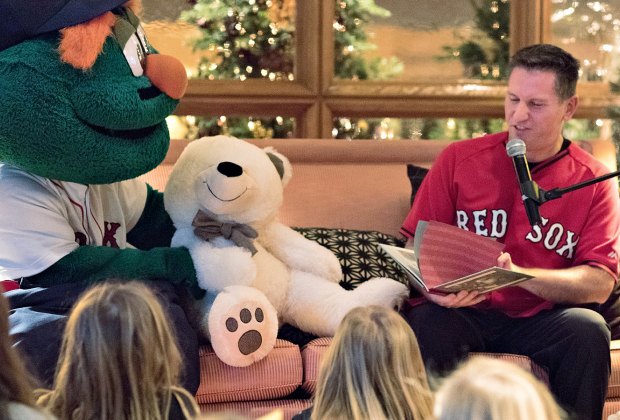 Celebrities and athletes become storytellers at the Teddy Bear Tea. Photo courtesy of the Four Seasons
23. Venture on a Lantern Light Tour - Mystic, CT
For the 40th anniversary of Mystic Seaport's Lantern Light Tours, visitors will live out the plot of Charles Dickens' A Christmas Carol and learn that love trascends time and place.
24. Take a 4D Polar Express ride, indoors—Avon and Boston, MA
Jordan's Furniture and the Museum of Science both feature special-effect movies where kids can feel, hear, and even smell what a real Polar Express train might be like.
25. Sip tea with teddy bears at the Four Seasons—Boston, MA
Holiday tea is a tradition at many restaurants, but the elegant and festive event in the Bristol Lounge, featuring storytime with local celebs, is a citywide favorite.
26. Experience Christmastime by candlelight at Old Sturbridge Village—Sturbridge, MA
There are carols, sleigh rides, traditional treats, and more to enjoy on weekend evenings through December at New England's largest living history museum.
27. Take a trolley through a modern-day holiday village—Somerville, MA
So beloved are Somerville residents' holiday decorations that there's a trolley-led "Illuminations Tour" you can take to see the glitziest and campiest of them all.
28. Chart the course of model trains and take a horse-drawn carriage ride—Wellesley, MA
At Mass Hort's Festival of Trees in Elm Bank, parents will appreciate the trees designed by some of the state's most artful horticulturalists, while kids enjoy following the trains among the greenery. There are carriage rides and occasional Santa visits on the weekends, too.
29. See how both Colonial and Native American families spent the wintertime—Plymouth, MA
Food preparation, historic reenactments, and live animals are on display at Plimoth Plantation. It might inspire you and your kids to prepare a historic holiday dish in your own kitchen.
30. Ride the Santa Express and Northern Lights Limited - Naugatuck, CT
Embark on a magical journey at Railroad Museum of New England. Enjoy vists with Santa and Mrs. Claus, and join an elf in singing along. Some trains are seasonally decorated, others leave under the cover of nightfall, and some offer hot chocolate service.