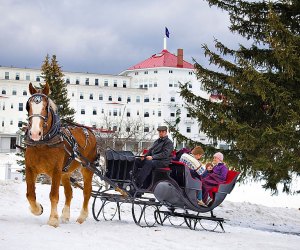 25 Must-Do Christmas Events and Activities in New England with Kids in 2020
Is there a part of the country that offers a more quintessential Christmas experience than New England? From snow-blanketed landscapes to wreath-bedecked town squares, storybook holiday magic comes alive in these parts. Here are 25 Christmas events and activities in New England that should be on your family's bucket list when visiting Massachusetts, Connecticut, Rhode Island, Vermont, New Hampshire, or Maine over the 2020 holidays. Sure, some annual favorites are on hold until next year, but families can still take a sleigh ride or train ride to the "North Pole," see twinkly lights aglow at seaside villages, or even have dinner in an igloo! Most events are outdoors to promote social distancing while you make merry.
Are you getting into the holiday spirit yet? Us, too—check out our list of favorite towns that go all out for Christmas around the U.S., get started on your holiday toy shopping, or stream one of our all-time favorite family Christmas movies.
2020 update: Be aware that all activities listed are subject to change and businesses could close or alter hours at any time, so please contact venues before heading out for the day or weekend. If you are traveling to an activity outside of your state or local area, check if COVID cases are on the rise in the area, as well as any travel restrictions, advisories, or quarantine orders. Be sure to wear your face masks and adhere to social distancing guidelines to stay safe. If you prefer to stay at home, check out our list of free, fun virtual events happening over the holidays.
Go back in time with a trolley ride at the Connecticut Trolley Museum through a tunnel of lights, then enjoy the museum, along with some cocoa.
Enjoy a trip through the mile-long route features more than 60 animated displays and 100,000 lights, resulting in a colorful night of memories and delight at Lighthouse Point Park.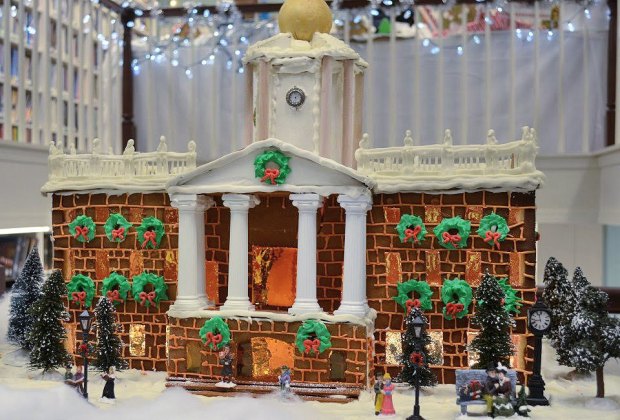 The amazing gingerbread creations will be in window displays this year for safe viewing all season long. Photo by Mommy Poppins
One of the largest gingerbread house displays in New England features the intricate, candy-covered creations of local artists and bakers. This year, the houses will be tucked within window displays for visitors to admire while social distancing.
Olde Mystick Village glows with luminary lights during this evening of shopping and complimentary treats. Our guide to Mystic is full of ideas for rounding out your visit to this picture-perfect coastal town.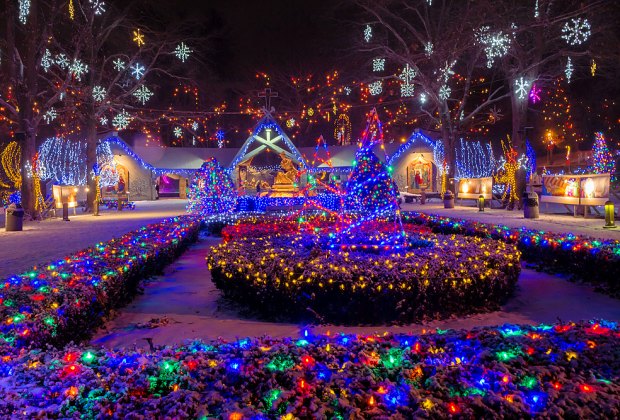 La Salette's free lights display features more than 300,000 twinkly lights in a peaceful setting. Photo by Robert Gillis courtesy of La Salette Shrine
Marvel at more than 300,000 twinkly lights at this storied light display, free to the public since 1953. See angels, snowflakes, and plenty more classic tableaus.
Cheerful crowds of pajama-clad children climb aboard a cozy old steam train to enjoy a musical performance, delight in hot chocolate and sugar cookies, and, of course, meet the man in the red suit. Ride the rails with Santa on these other Christmas trains in New England in 2020.
The iconic tunnel at Christopher Columbus Park lights up the North End waterfront just after Thanksgiving, and stays aglow through the holiday season.
A tree-lined path at this north 'burbs zoo is outfitted each year with thousands of twinkly lights that surround real-life reindeer, arctic foxes, and more northern animals.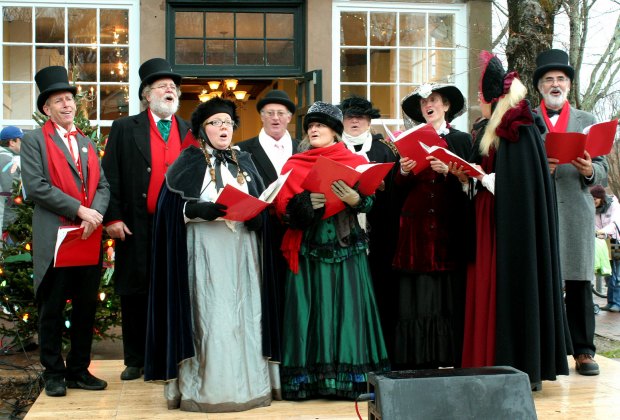 Revel in the season with a Christmas carol soundtrack as you stroll through Nantucket. Photo courtesy of Massachusetts Office of Travel & Tourism
In lieu of the annual Nantucket Stroll, the island is celebrating in quieter but still festive ways in 2020. There will be lavish displays of wreaths, Christmas trees, and shopping deals along its cobblestone streets throughout December. If you can't make it to the island this year, experience the island magic at home with the 2020 Nantucket Virtual Holiday Tree Lighting ceremony. Here are our favorite things to do Nantucket with kids year round.
Tour the Bavarian Christmas Village and buy some holiday gifts at Yankee Candle. The South Deerfield flagship store is a winter wonderland, where kids can see it "snow" indoors and make their own candles.
There are carols, sleigh rides, traditional treats, and more to enjoy on weekend evenings through December at New England's largest living history museum, which takes its annual tradition fully outdoors this year.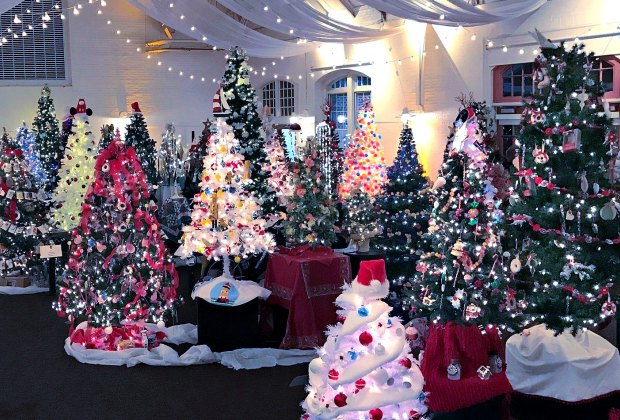 Massachusetts' top green thumbs decorate trees for this spectacular annual display. Photo courtesy of the Massachusetts Horticultural Society
Parents will appreciate trees gloriously decorated by Massachusetts Horticultural Society gardeners, while kids enjoy sparkly Christmas lights across Elm Bank grounds and following trains among the greenery.
See how both Colonial and Native American families spent the wintertime. Food preparation, historic reenactments, and live animals are on display at Plimoth Plantation. It might inspire you and your kids to prepare a historic holiday dish in your own kitchen.
Norman Rockwell's classic portrayal of Christmas comes to life during December. Its official Christmas Weekend is canceled this year, but most businesses are open and festively decorated. Year round, visiting the Norman Rockwell Museum (timed tickets required in 2020) and Stockbridge are among the 25 Things To Do in the Berkshires with Kids that we recommend for all families.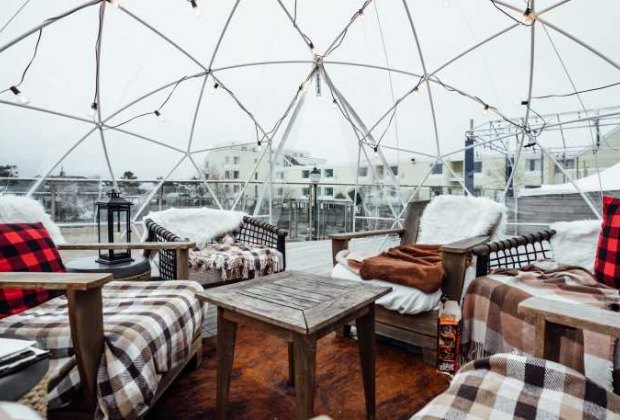 Everything tastes better in an igloo! Photo courtesy of Showfish/Gurney's
Want to make family dinner more interesting? How about eating in an igloo? Gurney's resort has transformed its popular fireput deck into a chic North Pole village with a series of "igloos"—cozy, transparent nooks in which food is served.
See Victorian mansions done up for Christmastime. December may be the best time to visit this summertime retreat, as three of Newport's iconic mansions are decked out in Yuletide finery for extra-special tours and caroler performances. See our picks for 50 Things To Do in Newport with Kids.

Why always red and white? Nelson's Candy has blue peppermint candy canes this year! And look out for tutti-frutti coming soon. Photo courtesy of Nelson's Candy and Music
Peppermint perfumes the air in Wilton over the holidays, as "Santa's helpers" at Nelson's pull candy canes into distinctive shapes to sell out of the iconic candy store. Pluck a one-of-a-kind cane from the rafters, and add some chocolate Santas and peppermint bark for a holiday grab bag.
Head north to New Hampshire for a Vintage Christmas! Gingerbread house displays, trolley tours, and classic treats add up to old-fashioned fun in this annual seaside New Hampshire event.
19. Sleigh Rides and Gingerbread in Bretton Woods, NH
This little alpine-style village becomes a winter wonderland come mid-December, with Bretton Woods Stables offering sleigh rides (weather permitting) and the Omni Mount Washington Resort hosting the National Gingerbread Competition (reservations required for viewing in 2020).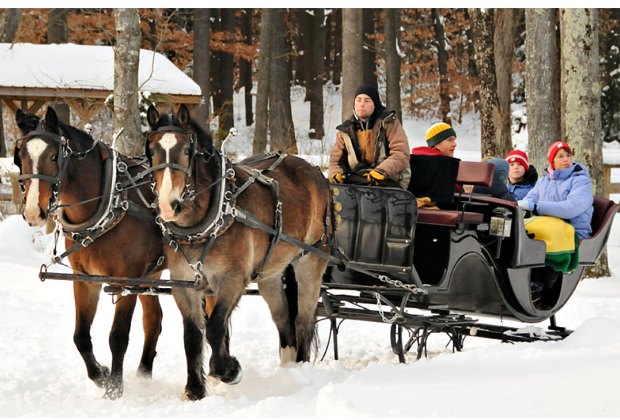 A pair of draft horses will steer visitors to the "North Pole" at Charmingfare Farm. Photo by Charmingfare Farm
The whole family will enjoy horse-drawn carriage rides to the "North Pole," reindeer encounters, a socially distanced visit with Santa, and treats from Mrs. Claus in a fun-filled visit to this New Hampshire farm. You can pick out a fresh-cut tree to bring home, too.
21. Bethlehem, NH
It's no surprise the "little town of Bethlehem" comes alive at Christmastime. Bring holiday cards or Santa letters to the post office to get a special stamped postmark from Bethlehem, or visit The Rocks for freshly cut Christmas trees and wreaths.
There are so many things to do in Woodstock in wintertime, and much of them hinge around this annual event of music, lights, and some very jolly shopping. Jersey cows, draft horses, and more receive young animal loving visitors to Billings Farm, which offers cozy sleigh rides in the winter, too. Dog sled rides courtesy via Braeburn Siberians will be available again in 2021.
23. Boothbay Lights—Boothbay and Boothbay Harbor, ME
These twin seaside towns sparkle at the Gardens Aglow event, and shop merchants celebrate with special Christmas decor, treats for sale, and more.
This beloved event will be scaled back this year, but there will be an outdoor Christmas Market and the town will be decorated to the hilt for festive shopping all season long.
25. Cut-Your-Own Christmas Tree Farms—various locations
Why buy from a parking lot when the area is full of farms that will sell you a spruce or fir straight from the ground? The outdoor adventure and long-lasting smell are reasons enough. Visit these Christmas tree farms in Boston, Christmas tree farms in Connecticut, or these other New England Christmas tree farms.