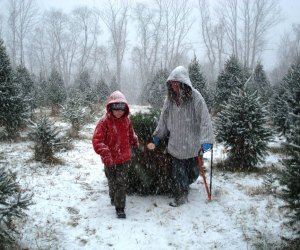 Christmas Tree Farms in Fairfield County, CT
As a child, I went every year with my family to a local Christmas tree farm to cut down our tree. It was inevitably freezing cold, someone had forgotten their mittens, and epic arguments over tree size and shape would ensue. In short, it was magical! It's time to introduce my own kids to that wonderful holiday tradition, and there are plenty of places in Fairfield County where you can cut your own tree or find a freshly cut fir, pine, or balsam beauty straight from the farm.
If you live to the northwest or central part of Connecticut, see our posts on Christmas tree farms in the Litchfield area and Christmas tree farms around Hartford. There are more yuletide celebrations at these Connecticut's tree lighting and holiday light ceremonies.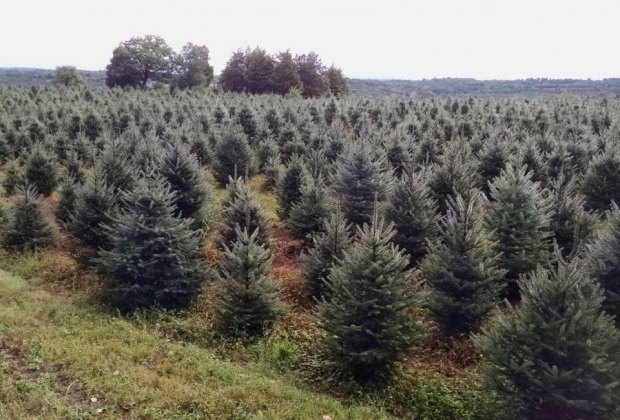 There are 400 acres of trees to choose from at Jones Family Farm in Shelton. Photo courtesy of the farm
Jones Family Farm, Shelton
In Shelton, you'll find the Jones Family Farm – 400 acres of beautiful farmland owned and operated by the Jones family for more than 200 years. The farm offers pre-cut or cut-your-own trees (the latter for $75). The tree farm is open from the weekend before Thanksgiving until Christmas Eve.
Fairview Tree Farm, Shelton
Fairview is a fourth-generation farm offering full-service hauling, baling, and tethering. There's also a Christmas shop, refreshments and hayrides from Santa himself on weekends. You can even book children's parties with Mrs. Claus. It costs $68 for cut-your-own trees up to nine feet tall. Any taller will cost an additional $10 per foot. Pre-cut sizes run 4-12 feet tall; prices vary. The farm also offers live balled and burlap trees.
Warrups Farm, Redding
If you're looking for picturesque, head to Warrup's. This organic farm boasts a beautiful old farmhouse – stunning all year, but especially so at holiday time - as well as a barnyard where you can visit with the farm animals. Come pick a white or blue spruce tree – cut your own or have them cut it for you – and pick up some of the farm's own maple syrup or maple sugar candy – a tasty Christmas present for someone on your list!
Maple Row Tree Farm, Easton
Maple Row Farm has been in the Edwards family since the 1700's, and they've been growing Christmas trees for the past 60 years. Customers can cut their own trees (bring your own saw or borrow one at the farm) or can have it cut for them. Prices vary depending on the method you choose There are warming huts and restrooms amidst the over 200 acres of trees, and a not-to-be missed holiday store featuring crafts from local artisans, holiday wreaths, and roping. There are hayrides and refreshments, too. Christmas trees go on sale November 29, 2019. Cut-your-own trees are $73 on weekdays, $79 on weekends.
Connecticut Audubon Society H. Smith Richardson Tree Farm, Westport
If you're looking to make a difference with your Christmas tree purchase, head to CT Audubon Society's H. Smith Richardson Tree Farm in Westport. A portion of the proceeds from your purchase supports the Connecticut Audubon Society, whose mission is to conserve natural resources and wildlife. This small farm abuts Audubon sanctuary land, and you may be able to spot some Connecticut bird species while you search for the perfect Christmas tree. The farm is open from the Saturday after Thanksgiving until December 23.
Everett's Corner Tree Farm, Easton
The Everett family has been growing Christmas trees since 1954. It offers White Spruce, Blue Spruce, and White Pine. The farm will be open November 29th to December 15th (Saturdays and Sundays) . All trees, all sizes are $60 each, and purchases are cash or check only. Saws are provided.
Sam's Tree Farm, Newtown
This place gets the prize for best deal around. Sam's only sells White or Blue Spruces. The 12-acre farm has been a family affair for 55 years, and the Nezveskys will help you drag, bale, and tether your tree. They take just cash or check, have restrooms available, and say dogs are more than welcome.

Castle Hill Tree Farm, Newtown
Paproski's touts beautiful views, along with five acres of trees. Add in hot cider, cookies, and a small petting zoo, and you've got a festive outing for the whole family! Saws, restrooms and baling available, too. Well-behaved dogs on leash are welcome. The farm opens November 29, 2019.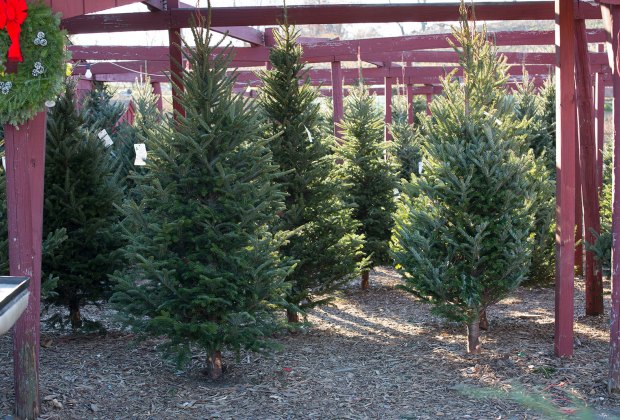 Fresh-cut Christmas trees are the specialty at Silverman's. Photo courtesy of Silverman's Farm
Silverman's Farm - Easton
Fresh-cut Christmas trees, wreaths, and poinsettias from Silverman's greenhouse are available for the holiday season. It offers Douglas, Concolor, and Fraser Fir trees up to 12 feet tall, and a lovely greenhouse gift shop. Silverman's is open daily through December.
Wells Hollow Creamery and Farm - Shelton
A full service farm and creamery, Wells is a place where you can get your Christmas tree as well as a scoop of amazing ice cream.
Sabia Tree Farm - Easton
Sabia is open starting the day after Thanksgiving. Choose from pre-cut or cut-your-own trees, including Concolor, Fraser, Colorado Blue, Norway, and more.
Originally published November 13, 2012