10 Holiday Craft Fairs and Christmas Markets Around Boston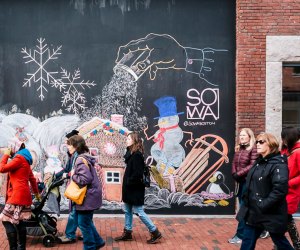 This time of year, holiday markets are springing up all around the greater Boston area, from church fairs and school bazaars to high-end artist markets and craft fairs. We've highlighted fun finds that feature the handiwork of artisans and makers from both near and far. Many Boston holiday craft fairs and Christmas markets have extra attractions, like food and live entertainment. Santa will also be visiting some craft and gift fairs, like the Westport Magical Holiday Craft Fair Event, where kids can get their faces painted and take pictures with Santa. During the Sleigh Bells Concert and Fair weekend in Quincy, you can catch holiday songs featuring the South Shore Children's Chorus and South Shore Piano School while shopping for handknits and handmade goods. So, skip the lines at the mall, avoid delivery delays, and find some perfect holiday gifts while supporting Boston artists and crafters.
Are you already in the holiday and Christmas spirit? Check out our top Holiday and Christmas Activities, find spectacular Christmas train rides, and explore our Holiday and Christmas Activities Guide.