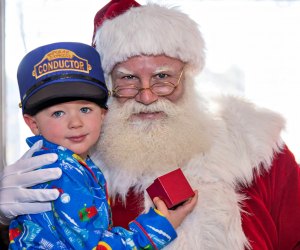 9 Polar Express and Christmas Train Rides for Kids Near Boston
What is it about trains and Christmas? The two have become inextricably linked—especially since The Polar Express, Chris Van Allsburg's glorious picture book about the magic of Christmas, captured kids' hearts and imaginations. During the holiday season, train rides complete with hot chocolate and visits from Santa bring Christmas stories like The Polar Express to life..for all who believe, of course.
Lucky for us, we have plenty of delightful train ride options in driving distance from Boston, from cozy, seaside New England journeys to 4-D movie experiences that feel like a real locomotive ride, right down to the sounds, sights, and even smells. Like other hot holiday shows, teas, and events that tend to sell out, seats on most of these trains fill up fast, so we recommend getting your golden tickets now.
1. ICS North Pole Express—Newburyport, MA
December 7, 2019
$$
During the ICS North Pole Express train's 70-minute journey from Newburyport to the North Pole, passengers listen to "'Twas the Night Before Christmas" while drinking hot cocoa and eating treats in their pajamas. The children write letters to Santa, play games led by the conductor, sing Christmas Carols and visit with Rudolph, Frosty, and the Christmas Mouse. The seats were already sold out for all five train departures as of press time, but you can join the waitlist and hope for a Christmas miracle!
2. The Polar Express 4-D Experience—Boston, MA
2019
$
The Museum of Science has the perfect way to introduce the Polar Express to train-loving kiddos who may not be ready to sit for a longer show or ride: The Polar Express 4-D Experience is a 15-minute movie that jumps off the screen in 3-D and brings the story straight to you with 4-D multisensory effects.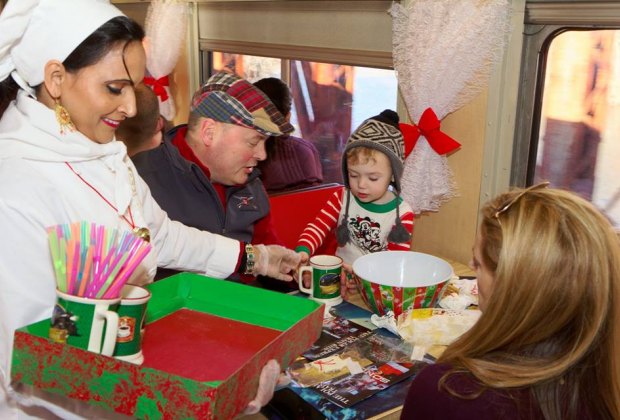 All aboard for hot cocoa and snacks. Photo courtesy of Blackstone Valley Tourism Council
3. The Train to Christmas Town Ride—Buzzards Bay
Fri-Sun, November 29 - December 23, 2019 (additional train Monday, December 23)
$$$
Cape Cod Central Railroad is offering The Train to Christmas Town Ride this year. Aboard the train, dancing chefs serve warm cocoa and a delicious nut-free chocolate chip cookie to each passenger. After the train rolls into the North Pole, Santa boards with his elves and gives each child a shiny silver bell while the elves lead a merry sing-along. If you can score a seat in the Diamond Class, you get extra-special views and an additional keepsake to take home.
4. Edaville Railroad: Where's Santa?—Carver
November 21 & December 5, 6, 12, 13, 17, 18, 19, & 20
$$
Embark on a 45-minute train ride adventure aboard the Edaville Express. Dancing elves serve chocolate milk, Hood Eggnog, and cookies on board the train while guests help Mrs. Claus and the elves search for Santa. After the train passes through Thomas Land and takes a turn into a magical land filled with over 12 million lights, it approaches a magical secret toy shop and Santa is there to join in on the fun. With your ticket you're also invited to enjoy the Christmas Festival at Edaville, rides and all, for the full day of your train ride. Advance reservations are strongly recommended.
5. Jolly Jingle Express—Woburn
December 15, 2019
$$
Score a seat on the Jolly Jingle Express for a 70-minute round trip train ride complete with Santa and his elves. Kids can enjoy cookies and chocolate milk as they watch a performance of The Night Before Christmas and listen to Christmas carols. Jolly Old Saint Nick will even give out a silver bell to each little rider as he listens to their Christmas wish. The train starts and finishes at the Anderson RTC in Woburn, MA.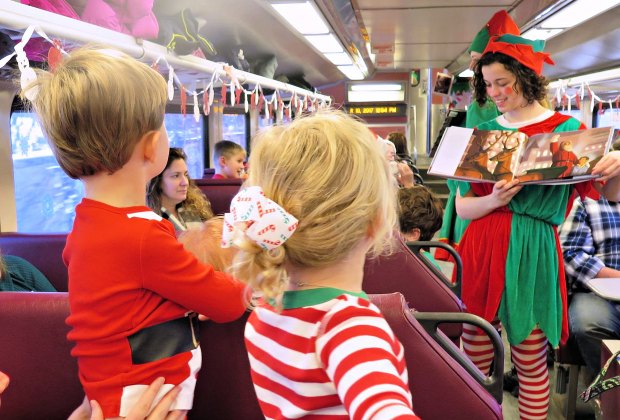 Elves read the story of the Polar Express while kids enjoy the ride. Photo courtesy of Scituate North Pole Express
6. Scituate North Pole Express—Scituate, MA
November 17, 2019
$$
The spirit of the holiday descends upon the South Shore as children embark on a magical train ride on the Scituate North Pole Express, departing from the Greenbush Commuter Rail Station. During the 60-90- minute train ride, children (and their adults) will be entertained with a reading of The Polar Express, enjoy milk and cookies, sing Christmas carols, and be visited by merry elves, Frosty, Rudolph, and—of course—Santa and Mrs. Claus. Each child receives a special gift from Santa and a magical silver bell. There are four departure times, and tickets are available online only.
7. Polar Express 4D Motion Odyssey Movie Ride—Avon, MA
2019
$
At Jordan's Furniture Polar Express, fans watch a 20-minute version of the movie as a moving seat takes them climbing and sliding along. Melting snow will tickle skin and the smells of rich hot chocolate will liven the ride on The Polar Express 4D Motion Odyssey Movie Ride. It's as close as you can get to actually stepping into the action of the movie! Note: there is a 40" height minimum, so your little elves may need to wait for a growth spurt and ride next year.
8. The Blackstone Valley Polar Express—Woonsocket, RI
Fri-Sun, November 15 - December 22, 2019
$$$
The Blackstone Valley Polar Express welcomes all aboard for a sing-a-long, visits and photos with Santa, hot chocolate, and a cookie. Kids get a gift from Santa plus a coloring book and crayons. While you're waiting in the train depot you can pick up some souvenirs and pose for photos in front of the jolly backdrops.
9. Maine Narrow Gauge Railroad Polar Express—Portland, ME
Fri-Sun, November 22 - December 23, 2019
$$
Climb aboard this historic train for a journey to the "North Pole"—in a spot that's geographically a little closer to it! Families traveling to this Maine event will enjoy hot chocolate and cookies served by the train's chefs and listen to a reading of the classic Polar Express story. Santa greets children aboard the train while passengers sing along to carols as they travel back to the train station.
Post originally published December 2013 and updated annually.