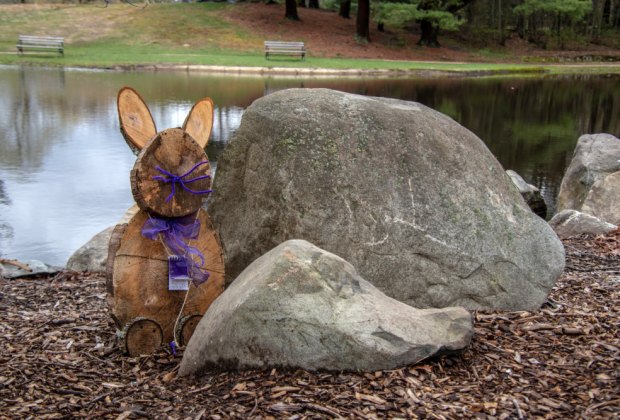 What's Open in Coronavirus Shutdown: Story Walks, Hikes, Art You Can Do While Social Distancing
Family life as we know it has changed dramatically in the past week, and those of us with restless children are definitely feeling the stress (and in some cases, boredom) of it all. Be sure to check out our Coronavirus Guide for Parents, which we have filled with hundreds of activities and ideas to try out with the kids. With everyone housebound and turning to the Internet, there is also an abundance of quality virtual experiences worth streaming and some cool podcasts kids will love.
However, many of us could use some fresh ideas for getting outdoors while social distancing, or connecting to the outside world in screen-free ways. We have some ideas for safe and meaningful family time, from playing a hide-and-seek game with spring "bunnies" in Walpole to picking up take-out art supplies in Wellesley. Please check in with these spots and with local restrictions before heading out, and remember to observe social distancing guidelines of keeping yourself (and kids) 6 feet away from non-family members. Have fun—and hang in there!
Take storytime on the trail.
If you are ready to ditch the screens and indoors in favor of some fresh air (keeping social distancing in mind, of course), there are still plenty of safe outdoors activities to choose from. Story Walks can be found on wooded trails at Chestnut Hill Farm, Rocky Woods, and Powisset Farm.
Find a bunny.
Bird Park in Walpole is hosting a self-guided Spring Bunny Quest where kids can search for six wooden bunnies hidden throughout the park.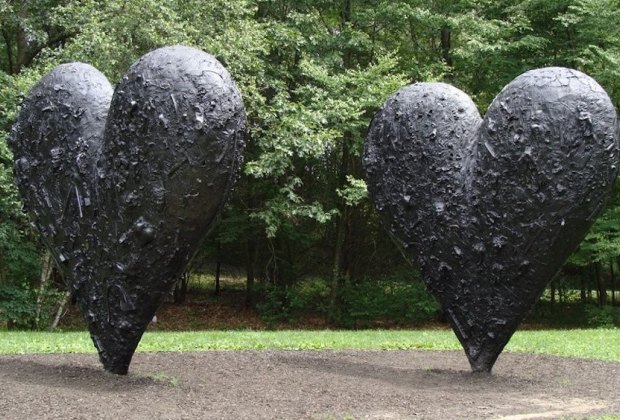 Love...from a distance. Jim Dine's popular sculpture at the deCordova Sculpture Park strikes a chord right now. Photo courtesy of the deCordova
Walk among some famous sculptures and pick out your favorite.
The deCordova Art Museum's gorgeous and peaceful grounds in Lincoln are open and free for families. (Note the indoor museum is closed.)
Explore some animal habitats.
Do the Guided Nature Experience at the Blue Hills, which features a free downloadable audio tour and 10 stops along the quarter-mile trail.
Make some animal crafts.
Missing visits to your favorite animals at the Franklin Park Zoo or Stone Zoo? Zoo New England has created a Kids' Corner filled with animal-themed craft ideas, from a two-toed sloth mask to tapir coloring pages.
Set up a bird feeder and become a real-life ornithologist.
Our bird friends are busy building nests for the spring. Help Cornell scientists at Project FeederWatch by installing a feeder in your yard and counting the birds you see for two consecutive days this week and submitting your data (through April).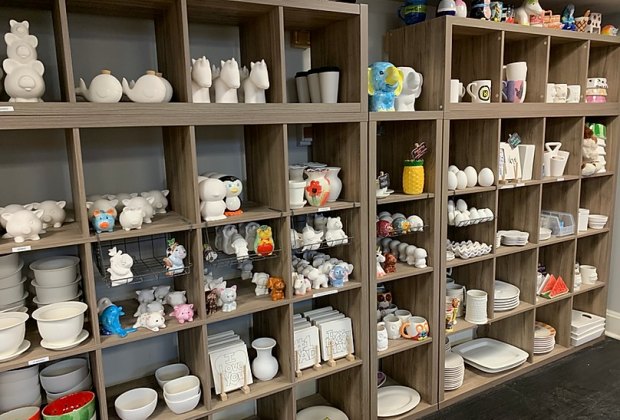 The Painting Place in Wellesley is offering to-go art kits, including plaster from its shelves. Photo courtesy of The Painting Place
Pick up some takeout—art supplies!
The Painting Place in Wellesley is offering take-out kits for creating works of art from the safety of home.
Go to a specialty food market for groceries.
Sick of your local supermarket yet? As of publication, Eataly Boston was open for groceries. Plan a special recipe or two before going so there's less browsing and more shopping, and be sure to coach kids on what 6 feet of social distancing looks like.
Sew your own art-inspired apron for all the home cooking you're doing together.
The Peabody Essex Museum has created a page of original, artsy project instructions, including a dish cloth apron from its children's book Piece by Piece. There are tutorials for learning origami there, too.
Soak up the Arnold Arboretum.
Kids love exploring the hilly, tree-lined landscape at Harvard's Arnold Arboretum, where the outdoor grounds remain open.
Get some energy out on a challenging hike.
Big kids will be able to handle these longer hikes around Boston, while preschoolers and other little ones are better suited to these one-mile-or-less nature walks close to home.
Also on Mommy Poppins this week:
Top photo of Spring Quest bunny was found at Hidden New England.