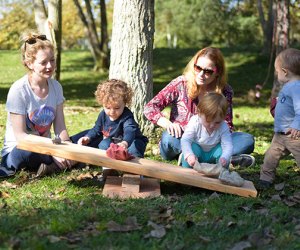 25 Ways to Spend a Morning with Your Toddler in Boston
Once you've gotten through breakfast and downed your second (or third) cup of coffee, have you ever looked at your toddler and thought, "what the heck am I going to do with you today?" Too young for many full-time schools or camps, too old to just tag along on errands all day, toddlers are suited for fun, interactive activities that don't require a long attention span and will tucker them out for their afternoon nap. Fortunately for parents and caregivers, there are a plenty of great local activities that will get you both out of the house; and many attractions are 100% free for toddlers.
1. Browse and play at a cool library.
More and more libraries are carving out play areas to keep little ones busy. And the Boston Public Library has a booming events calendar: Whether it's a dance party at the Central Branch, preschool films at Fields Corner, or Story Time in Hyde Park, you can find something to do at a branch near you, or bounce from branch to branch. Some events are offered in English and Spanish. Advance registration is not usually required but some of the activities fill up so plan to arrive a few minutes early to secure a good spot. Free for all; rarely, some special programs include an added fee.
OUR LATEST VIDEOS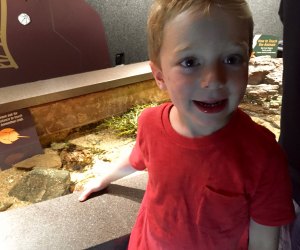 The Edge of the Sea touch tank is a big draw for little ones. Photo by Mommy Poppins
​2. Touch some slippery and spiky creatures.
​The New England Aquarium is a great place for kids of all ages. If you're bringing your toddler, be sure to check out the Edge of the Sea Touch Tank or Shark and Ray Touch Tank. Your little one can explore a tide pool, touching the inhabitants which includes sea urchins, sea stars, mussels, snails, and yes, even sharks and rays. Kids under 3 are free.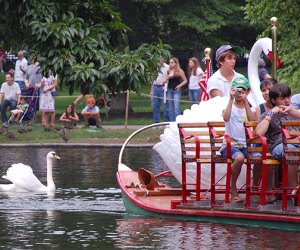 The Swan Boats are very little-kid-friendly watercrafts. Photo by Julie/CC BY-ND 2.0
​3. Make your way to the ducklings.
Pack a blanket and head for Boston's beautiful Public Gardens. Setup near the corner of Beacon and Charles Streets and read the classic, Make Way for Ducklings. ​After you've finished the story, you can visit Mrs. Mallard and her ducklings for photos at the famous sculpture inspired by the book. If you want to keep the theme going, take a ride on a swan boat. Kids under 2 are free.
4. Get up close to some exotic animals.
​​Boston's Franklin Park Zoo offers city kids the chance to walk on the wild side. Exhibits include the Children's Zoo and the Franklin Farm with a contact corral where kids can pet some of the barn animals. Daily activity offerings include mystery animal encounters and education stations where kids can create faux critters while learning about animal life. Buy tickets online for a discount. Kids under 2 are free.
5. Bop around the Boston Children's Museum​​.
The Boston Children's Museum is the city's ultimate play zone with something for every age group. In addition, the museum offers a robust activities schedule that you should peek at to align your next visit. Music and Movement is a great class for toddlers, allowing them to dance and sing along to popular kiddie tunes while trying out new musical instruments. All the classes are led by trained music educators from Little Groove. ​Kids under 12 months are free.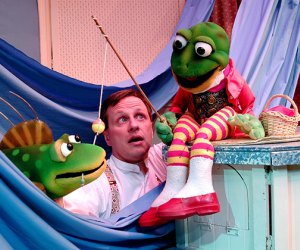 The Puppet Showplace Theater is constantly rotating performances that appeal to small children.
6. Catch a puppet show.
​​If your child is able to sit through a short performance, consider taking in a puppet show at Puppet Showplace in Brookline. All of the shows come with an audience age recommendation and there are a few that are appropriate for kids three and up.
7. Don't let rain slow you down.
If a rainy day has you fearing a case of cabin fever, head to Kids' Fun Stop in West Roxbury. ​Your little one can work off some energy on the indoor play space and you can supervise while socializing with other parents and caregivers. As a bonus, they offer babysitter drop off times for when you're in a bind or just need a bit of me time!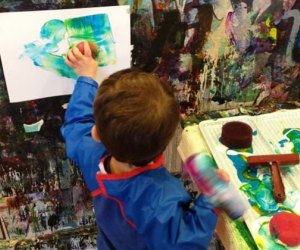 Muckykids has many stations where kids can get creative.
8. Get messy at Muckykids​​.
Want to encourage your budding Picasso but hate the mess arts and crafts leave behind in your kitchen? Check out Muckykids in Cambridge. This urban art studio offers art classes for kids as young as 18 months. The drop-in studio is a great impromptu option for art enrichment on your own schedule.
​​9. Bust a Move at BU​
Many of the area's colleges open up their world-class facilities to the public for classes and lessons. Teeny Tykes is one of Boston University's introductory gymnastics class, this one is designed for 2-year-olds. Your tyke won't be navigating the uneven bars, but fun, age-appropriate movement activities are a great way to pass a morning. For 3-year-olds, Gymny Crickets (how cute is that program title?) is all about activities that help with gross motor skills development, including basic tumbling and balance beam work.
10. Get wet.
The YMCA of Greater Boston offers swimming lessons for kids as young as 6 months. Your toddler isn't expected to do laps, but lessons will encourage comfort in the water and help build confidence in preparation for learning strokes. An adult does have to participate. Classes include an educational component on drowning prevention and the importance of water supervision.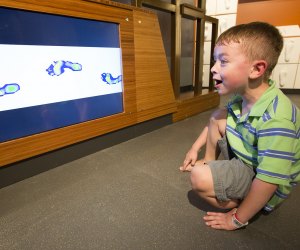 A young visitor delights in seeing the heat map of his foot in the Hall of Human Life. Photo by Michael Malyszko/Museum of Science, Boston
​11. Get a feel for science.
​​While the Museum of Science may not jump out as the best place for toddlers, the museum does have exhibits and programs for even the youngest scientists-in-training. The Discovery Center is a hands on area designed to encourage learning through play. Because your toddler might tire out before getting to enjoy the entire museum, this is another place where an annual membership goes a long way towards helping families get a little more bang for their hard earned buck. Kids under 3 are free.
12. Cruise the Charles.
​​Why not work some fitness into your toddler time? Take your little one for a bike ride along the Charles River Bike Path, where they can try to spy ducks and turtles while you get some exercise. Child seats or trailers can be rented at bike shops around the city if you need a spot for your tot. Make a pit stop at the playground near the Hatch Shell for some added fun. ​
13. Stop and smell the flowers.
With their winding paths and focus on the simple pleasures around us, nature centers are a great place to wander with a tot. The Arnold Arboretum has loads of space to walk, hunt for natural treasures, spy a tractor, and observe ducks and geese.
14. Grow your village.
With locations in East Boston, Dorchester and Jamaica Plain, Play to Learn is part of the Boston Public School's Countdown to Kindergarten program. Groups meet in school settings. Activities are as much about helping early learners with developmental and social skills as they are about introducing families to the resources available to them in their own neighborhoods. Check website for 2018-2019 schedule.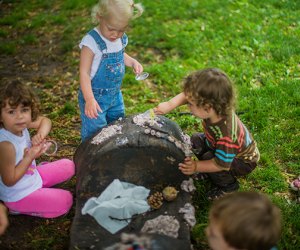 The great outdoors is Tinkergarten's classroom.
15. Make friends with nature.
Tinkergarten brings the classroom outdoors to local parks and green spaces in and around Boston. Trained class leaders guide children through seasonally appropriate activities, such as learning about the solstice, building an outdoor shelter, creating handmade paper using natural materials, and exploring bugs and their homes. With classes in Charlestown, Jamaica Plain, Somerville, and Cambridge, and more than a dozen additional nearby towns, you're sure to find a class near you.
​​​16. Keep it simple: Hit the playground.
One thing city kids have going for them is their access to great parks. Every neighborhood has playgrounds and green space, many with equipment designed for toddlers.Check out a new park or log some quality time in your favorite neighborhood spot. Start with our list of playgrounds with tot lots designed just for little ones, or if you're feeling more adventurous, try out one of our very-favorite destination playgrounds, brain boosting playgrounds, or one of the city's hidden gem playgrounds. Free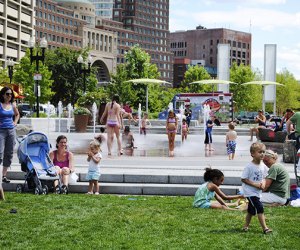 Cool off at the Greenway's Wharf District fountain.
17. Roam the Greenway.
The Rose Fitzgerald Kennedy Greenway is not just pretty, it's packed with activities. With seven water features and a carousel, you and your toddler can pass a lovely morning strolling on the paths, ​frolicking in the grass, exploring the art installations, and capping off your adventure with a spin on the local-animal-themed carousel. Though not a traditional park, the Greenway is a great place for city kids to stretch out and enjoy some fun in the sun.
18. Keep it brief at the beach.
Going to a major beach with kids is a lot of work. Going with a toddler is even more work. But a quick trip to one of the city's super-accessible beaches could be a more manageable way to introduce a little one to our region's waterfront. Pack a pail and snack and stay just long enough to dip your toes in the water and make a sand castle. Castle Island in South Boston has ample parking and is adjacent to Pleasure Bay, or you can head down the road a bit to Carson Beach. Free for all
19. Get to know Hill House.
Hill House is a super-popular community center in Beacon Hill that offers programming all year long, serving some 2000 children every year. Among the offerings for toddlers is an open playgroup. Sessions are free but you are asked to register online.
20. Master first position—or just Duck, Duck, Goose.
Toddlers are not too young to start learning ballet. At the South End's Litttle Lovage Club, ballet classes are offered to children as young as 18 months old. Who knows—an early start could set them up for a staring role in The Nutcracker down the road, right? If your tiny dancer is not quite ready to tackle ballet, Little Lovage also offers a Big Movers class for kids and caregivers that might be more appropriate.
21. Discover a world of fun at the newly renovated Acton Discovery Museum.
This recently revamped musuem is a toddler's dream. Little ones can splash around in the water room, play pretend, and even board a ship. But one of the most exciting additions to this museum is the new outdoor wooden wonderland featuring a big swing, log teepees, rope ladders, a giant treehouse with craft materials, and more. Kids under 1 are free.
22. Pop into Curious City.
The newest children's museum on the block, Curious City is a pop up museum that's a must visit. Designed for kiddies ages 2 to 10, these exhibits will keep tiny hands busy. From rooms to build and experiment to mindful yoga environments to special sensory friendly exhibits, there is something for everything. Be sure to check the museum's calendar for special upcoming events!
23. Get wet at a slash pad!
When the weather warms up, pack up a swim suit and cool off at a little-kid-friendly splash pad, spray deck or fountain. The combination of water fun and sunshine is sure to guarantee you a solid afternoon nap! Free
24. Saddle up for some barnyard fun.
Bring your little ones to meet some barnyard friends at one of the many farms in the area. Kids can feed and pet the animals, plus many farms offer lots of additional activities and crafts, so be sure to check their calendars while planning your visit.
25. Climb the walls—literally.
Got a toddler that scales the walls? Put those skill to use and stop in for toddler time at this rock climbing gym. At Rock Spot Climbing, your kiddos will get to play with other kids while exploring the gym.