Best of 2022 Atlanta Kid Edition: Top Openings, Happenings, and Other Awesome Stuff We Loved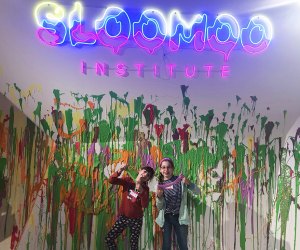 12/25/22
- By
Melanie Preis
2022 in Atlanta has been making news for all the great, kid-friendly spots that have opened this year. In fact, as we speak Atlanta is still making headlines for 2022 with Winter Storm Elliott's freakishly cold temperatures (Christmas weekend 2022 is the coldest it has been in years in Atlanta). Stay cozy by curling up to your device and reading about our favorite openings and new events that made Atlanta children smile this year!
We at Mommy Poppins love a good recap, so we've rounded up awesome things in Atlanta this year. From engaging exhibits to delicious eateries, 2022 was a great year for Atlantans to try some fabulous new options. Take a look at just some of our favorites!
New Kid-Friendly Openings in Atlanta in 2022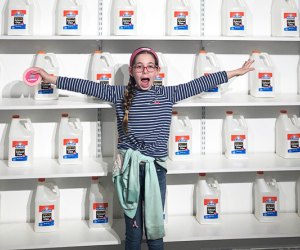 All the slime at Sloomoo Institute Atlanta requires a ton of Elmer's Glue.
Kids like slime; kids LOVE lots of slime! Sloomoo Institute Atlanta opened its sticky doors late this year to a world of gooey fun for eager kids and adults. Located in Buckhead, this "museum" offers hands-on experiences with slime, involving senses like touch, sight, sound, and even smell (each slime features a different scent). Kids even get to create their own custom Sloomoo slime to take home.
Part escape room, part video game, part Nickelodeon slime event, Beat the Bomb opened its doors to an Atlanta audience in 2022. This fully immersive experience is a cool and different way to keep older kids and teens entertained. Groups choose from one-hour missions, where everyone suits up in hazmat gear, dodges lasers and other elaborate setups, and cracks the code before a whole lot of ooey, gooey mess gets thrown about.
For those kids who love all things Star Wars, The Fans Strike Back exhibit is a sci-fi utopia. This galactically awesome experience features more than 600 collectibles and figurines, as well as costumes, sculptures, and other items sure to impress Darth Vader himself.
RELATED: Holiday Break in Atlanta: Fun Things to Do Between Christmas and New Year's Eve
4. Whataburger - Kennesaw
The very first Whataburger in metro Atlanta opened in November, and it made fans of this beloved burger chain come out in droves. Seriously. People slept in cars before the Kennesaw opening to be the first to sink their teeth into a Whataburger burger. The fast food chain has plans to open eight additional Atlanta-area Whataburgers in 2023.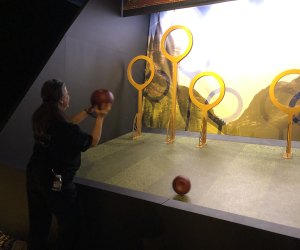 Play Quidditch during your visit to Harry Potter: The Exhibition Atlanta.
Atlanta Potterheads got to embrace all things Hogwarts with the opening of Harry Potter: The Exhibition Atlanta this past fall. In addition to seeing real props and costumes from the movies, fans engaged with digital features, chose their school house, and even enjoyed tasty magical concoctions and snacks.
6. New Parks and Outdoor Spaces - Various locations
Atlanta has great green spaces, and the city only improved on these parks and outdoor sections with the completion of the Mattie Freeland Park (in English Avenue neighborhood); Atlanta BeltLine's Westside Trail (on Marietta Boulevard) and new added sculptures; and the six-mile Buckhead trail, the final segment completing the Chastain Park trail network.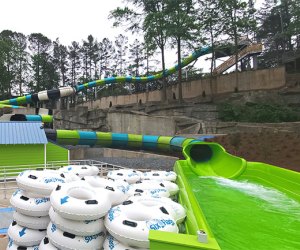 Six Flags White Water introduced thrill-seekers to Python Plunge, a massive water slide this summer. Photo courtesy Six Flags
It's hard to think about water slides when the thermometer reads 8 degrees, but Python Plunge is a cool, new opening that happened in 2022. Six Flags White Water welcomed brave kids to its two-person water slide featuring heart-racing plummets, more than 500 feet of swirls and thrills, four steep saucer bowls, and more gravity-defying twists.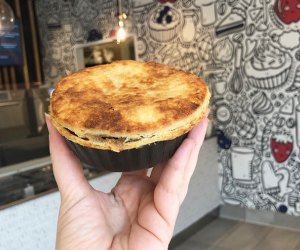 Not only are the personal pies at Doodle Pies delicious, they're adorable to hold.
8. Sweet Tooth Satisfaction - Various locations
Kids (and adults) love sweets so it was tough to narrow down the best Atlanta sweet shops that opened in 2022. Some of our favorites include Doodle Pies in Roswell, which serves custom, personal pies, hot or cold, to hungry patrons; Atlanta's Sugar Baby Creamery, which offers decadent rolled ice cream, milkshakes, and soft serve; and French Broad Chocolate (at Ponce City Market), with a selection of desserts, caramels, bonbons, and more.
Stranger Things the series is filmed in Atlanta, so it only makes sense that Atlantans would want to attend Stranger Things: The Experience! Fans of the Netflix series enjoy an immersive experience by venturing inside Hawkins Lab, exploring the tubular times of the 1980s with nostalgic food, music, and props of the times, and more. Located at Pullman Yards, the Stranger Things Experience would make Eleven proud.
Coolest Kid-Friendly Openings in 2022 Around the Rest of the Country
Our little family grew this year as we added San Francisco and Miami to the world of Mommy Poppins. Our two new sites join NYC, Long Island, New Jersey, Westchester, Connecticut, DC, Chicago, Boston, Los Angeles, Philadelphia, Houston, Orlando, and Atlanta. Also expanding: the cool things you can do on our site. We recently redesigned our search pages with a cleaner, easier-to-use design and new functionality. You can now find camps and classes on your local calendar of events and even buy tickets directly from our website — if an event has a red "Book It" tag, you can purchase tickets immediately, with no added fees. Oh yeah, in our spare time, we also created a new Earth Kids Guide and newsletter. Since the environment is one of the most critical issues facing our children's futures, we wanted to think and talk about new meaningful and fun activities to engage children and families with sustainability each month.
A brand new experience has opened close to Times Square that takes visitors on a breathtaking simulated aerial tour of New York City. With your feet dangling from the full-motion seats, you soar and swoop through the city, its landmarks, and all its seasons in RiseNY's awe-inspiring love letter to the Big Apple. Hit all the tourist destinations at once…
Think you can only strap on skates at Rockefeller Center at Christmas? That's no longer the case, and we got the scoop on summer skating at Rockefeller Center. (Also, here are the best restaurants near Rockefeller Center, so your family won't wander into a tourist trap and can get some actually tasty eats.)
One of our LA writers visited the park before it opened and got the inside story on what kids love about the country's newest theme park. There's a water park element to the place, too, which is open year-round, and it's definitely one of the best amusement parks in the US for kids under 5.
This construction-themed adventure park opened this year near Houston. Here kids can operate the equipment instead of just watching: drive skid steers, dig dirt with excavators, and more. (Now Diggerland in NJ isn't the only construction-themed theme park!)
This new, 50,000-square-foot, multi-level attraction at Kennedy Space Center opened in March. It gives space fanatics of all ages first-hand views of modern-day spacecrafts such as a SpaceX Falcon 9 booster and Orion Crew vehicle. The main concourse features a 4D motion theater offering four different journeys. It's as close to outer space as you can get without paying for a ride on a tech billionaire's rocket.
Wanna make like Rocky and run the steps of the Philadelphia Museum of Art? Well, now there is even more art to see, as the museum just opened 90,000 additional square feet.
RELATED: Best Winter Vacation Ideas for Families: Affordable Vacation Spots for Kids of All Ages
At this one-of-a-kind hotel experience, guests stay aboard a starship for a two-night adventure. The journey begins on a launchpad with a simulated blast off into space. The launch paddocks at the Halcyon starcruiser, where guests have their own passenger cabin complete with bunk beds and a galactic view. Young Jedis can get a sneak peek of the inner workings of the ship, encounter stormtroopers in the ship's atrium, wield a lightsaber, and navigate the ship with the crew's help. Cheap? No. An incredible once-in-a-lifetime experience? Yep.
This traveling show is one our Houston editor caught when it was there, and she said it's as if the books have come to life. The show moved to Colorado and will continue touring the US from there. The experience gives kids a chance to see, hear, feel, and experience their favorite settings from nine of Dr. Seuss' stories as they go from room to room to interact with each installation.
Did we miss any of your favorite new openings? Let us know on Facebook!
Photos courtesy of author unless otherwise noted.