Best New Kid-Friendly Atlanta Destinations of 2021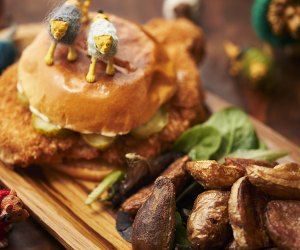 As 2021 comes to an end, it's time to celebrate all the wonderful things that have happened over the course of the year (and conveniently forget the not-so-great things). In a year of big news and history-making events, we can be thankful for our health and being a part of the tight Atlanta community. And we in Atlanta have been lucky to visit lots of new, kid-friendly experiences, businesses, and restaurants this year.
We at Mommy Poppins love a good recap, so we've rounded up awesome things that opened and are new in Atlanta this year. From engaging exhibits to delicious eateries, 2021 was a great year for Atlantans to try some fabulous new options. Take a look at just some of our favorites!
New in Atlanta for 2021: Attractions
Illuminarium opened in July 2021 and has featured two shows: Wild and Winterland. Photo courtesy Illuminarium
Illuminarium opened on the Beltline earlier this summer and brought the wilds of Africa to the wilds of Atlanta. The sensory-immersive, safari experience, Wild, is an amazing way of "traveling" to exotic regions, especially when travel has been so tough this year. With the popularity of Wild, Illuminarium put on a new show this winter, Winterland, showcasing the wonder and beauty of the holiday season (plus, ticket holders get hot chocolate!). Keep your eyes peeled as more shows, about space and art, com to Illuminarium for 2022.
Older children and teens who love thrills were treated to the exciting news that Six Flags Over Georgia was opening Riddler Mindbender in September. This triple-looping roller coaster is not for the faint of heart, and if your child wants to back out before he sets foot in the car, don't worry —there are tamer rides throughout the park.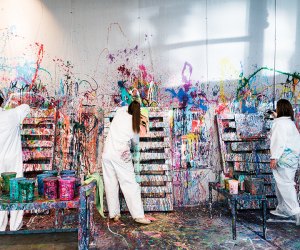 Splatter Studio's new Virginia-Highland location adds even more color to metro Atlanta. Photo courtesy Splatter Studio
With the opening of Splatter Studio's second location, in the Virginia-Highland neighborhood, families from all across the metro region get to unleash their creative sides. Everyone is an artist at Splatter Studio, offering one-hour sessions, and disposable ponchos, to get colorfully messy and take home a gorgeous piece of art. The original location still stands at Ponce City Market.
Indoor mini golf at Puttshack is great for older kids and teens. Photo courtesy Puttshack
Mini golf is a time-tested tradition of fun for any age, and Puttshack brought another awesome take on this fun "sport." This elevated indoor course opened in April in Westside's Interlock community and features tech-heavy mechanics, an interactive leader board, digital prize wheel, and fun themed holes. Just a note that no on under the age of 21 is allowed inside after 8pm.
We know that Mommy Poppins obviously focuses on kids and babies, but we can't leave out those beloved furbabies! Fetch Park opened new locations, Buckhead and Columbus, beyond the original Old Fourth Ward one, as the hot spot for dogs to mingle and make friends...and let their owners make friends, too. And Fetch is free for humans to enter and enjoy —you don't even need your own pup to watch the little rascals play.
Westside Park will eventually be the largest park in Atlanta, totalling 280 acres. Photo by Bill Leffler
Midtown's gigantic Westside Park finally opened in August, after years of detailed planning and building. Besides the amazing greenspace and playground, the park houses the emergency drinking water supply for Atlanta (the former Bellwood Quarry site), set to hold 2.4 billion gallons of water.
New in Atlanta for 2021: Exhibits
Art lovers and novices alike were taken to another world of color and magic with the opening of Van Gogh: The Immersive Experience at Pullman Yards. This interactive exhibit went way beyond standard art museum tours—kids and adults learned about painter Vincent Van Gogh by stepping inside his famous works, being a part of his artistic rise and psychological decline, and discovering their own love of art.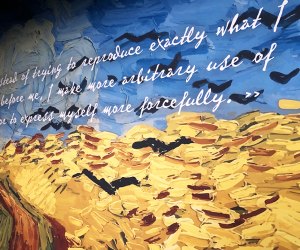 Van Gogh: The Immersive Experience is an interactive way to learn about the life and work of Vincent Van Gogh.
The Children's Museum of Atlanta celebrated the amazing contraptions, illustrations, and funny storytelling of Rube Goldberg, artist and inventor. The exhibit opened in September and continues until early January 2022, featuring life-size machines and interactive components that connect Rube's legacy with current STEAM concepts.
Fernbank's outdoor special exhibit was originally created by Smithsonian Gardens and explored the stories and science of habits. Located in WildWoods' elevated walkway, this spring exhibit allows kids to experience the homes of various creatures and why it's so important to preserve these natural habitats. Other awesome Fernbank exhibits from 2021 included Maya: Hidden Worlds Revealed, 68 Voces/Voices, and Microsculpture.
The year started out right for any child who loves the books and illustrations of Mo Willems. The acclaimed author came to town, in his own way, at the Children's Museum of Atlanta, with the arrival of The Pigeon Comes to Atlanta! A Mo Willems Exhibit. Children were able to animate and voice Piggie and Gerald, put on a wearable bus and "drive" around the museum, try art techniques Mo uses for his books, and much more.
New in Atlanta for 2021: Dining
If you attended the Van Gogh Experience at Pullman Yards, you may have seen the neighborhood's newest restaurant, The Abby Singer, right across the way. This quirky restaurant opened in the summer and serves kid-friendly comfort food, including the Jucy Lucy (half-pound beef burger with blistering American cheese baked in the center), grilled cheese, and deliciously golden tater tots.
The "Jucy Lucy" at The Abby Singer is juicy and delicious! Learn more about the image's artist, Ritsuko Hirai, who made these quirky animals. Photo by Joseph Scheller, courtesy of The Abby Singer.
Operating as a type of ghost kitchen, Guy Fieri's Flavortown is a delivery-only restaurant based in Alpharetta. The eatery creates and delivers tasty food items, like cheesesteak egg rolls, bacon mac n' cheese burgers, and fried pickles, out of the Buca di Beppo kitchen on Mansell Road.
One of the newest food halls to open in Atlanta was this summer's Politan Row at Colony Square. There are more than 10 food stalls so families have a big choice of options—try a colorful bubble tea at Unbelibubble, stuff yourself with a sandwich from Zaddy's, or a sushi burrito at Gekko Sushi. Yum!
Drive to Duluth or Doraville for some tasty doughnuts with a twist at Mochibees. This mochi doughnut eatery serves a low-sweetness version, perfect for health-conscious parents looking to curb the sugar intake. (Mochi is made by combining rice flour and tapioca starch, so these treats are typically gluten free.) Mochibees offers flavors like churro, matcha Oreo, black sesame, and much more, all in the traditional teething-ring shape.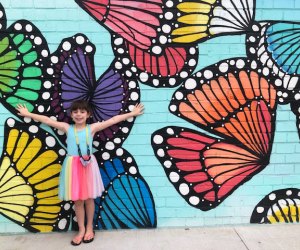 2021 welcomed Chattahoochee Food Works, full of delicious food options and beautiful murals.
Spring brings showers and flowers...and appetites on full power. Hungry Atlantans welcomed the opening of Westside's Chattahoochee Food Works, with a huge list of food stalls sure to satisfy even the pickiest of eaters. Though it initially opened in March, this food hall has continued to feature more talented food vendors, including Argentinian, Indian, South African, and Vietnamese cuisine. (And there's ice cream to bribe any stubborn little ones.)
Pizza fans rejoice! Pielands Sub & Slice just opened in Virginia-Highland, serving slices and whole pizza pies (both round and square), as well as sub sandwiches, sausage bread, and more. Order one of the New York-style speciality pizzas or create your own masterpiece.
Obviously there are many more cool and amazing new spots that opened in and around Atlanta this year, so try something new, discover different neighborhoods, support local businesses, and enjoy the end of 2021!
Photos courtesy of author unless otherwise noted.