Harry Potter: The Exhibition Atlanta Welcomes Muggles of All Ages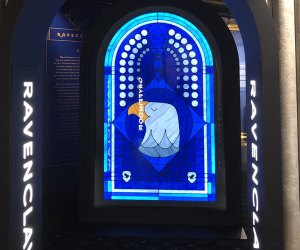 Harry Potter: The Exhibition Atlanta is a utopia of everything magic. This fantastic Atlanta attraction is the closest many of us will ever get to Hogwarts, celebrating the beloved book and movie series. Fans of all ages need to experience Harry Potter: The Exhibition Atlanta as it immerses visitors in the culture, history, and nostalgia of this magical world.
Harry Potter: The Exhibition Atlanta comes to downtown for a limited engagement, where visitors get a behind-the-scenes experience of the Harry Potter books and movies, as well as the Fantastic Beasts films and Harry Potter and the Cursed Child play. Take a look at authentic props, original costumes, J.K. Rowling's inspirations, as well as innovative exhibits that use modern magic (i.e. technology) to create truly transformative experiences that will astound kids and kids-at-heart.
Conjur your patronus, wear your House colors, and grab a broom because we're taking you through Harry Potter: The Exhibition Atlanta!
Want more ideas of what to do in Atlanta? Nature and science lovers should make a trip to Fernbank Museum; soda pop drinkers appreciate The World of Coca-Cola; and future marine biologists love Georgia Aquarium. Or go all out with our 100 Fun Things to Do in Atlanta with Kids Before They Grow Up!

Visit the Divination classroom and tell the future with your own crystal ball.
Harry Potter: The Exhibition Atlanta: Starting Out
Your adventure begins at Harry Potter: The Exhibition upon getting a "magic" wristband that you scan in an area that resembles platform 9 3/4. The check-in step allows visitors to personalize their experiences by inputting their names, Hogwarts house of choice (I'm a Slytherin with Ravenclaw tendencies), patronus, and wand. This information is saved to your individual profile and as you scan the bracelet throughout the exhibition, more details will be saved to your profile. Visitors also get to take a greenscreen photo with classic Harry Potter backgrounds at the start of their adventure.
The tour begins with a quick video about the history of the book and movie series, as well as a first edition of Harry Potter and the Sorcerer's Stone encased in a Gringotts-inspired vault. Next, fans enter an immersive multimedia room featuring a Whomping Willow, dementors, and the notable Marauder's Map. This is where you first get to scan your wristband — where your name magically pops up on the Marauder's Map! Find your name on the digital map and make sure to snap a photo.
Just like the Great Hall from the series, the exhibition has its own Great Hall that visitors pass through to see still and not-so-still pictures of famed Hogwarts characters (including Gryffindor's Fat Lady).

Exhibition visitors will love perusing the Great Hall, complete with floating candles and immersive vibes.
Harry Potter: The Exhibition Atlanta: Hogwarts Fun
Don't worry about wearing the Sorting Hat—it's time to visit your your chosen Hogwarts house! Explore the house you selected at preregistration or visit all the Hogwarts houses to learn more famed characters, movie props and costumes, house characteristics and colors, and much more. You can even scan your wristband here for more multimedia fun and earn points for your house.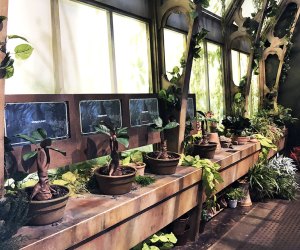 Earn house points by properly potting the mandrakes during Herbology class.
Keep traveling through the exhibition and start your academic quest as a new Hogwarts student. Visit classrooms with iconic props, creatures, and costumes and then get to work. Brew potions in Snape's potions classroom; predict the future in Divination; pot a mandrake in the Herbology greenhouse; and defeat a boggart in Defense Against the Dark Arts. My personal favorite was brewing a love potion and successfully earning points for my house, as well as touching the adorably creepy mandrakes.
Visitors can make their way to Hagrid's Hut and the Forbidden Forest to discover creatures like centaurs and spiders, cast a Patronus charm, and sit in Hagrid's magnificently large recliner.

Harry Potter: The Exhibition is bursting with movie memorabilia, like these Quidditch props.
Harry Potter: The Exhibition Atlanta: More Magical Moments
Make your way to the Ministry of Magic to discover more secrets of J.K. Rowling's world. Walk into the phone booth to "enter" the ministry and then discover exciting spots, like where Dolores Umbridge does her dastardly work.
Adults and kids can learn more about magical wands and which ones beloved characters used to cast spells; play Quidditch; face the dark side by checking out the paraphernalia of Voldermort He-Who-Must-Not-Be-Named and the Death Eaters; and even see where Harry slept under the stairs of the Dursley's house.
With all that walking, brewing, spell casting, and more, visitors will build up an appetite. Luckily, Harry Potter: The Exhibition Atlanta features a lovely cafe serving a full menu of breakfast items, sandwiches, salads, snacks, desserts, and signature beverages. These signature drinks are worth the wait as they all have some form of magic upon creation, like the Philosopher's Stone (cranberry, lime, pineapple juice, and Sprite, all with an edible smoke bubble) and Herbology Refresher (water, mint, lime juice, cucumber twist, and dry ice fog). There's also four different types of hot chocolate (based on the four houses) —for example, the Hufflepuff House Chocolate features dark chocolate and a cauldron mousse cake.
Take a look at where poor Harry had to sleep under the stairs at the Dursleys.
Harry Potter: The Exhibition Atlanta: Know Before You Go
Harry Potter: The Exhibition is open Sunday-Thursday, 9:30am-7:30pm, and Friday-Saturday, 9:30am-9:30pm. The attraction runs from now into early 2023 (the end date has yet to be released so could be extended).
Tickets start at $25 for children (12 and under) and $29 for adults (13 and over), though prices depend on days and times. Flextime tickets start at $59, good for any time or day, as well as VIP tickets good for selected dates (also include a commemorative lanyard, audio tour, and a $10 voucher to be redeemed in the retail store).
Free parking can be tough in the area, but there is a pay lot right across the street. We highly recommend spending the extra money for the ease and proximity of the pay parking lot.
As mentioned earlier, there is an available cafe to fill up on food and drinks. Note: The cafe is open to the public and interested patrons can pay for food and drinks without touring the exhibition.
Most families will spend about 60-90 minutes exploring the self-led exhibition. Some of the features (like that of the Death Eaters) may be scary for younger visitors. The exhibition ends at the retail shop.
All photos by author