Spraygrounds, Playgrounds, and Pools Can Reopen in NY State; NYC Spots Still Shuttered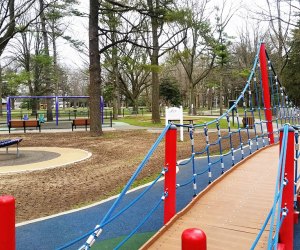 New York parents breathed a collective sigh of relief last Thursday, June 11, when Governor Andrew Cuomo announced public pools, spraygrounds, and playgrounds are allowed to reopen statewide at local governments' discretion.
The governor noted that local municipalities must use their discretion in opening play areas to the public, "Everybody wants to swim, I understand," Cuomo said. "Everybody doesn't want to see a spike in COVID again. So, use your judgment. Sometimes yes is not the right answer. It's the easy answer."
Read on for the details on how the decree has been received locally and what that means for families anxious for summer fun in Long Island, Westchester, and New York City's five boroughs. Stay tuned to our Summer Fun Guide for the latest reopenings for area kids.
Some Long Island Playgrounds and Spraygrounds Reopen
Nassau County Executive Laura Curran was quick to embrace reopening, announcing 67 playgrounds across the county would open to local kids and families over the weekend. Curran has been a big proponent of reopening Nassau's economy as soon as possible, and already had plans to open county pools in early July. "Beginning Friday, July 3, four of the six county pools—Cantiague Park, North Woodmere Park, Wantagh Park, and Christopher Morley Park—will be available for Nassau County residents only," she said.
Suffolk County appears to be a bit more measured in its reopening, where individual town leadership is left to decide what parks, pools, and playgrounds are open and available to the public. The towns of Brookhaven, Babylon, Islip, Huntington, and Smithtown jointly announced earlier in June that community pools would remain closed throughout the summer.
And, while some playgrounds may open, the towns of Babylon, Huntington, and Islip have all announced municipal spraygrounds will remain closed for the season. "After much consideration, we, unfortunately, do not believe that we can make our pools and spray parks available this summer in a manner that is safe for both our residents and employees," the town supervisors said in a joint statement.
Brookhaven spokesman Kevin Molloy, however, has plans to open town spray parks on June 27. And Smithtown spraygrounds also plan to open, although a date has yet to be announced.
For local families who need waterplay, Long Island beaches are open, although only to residents in some cases. Face coverings are required in common areas of the parks.
RELATED: 17 Day Trips Near NYC for Summer 2020 Adventures
Playgrounds and Splash Pads Still Closed in NYC
A representative from the New York City Parks Department confirmed to Mommy Poppins that NYC playgrounds and spray parks would remain closed until further notice. Mayor Bill de Blasio has said pools won't open this summer, and beaches have also been closed, but with the city now one week into reopening, those positions may be reevaluated.
RELATED: Drive-in Movie Theaters in Westchester and the Hudson Valley: Summer Movie Nights Are Back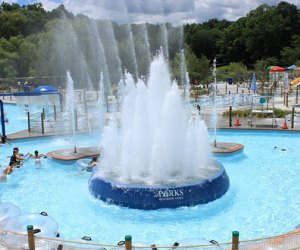 Take a relaxing float on the lazy river at the Tibbetts Brook Park Pool when it reopens July 3. Photo courtesy of the park
Westchester Reopens Select Pools; No Playgrounds Yet
Westchester County Executive George Latimer has announced Westchester residents will be able to enjoy four of the county's pools this summer: Saxon Woods Pool in White Plains and Sprain Ridge Pool in Yonkers open June 26, while Willson Woods Pool in Mount Vernon and Tibbetts Brook Pool in Yonkers open on July 3. All county pools will run at 50 percent capacity and be disinfected throughout the day. Unfortunately, the accompanying aqua pads and spraygrounds that accompany the public pools will remain closed for the remainder of the summer.
As with all aspects of COVID-19 life, things change quickly, so please check with local municipalities when planning your family outings.