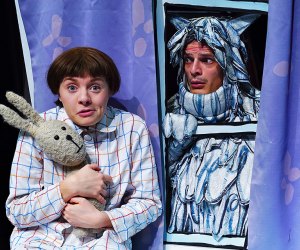 Best Winter Theater for NYC Kids 2019
New York City has tons of cool shows for families this winter, including the debut of two buzzed-about Broadway productions aimed at tweens: the Internet-fueled phenomenon Be More Chill and the big-budget musicalization of Beetlejuice. But you don't need to dig into your 401K to give your kids a memorable live theater experience in NYC—plenty of family-friendly productions are playing beyond Broadway for a lot less.
This winter there are wonderful options for kids of all ages from toddlers to teens, including shows aimed specifically at the preschool set (The Naughty Penguin, Sesame Street Live!), stage adaptations of popular picture books such as The Snowy Day, The Magic School Bus and The Stinky Cheese Man, and eye-popping spectacles for the whole family (Thunderbird American Indian Dance Concert and Powwow, Jedi Academy).
Best of all, most of these 28 shows are priced at $25 and under, so you can take the whole family for less than the price of one Broadway ticket.
Click through to our listings for all the details, including prices, schedules, and locations.
Turning 15 on the Road to Freedom — Upper West Side
Saturday, January 19-Sunday, January 20
Ages 10 and up
Celebrate Martin Luther King and his legacy with the real-life story of Lynda Blackmon Lowery, one of the youngest participants in the historic Selma to Montgomery Voting Rights March of 1965. Based on Lowery's memoir of the same name, this show (adapted by The Breakfast Club star Ally Sheedy) is filled with Civil Rights songs and chronicles the incredible life of the teen activist, who was jailed nine times before her 15th birthday. An inspiring story for politically minded tweens and teens.
RELATED: 10 Most Exciting Family-Friendly Openings Coming to NYC in 2019

TADA! Youth Theater's Odd Day Rain explores the downside of relying on technology. Photos courtesy of the theater
Odd Day Rain — Chelsea
Saturday, January 19 through Sunday, February 24
Ages 5 and up
I loved this sci-fi rock musical when I first saw it with my daughter at TADA! back in 2011. Now it's back with a whole new cast of kids. A tuneful cautionary tale about the perils of always relying on technology, it's a clever show with an important message delivered in a non-preachy package. All TADA! musicals are original and star members of the troupe's Resident Youth Ensemble, a company of talented NYC tykes ages 8 to 18. Young theatergoers always get a kick out of seeing their peers on stage. Tip: Ask for bench seating if you have young children, that way they can be right in the front row.
RELATED: 31 Top Winter Events for NYC Toddlers and Preschoolers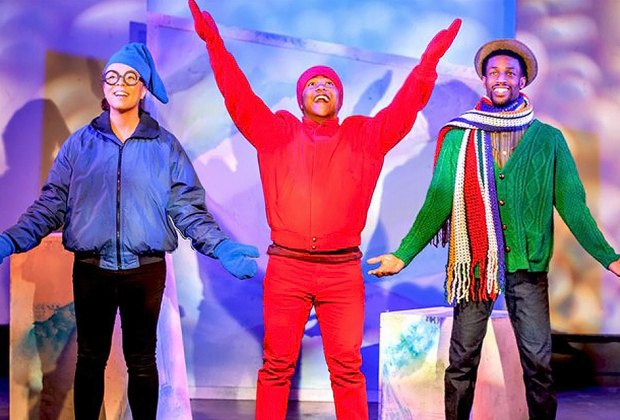 Snowy Day celebrates the joys of winter in the city. Photo courtesy of the production
The Snowy Day and Other Stories by Ezra Jack Keats — Midtown West
Monday, January 21 and Wednesday, February 20
Ages 3-8
Why should Eric Carle get all the theatrical glory? This hour-long, music-and-puppet-filled production gives another beloved children's book author-illustrator his due. Four of Ezra Jack Keats' tales—Whistle for Willie, Goggles!, A Letter to Amy, and his iconic Snowy Day—are translated to the stage in this preschooler-friendly show that celebrates the joy of being a city kid. We adored this production when we saw it last winter, so we're glad it's been brought back for another cold season.
Anne of Green Gables: Part I — Midtown West
Thursday, January 24 through Monday, February 11
Ages 6 and up
Broadway regular Ali Ewoldt stars as all the characters in Royal Family Productions' stage adaptation of the first third of Lucy Maud Montgomery's classic children's novel of the same name. The story of Anne—a feisty 11-year-old orphan sent to live with a pair of strangers on Prince Edward Island at the turn of the 20th century—is told via text and movement, with a quartet of dancers serving as a physical chorus of sorts. The show is part of a planned trilogy, so if you love the first installment, you can check out a script-in-hand presentation of Part II, which is still being developed.
Thunderbird American Indian Dance Concert and Powwow — East Village
Friday, January 25 through Sunday, February 3
Ages 5 and up
Traditional Native American culture shines at this 44th annual celebration at Theater for the New City. Families can experience traditional dances, stories and music from the Native peoples of the Northeast, Southwest, and Great Plains regions. On weekend matinees, children under 12 get in for just a buck (when accompanied by a full-price paying adult), and are invited on stage to take photos with the performers after the show.
Mouth Open, Story Jump Out — Lincoln Center
Saturday, January 26-Sunday, January 27
Ages 8 to 11
Lincoln Center Kids presents this interactive show by British spoken word master Polarbear (aka Steven Camden), who shares his tumultuous life story. After his deadbeat dad vanished, a young Polarbear discovered the transformative power of storytelling. As he relates his inspiring tale, he encourages young audience members to share parts of their own origin stories.
RELATED: Family-Friendly Restaurants Near Lincoln Center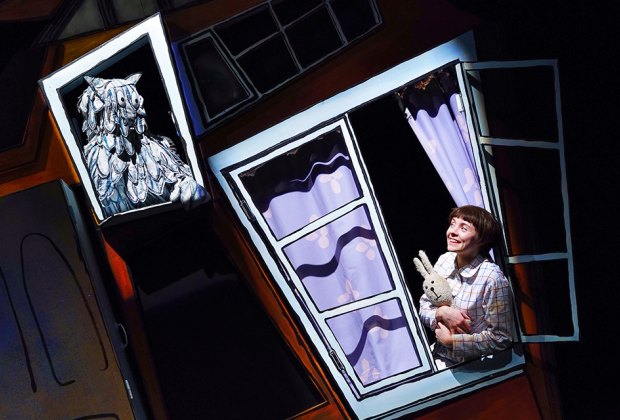 Friendship blossoms between a little girl and a monster in Emily Brown and the Thing at the New Victory Theater. Photo courtesy of Tall Stories

Emily Brown and the Thing — Midtown West
Saturday, January 26 through Sunday, February 3
Ages 4 to 7
Based on Cressida Cowell and Neal Layton's popular picture book, this hour-long adventure at the New Victory Theater focuses on Emily, a young girl who tries to help a monster find his lost lovey in the Dark and Scary Wood. Mounted by England's Tall Stories, this show celebrates friendship, bravery, and the power of imagination.
The Naughty Penguin — Park Slope, Brooklyn
Saturday, February 2
Ages 2 to 5
Brooklyn's Spellbound Theatre specializes in interactive, multi-sensory experiences for tots, and this one sounds particularly charming. A young penguin keeps getting into hot water, sometimes on purpose, but often by accident. Life has so many rules—is there a way she can play without upsetting everyone? This whimsical allegory at the Old Stone House should be relatable for preschoolers and parents alike.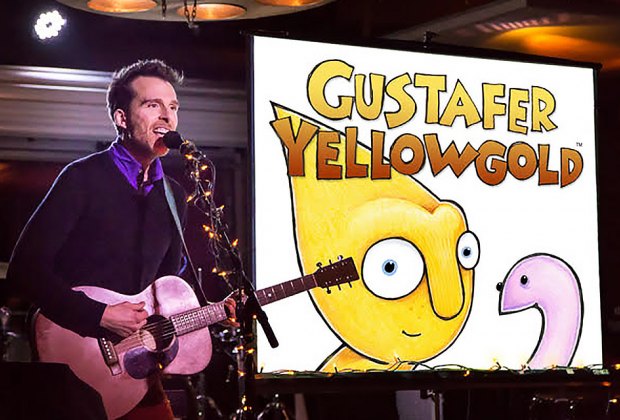 Taylor Morgan gives voice to Gustafer Yellowgold at Symphony Space. Photo by Stephanie Mayers
The Gustafer Yellowgold Show — Upper West Side
Saturday, February 2
Ages 2 to 8
Less a show than a multimedia narrative concert, Gustafer Yellowgold is a mash-up of music, animation and whimsy. The cartoon adventures of a ray of sun living on Earth are set to singer/songwriter/artist Morgan Taylor's Beatles-esque tunes. Taylor will be joined by his full band for this Symphony Space performance, which should make the songs sound extra sweet. Parents, don't be surprised if you dig the tunes, too: Taylor has opened for alt rockers such as Wilco and The Polyphonic Spree.
The Stinky Cheese Man and Other Fairly Stupid Tales — Tribeca
Sunday, February 3
Ages 4 to 10
Jon Scieszka and Lane Smith's eponymous picture book comes to comical life in this Griffin Theatre Company production at the Tribeca Performing Arts Center. An epic fractured fairy tale, this kooky romp follows Jack of beanstalk fame as he tries to outsmart his angry giant nemesis. But Cinderella, Goldilocks, and other familiar characters keep screwing everything up. Will they all be able to live wackily ever after?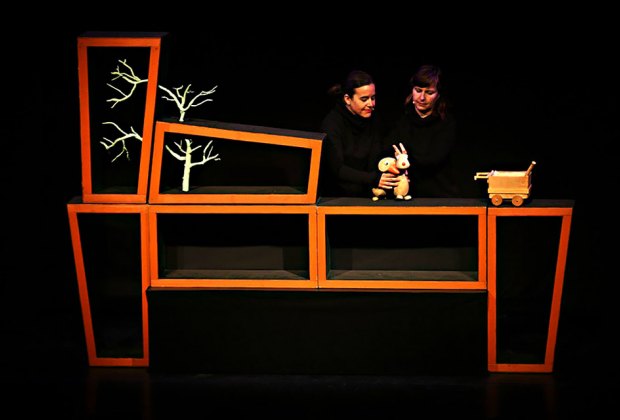 Fly Feather at BAMkids encourages young audiences to follow their dreams. Photo courtesy of Periferia Teatro
Fly Feather — Fort Greene, Brooklyn
Tuesday, February 5-Sunday, February 10
Ages 5 to 7
Fly away on a heartwarming adventure with Spanish puppet theater company Periferia Teatro at BAMkids. When Robin is released from captivity, she heads to the forest and meets a bunch of amazing animals, all pursuing various dreams. Can she help them with their lofty ambitions? The adorable wood-carved hand puppets are sure to charm in this story celebrating the importance of going after what makes you happy. A performance for audiences with sensory sensitivities will be offered on February 10 at 3:30pm.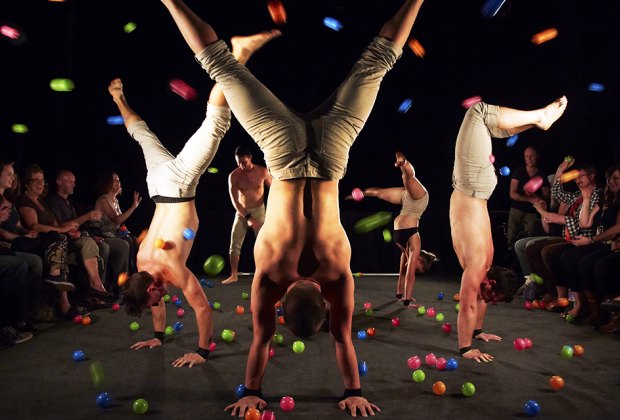 You'll be amazed at the acrobatic feats in A Simple Space at the New Victory Theater. Photo by Steve Ullathorne
A Simple Space — Midtown West
Saturday, February 9-Sunday, February 24
Ages 6 and up
Gravity & Other Myths is the hilarious name of the Australian acrobatic troupe behind this high-flying show at the New Victory. These seven athletes don't use trampolines or wires or any other equipment to assist them. It's all about their strength, agility, and serious abs. Kids, don't try their moves at home!
Sesame Street Live! Make Your Magic — Midtown West
Friday, February 15-Sunday, February 24
Ages 2 to 7
Preschoolers' favorite furry friends from Sesame Street hit the Theater at Madison Square Garden for their annual live show, and this edition promises to be extra magical. When an illusionist drops by Sesame Street to wow the residents, Elmo decides he wants to help out. But he needs to bone up on his sorcery skills first. The sippy-cup set will be amazed as Elmo, Abby Cadabby, Cookie Monster, and the gang learn some new tricks while also taking note of everyday magic all around them. If you buy a Meet & Greet Package, your family can pose for pics with Elmo and two of his BFFs before the show.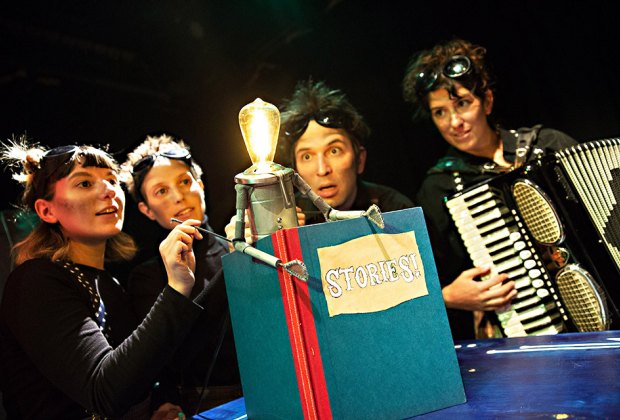 Low-tech wonders dazzle at The Amazing Story Machine at Symphony Space. Photo by Eric Michael Pearson

The Amazing Story Machine — Upper West Side
Saturday, February 23
Ages 2 to 8
Familiar fables are given a multimedia steampunk makeover in Doppelskope's eye-popping show at Symphony Space. When the Grimm family's newfangled Story Machine goes bust, the performers are forced to improvise using a diverse array of puppets, retro music, projections, common household objects, and slapstick to bring The Hare and the Hedgehog, Hansel and Gretel, and other classics to life. As the adorable trailer proves, you don't need screens to be entertained.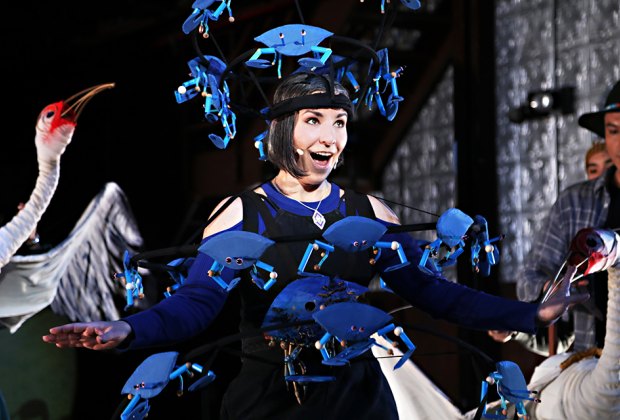 Ajijaak on Turtle Island is filled with spectacular puppetry. Photo by Theo Cote
Ajijaak on Turtle Island — Midtown West
Friday, March 1-Sunday, March 10
Ages 7 and older
It's no surprise that the puppets in this hour-long show are so spectacular—they were created by Heather Henson, daughter of late Muppet master Jim Henson. She's partnered with Native American storyteller and musician Ty Defoe to conjure this fable about Ajijaak, a young whooping crane attempting her first migration and encountering the challenges of climate change. Filled with indigenous songs and dance, this production at the New Victory Theater delivers a poignant message in a breathtaking package. On March 2, an autism-friendly performance will be offered.
Circus Incognitus – Manhattan Beach, Brooklyn
Saturday, March 2
Ages 5 and up
Talk about a minimalist circus! Watch as one very versatile and funny guy, Jamie Adkins, conjures an entire big top by himself. My daughter and I saw this show at the New Victory a few seasons back and it's a comical but low-key experience as the mostly silent Adkins balances paper on his nose, uses ladders like stilts, and hands out fruit for the audience to throw at him... every piece of which he catches on a plastic fork.
Tilt Kids Festival — Manhattan
Since 2016, the French Institute Alliance Française and the Cultural Services of the French Embassy have curated this month-long arts event, which showcases innovative international fare for families. The fest encompases storytelling, visual arts, music, theater, and more, so it's worth perusing the full lineup. Kid-friendly shows not to miss include:
The Young Girl, the Devil and the Mill — Saturday, March 2-Sunday, March 3: Ages 7 and up
Commissioned especially for the festival, this musical is based on the Brothers Grimm's The Girl Without Hands. As the title implies, this is no Disney fairy tale, as a father unwittingly makes a deal wth the Devil that goes awry and results in his daughter's hands being chopped off...and that's just the beginning of her adventure! The show explores timeless themes including death, evil, love, and fidelity.
She No Princess, He No Hero — Saturday, March 2-Sunday, March 3: Ages 7 and up
This two-person piece challenges binary gender norms in an up-close and personal way. Staged in two intimate classrooms, the show introduces families to a pair of classmates: Leïli, who enjoys "boy" hobbies and clothes, and Nils, who wears his hair long and dislikes "boy" activities. The audience is split in two, meeting each character separately, but by the end the message is clear: Not everyone easily falls into two gender categories.
Adaku's Revolt — Thursday, March 14-Sunday, March 17: Ages 7 and up
Created by MacArthur Fellow Okwui Okpokwasili and director/designer Peter Born, this multimedia, modern-day fable focuses on a young black girl who must protect her magical natural hair in order to bring her family wealth. A clever way of tackling the myth of "good hair" that plagues African-American women who choose not to straighten their locks.
The Nature of Forgetting — Saturday, March 23-Sunday, March 31: Ages 9 and up
How do you tackle an incredibly difficult topic like dementia on stage in a family-friendly show? That's what England's Theatre Re has done with this moving physical theater piece, in which an ailing father's memories get mangled as his mind starts to deteriorate. He loses all sense of time as his childhood recollections fuse with adult milestones like marriage and parenthood. Co-produced with the New Victory Theater, this show is a wonderful and delicate way for tweens to explore a complex and challenging topic.
Beauty and the Beast — Upper West Side
Saturday, March 9
Ages 2 to 8
The beloved 18th-century story about an enchanted beast tamed by a clever and kindhearted woman is brought to life by the venerable National Marionette Theatre at Symphony Space. Founded in 1967, the troupe is famous for its gorgeous, hand-crafted puppets and colorful scenery. An old-school interpretation of a classic tale.
Pip's Island — Midtown West
Starts Monday, March 11 for an open run
Ages 4-10
We raved about this high-tech, immersive adventure for kids a few years back. As we recently reported, it returns to NYC in a custom-built space with an all-new adventure. Young audiences are designated "assistant explorers" as they try to help Pip and his island pals save their home from the evil Joules Volter. No seats here—families are guided through various environments by characters and the story line is enhanced by animated sequences. It's a one-of-a-kind journey with tons of interaction.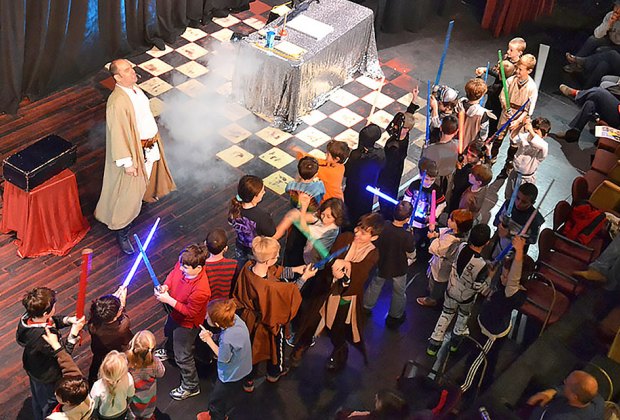 Train to be the next Luke Skywalker at Jedi Academy at Symphony Space. Photo courtesy of the artist
Jedi Academy — Upper West Side
Saturday, March 16
Ages 3 to 10
In this interactive intergalactic experience inspired by the Star Wars universe, Padawans (aka aspiring Jedis) are invited to Symphony Space to "train" with Master Panniken Moonjumper, played by the comical David Engel. The emphasis is on wacky games and slapstick, so it's best for elementary schoolers. Costumes and lightsabers are encouraged, and may the farce be with you.
The Ugly Duckling — Tribeca
Saturday, March 16
Ages 3 and older
This classic tale is brought to life at the Tribeca Performing Arts Center, and wow does it dazzle. Lightwire Theater is behind this high-tech production, which features glow-in-the-dark 3D puppets and props that seem to float across the stage without assistance. If you're an America's Got Talent fan, you probably saw the company compete on the show a few seasons back. The eye-popping troupe deservedly made it all the way to the semi-finals.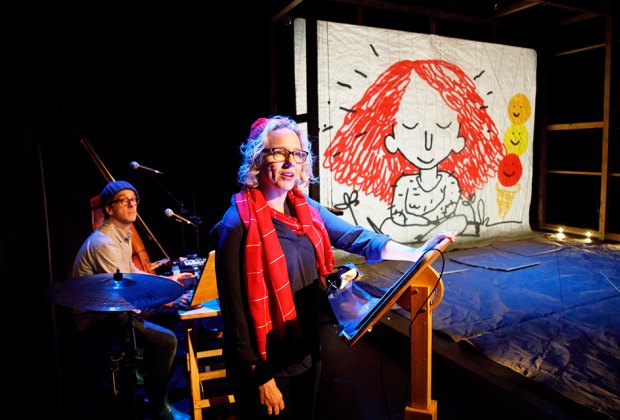 Live-drawn animation helps conjure an epic tale in You and Me and the Space Between at LC Kids. Photo courtesy of Lincoln Center
You and Me and the Space Between — Lincoln Center
Saturday, March 16-Sunday, March 17
Ages 6 to 12
I adore the plays of Finegan Kruckemeyer, an Australia-based dramatist who specializes in fantastical fare for young audiences. Last year I gave his show This Girl Laughs, This Girl Cries, This Girl Does Nothing a rave, and I'm very excited about You and Me and the Space Between at Lincoln Center Kids. The story of a young girl who comes up with a way to save her imperiled island home is conjured through narration and live-drawn animation, which is projected onto a screen. It's mesmerizing to watch on video, and probably even more impressive live. A performance for audiences with sensory sensitivities is offered on March 17.
The Magic School Bus — Tribeca
Saturday, March 23
Ages 5 to 10
After a field trip to the planetarium goes awry, Ms. Frizzle decides to blast her class into outer space for the day. But bad behavior threatens to strand the students out there in the solar system forever. This TheaterWorksUSA musical at the Tribeca Performing Arts Center is sure to please fans of the popular book series of the same name.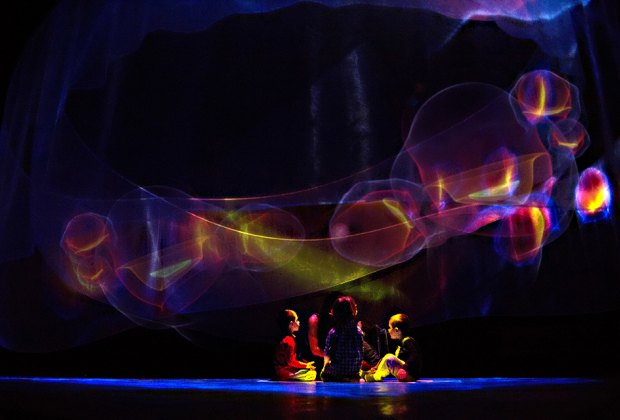 Dancers activate a high-tech digital landscape in Colors at BAMkids. Photo courtesy of Compagnia TPO
Colors — Fort Greene, Brooklyn
Saturday, March 23-Sunday, March 24
Ages 5 to 8
Dancers interact with a vibrant digital landscape in Compagnia TPO's dazzling spectacle at BAMkids. As the performers move, the visuals change, activated by their bodies. After this wordless piece, young spectators are invited on stage to test out this incredible technology. Just make sure they wait until the show is finished (that may be a challenge!).
Underneath a Magical Moon Reimagining of Peter Pan — Flushing, Queens
Sunday, March 24
Ages 3 and up
Head to Flushing Town Hall to see three versatile performers play all the characters in this reinvention of J. M. Barrie's iconic story, which has been given some new twists and songs. The production comes from celebrated British theater company, tutti frutti, and there's a pre-show workshop when kids can play interactive games with the cast.