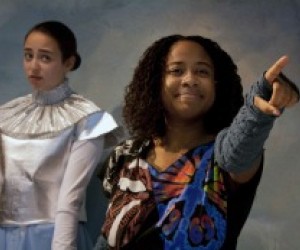 Odd Day Rain: A Smart Sci-fi Take on Technology Obsessed Tweens
No matter what show the kids at TADA! Youth Theater are putting on, I always go. Made up of local youngsters ages 8 to 18, this children's troupe emphasizes spirit over star power, and fun over fame.

The company's new show, Odd Day Rain (which is double cast in order to give more kids a chance to shine) is particularly smart and, unlike most of TADA's offerings, great for tweens. There's nothing inappropriate for preschoolers mind you, but the plot will be better appreciated by school-age children.
Set 200 years from now, this sci-fi rock opera is reminiscent of Logan's Run and E. M. Forster's short story The Machine Stops. (I know, I'm a geek.) In non-nerd terms: Kids lived sheltered lives indoors while a super-computer attended to all of their needs, until an unspecified disaster forced them into exile outside. Now they're trying to fend for themselves, which is extremely difficult since the computer is only programmed to let it rain every other day.

Of course a plucky girl named Aurora (played by Ariana Sepulveda at the performance I attended) gets it into her head to hack the computer, but first she needs to get past Claire, the last kid living in the old virtual world.

The themes Odd Day Rain addresses won't be new to anyone who's ever seen an old Star Trek episode, but this may be your young tween's first experience contemplating the drawbacks of technological dependence. Granted, you may need them to stop texting so they can pay attention. (I spied a few too-cool-for-school preteens rolling their eyes and tuning out.) But this show has a strong message for new techies. If your kid's starting to beg for Facebook and chat room time, or does all of her homework on Wikipedia, Odd Day Rain is a great reminder that living online isn't living at all.

Deidre Broderick's rock ballads are sweet, and certainly let the kids (most of whom are better singers than actors) show off their skills. The costumes are pure sci-fi kitsch, with the squeaky clean Claire dressed head-to-toe in shiny silver while the outsiders look earthy in their dirty ripped up jeans and tees.

As always with TADA, every cast member works hard. The whole experience is like a live, less slick, G-rated Glee. These kids love performing more than anything in the world, and your children will love cheering on their peers.
Afterward, check out the show's online study guide (it's ironic, we know), which is packed with cool info, including a technology timeline (how is the BlackBerry just 10-years-old?), a glossary and a crossword puzzle based on the show.

Odd Day Rain is playing at the TADA! Youth Theater through May 22. Click here for schedule. $20-$25 for adults, $8-$15 for kids.

Remember, there are plenty of other live stage shows around town to please young theatergoers.