This Girl Laughs, Cries – and Grows Up: A Tale of 3 Sisters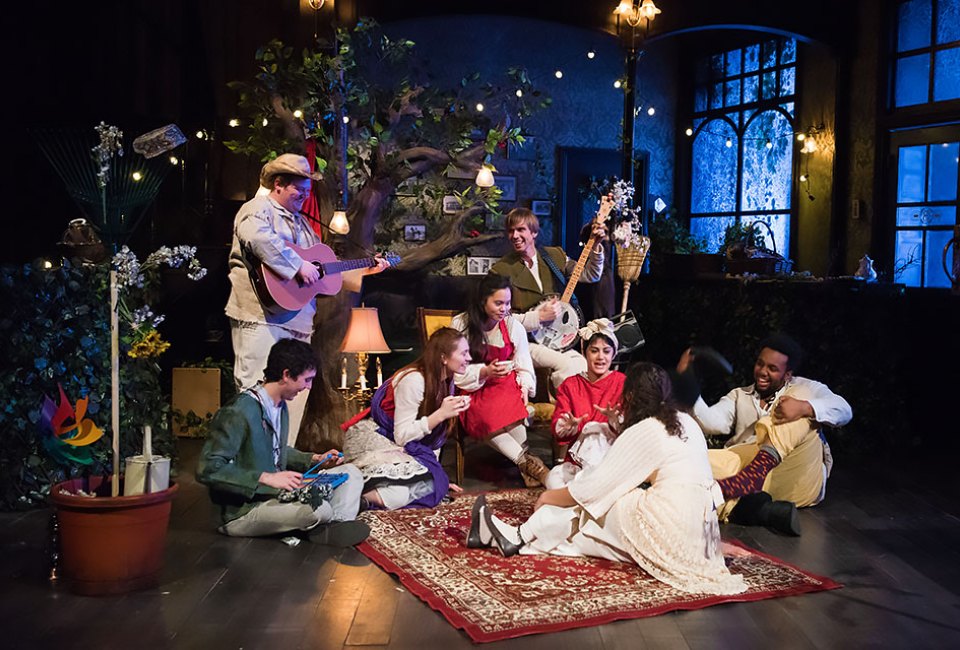 2/16/18
- By
Raven Snook
Like all worthwhile adventures, This Girl Laughs, This Girl Cries, This Girl Does Nothing at Atlantic for Kids starts down a familiar path, hits a fork in the road, and then goes off in unanticipated and delightful directions. Although at the outset this seriocomic play interweaves a number of fairy tale tropes—a sudden death, an evil stepmother, an ineffectual father, and three disparate triplets—it ends up being as kooky and unpredictable as an overtired toddler.
It's also long and explores some complicated themes such as abandonment, longing, and how our childhood dreams evolve as we grow. So is This Girl Laughs, This Girl Cries, This Girl Does Nothing right for your child? Read our review for a sense of what to expect from this unpredictable fable, or check out our complete Theater Guide for NYC Kids for many more options.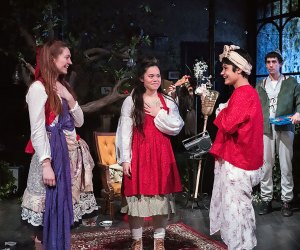 These three sisters set out on very different paths in life.
This Girl Laughs, This Girl Cries, This Girl Does Nothing is the brainchild of Tasmania-based playwright Finegan Kruckemeyer, who specializes in offbeat and thought-provoking theater for young audiences. (He wrote the enchanting The Boy at the Edge of Everything, which played Lincoln Center Kids a few years back.) The show seems to take place a long time ago in a land far away, yet the three spunky heroines are totally relatable. There's Albienne (Melissa Mahoney), who yearns for purpose and loves cake; Beatrix (Cerridwyn McCaffrey), who basks in the sun and seeks adventure; and the bookish Carmen (Sarah Kowalski), who wants to build a home. When, through various twists of fate, they find themselves parentless on the cusp of teendom, they set out on three different coming-of-age journeys not realizing that, over the years, your dreams and desires can drastically change.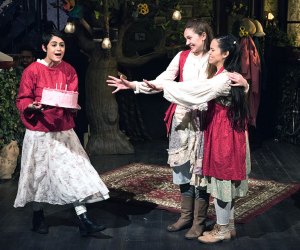 This show is unique in many ways, one of them being the original birthday song.
While the production kicks off with a rousing and original birthday song, my 12 year old and I found the beginning to be a bit slow—a lot of obvious setup and not enough action. But once the sisters set off to find themselves, the pace picks up and the tone turns wild and whimsical. Under the co-direction of Alison Beatty and Tom Costello, this is no-tech storytelling theater at its most inventive, with eight multitasking cast members portraying numerous characters, sharing narration duties, and even playing music and providing sound effects. The most fantastical scenes (when a lighthouse is transformed into a submarine or when the Vikings attack) are described rather than seen, but Kruckemeyer's evocative language and kids' imagination fill in the gaps.
RELATED: Best Off-Broadway Shows Playing in NYC for Kids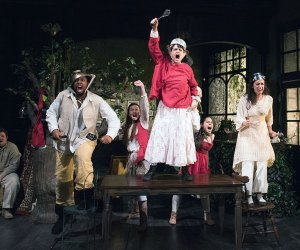 Some of the story is told through song, although it is primarily a play.
Although there are a few spirited musical interludes, This Girl Laughs, This Girl Cries, This Girl Does Nothing is primarily a play, and a talky one at that. Viewers need to be able to follow a few very outlandish plot twists, decipher some poetic passages, grapple with intense emotions, and sit attentively for almost 90 minutes. So while Atlantic for Kids recommends the show for ages 6 and up, I think 8 is a more realistic minimum. It's certainly refreshing to see a show with not one, not two, but three female leads who are all so different, and a narrative that easily passes the Bechdel test. These ladies aren't defined by men, and while one does marry, it's presented as one of many paths a woman can take in life. Now that's a 21st-century moral.
A few tips: If your child is on the autism spectrum or has sensory sensitivities, there is a relaxed performance on Saturday, March 3 to accommodate audiences with special needs. Also, tickets to all performances are general admission, so arrive early to get your choice of seats (though it's an intimate enough theater, so there really are no bad ones). No boosters are available, and while strollers can be left downstairs by the bathrooms, you must navigate a few stairs to enter the venue. Leave your tots at home for this one.
This Girl Laughs, This Girl Cries, This Girl Does Nothing runs at the Linda Gross Theater, 336 West 20th Street, through Sunday, March 4. Tickets are $15 for children, $20 for adults.
All photos by Ahron R. Foster/courtesy the production
Places featured in this article: