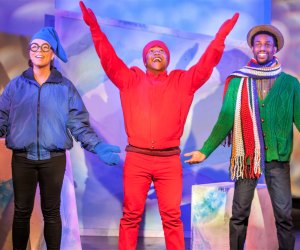 The Snowy Day: An Iconic NYC Story for Little Theatergoers
When you have a 4-year-old jumping bean like I do, the idea of taking him or her to a quiet, please-stay-in-your-seat performance is a little intimidating. But it'll never get better unless we practice, so we headed to Midtown—Times Square, to be exact—to try out a performance of the brand-new The Snowy Day and Other Stories by Jack Ezra Keats. With a runtime of 45 minutes, I was hopeful we could make it through this special series of tales from one of NYC's homegrown literary legends.
Read on to find out all about the creative and inventive play/musical hybrid perfect for toddlers, preschoolers, and even elementary-age kids.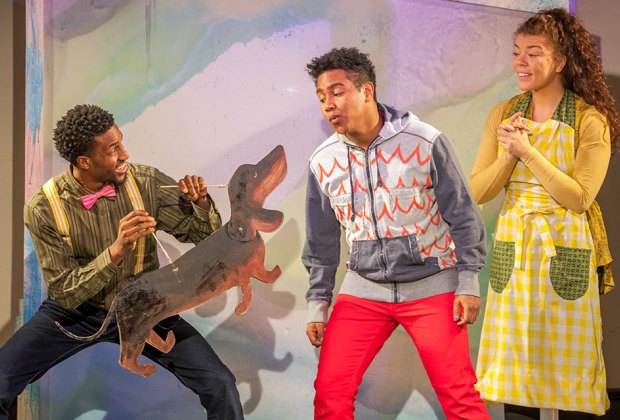 The four plays will entertain the whole family.
We entered St. Luke's Theatre a few minutes before the 11 am start time (my son, Wes, was mesmerized with all the souvenir shops and the 5-foot-tall Statue of Liberty replica along the way) to an almost full house of parents with babies, toddlers, preschoolers, and younger elementary school kids. We still scored a good spot midway back. (It is open seating/general admission.)
The small, intimate stage was set with minimal props: a large white backdrop and a few white wooden boxes. Out came Jahbril Cook as Peter, and Tay Bass and Garrett Gray, who serve various roles: narrators, Peter's parents, friends, the dog, sound effects and operate shadow puppets to charmingly help illustrate each story.
The collection of four of Keats' stories is partially a celebration of the city. Each vignette is adapted from one of his books while highlighting slices of New York life. The Snowy Day, which won the author a Caldecott Medal in 1963, is the first performance. It is definitely the most known of the author's books in our house, and Cook perfectly captured his character's adventures through the sidewalk snow and the disappointment of losing your snowball overnight.
RELATED: 22 Fantastic Winter Theater Shows for NYC Kids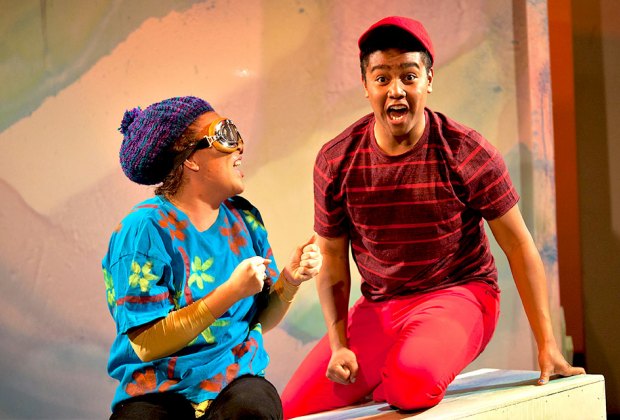 The plays celebrate the wonder of childhood in the city.
The three stories that follow shadow Peter as he grows up: After a lot of practice (and frustration) Peter learns how to call his dog and take him along to the neighborhood bodega in Whistle for Willie; he and his friend Archie face off with the big kids in Goggles!, and he faces major challenges getting a special birthday-party invitation to the corner mailbox in A Letter To Amy.
RELATED: 7 NYC Puppet Theaters Every Kid Should Experience at Least Once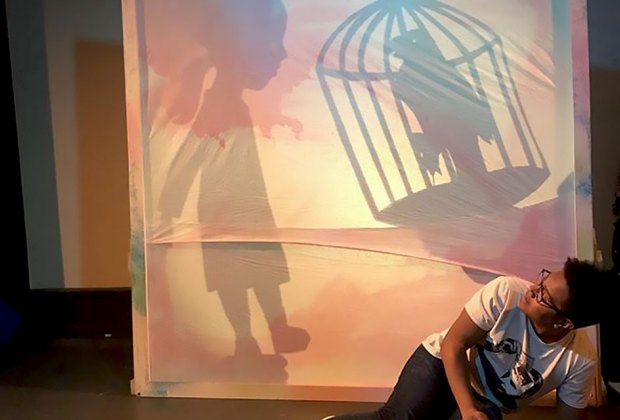 The incredible shadow puppets will amaze the audience.
Each story runs about 10 minutes, which was ideal for my son. Just enough to get into it, not too long to lose interest. Aside from warm and engaging acting, the cast used shadow puppets and sounds effects to complement their roles: They played the parts of everything from a growing snowman and sledding scenes in The Snowy Day to the neighborhood baddies in Goggles!.
While kids ages 3 to 8 (the recommended range) might not be aware of the race relations swirling around them these days, but I can't think of a better time to spotlight the works of Jack Ezra Keats. The Snowy Day won the Caldecott Award winner in 1963, the same year that Martin Luther King, Jr. delivered his famous "I Have a Dream" speech. Keats, who was Jewish and grew up in Brooklyn, wanted no child to be an outsider, once said, "If we could see each other exactly as the other is, this would be a different world."
The cast did a meet-and-greet after the performance and happily took photos with audience members, leaving the crowd on a happy, positive note. It is directed by Julia Beardsley O'Brien, who also directed the just closed, The Lion, the Witch and the Wardrobe; adapted by Jerome Hairston, and the music is by Victor Zupanc.
Of note: Strollers are permitted. You can grab an end seat and keep it open throughout the performance. You must purchase tickets for toddlers and up.
The Snowy Day and Other Stories by Ezra Jack Keats performs every Saturday at 11 am at St. Luke's Theatre through March 31. Tickets are $35 each.
All photos courtesy of the production