< Event Calendar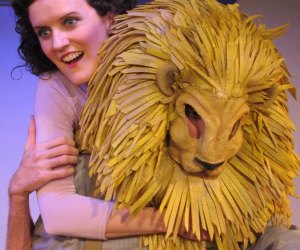 The Lion, the Witch and the Wardrobe
In this inventive and highly theatrical adaptation of C.S. Lewis' classic, two actors give a tour-de-force performance that's sure to delight children and adults alike. Through the magic of theatre, Peter and Lucy will take you to Narnia, where The White Witch has cast a spell that makes it always winter and never Christmas. See them meet Mr. Tumnus the faun and conspire with talking animals to save Narnia. Come face to face with Aslan the Great Lion and cheer as Peter, Susan, Lucy and Edmund courageously battle the forces of evil, discovering that Love is the deepest magic of all. *Meet the actors and get a free Narnia sticker after every show!

Sat at 11:00am
Wed at 11:00 or 2:00pm (check show website for which)
Open to everyone, most suitable for ages 5 and up.

Directed by Julia Beardsley O'Brien
Starring Jesse Corbin & Rachel Osterhus
St. Luke's Theatre
308 W. 46th St.
New York, NY 10036
** Event dates/times are subject to change. Please click through to the event website to verify.