< Event Calendar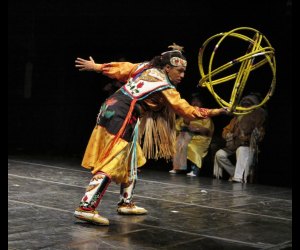 Thunderbird American Indian Dance Concert
Fri Jan 24, 2020
$15 - At all matinee performances, children under twelve accompanied by a ticket-bearing adult are admitted for $1 (adults $15).
The 2020 Thunderbird American Indian Dance Concert features dances, stories, and traditional music from Native Peoples of the Northeast, Southwest, and Great Plains regions.
A Pow-Wow is more than just a spectator event: it is a joyous reunion for native peoples nationwide and an opportunity for the non-Indian community to voyage into the philosophy and beauty of Native culture. Highlights include storytelling, a Hoop Dance, a Grass Dance and Jingle Dress Dance (from the Northern Plains people), a Stomp Dance (from the Southeastern tribes), a Shawl Dance (from the Oklahoma tribes), a Deer Dance (from the Yaqui Tribes of Southern Arizona), a Fancy Dance (from the Oklahoma tribes) and a Robin Dance and Smoke Dance (from the Iroquois). As the audience enters the theater, they are serenaded by the Heyna Second Son Singers (various tribes). In the final section of the program, the audience is invited to join in the Round Dance/Friendship Dance (in evening shows) and a Contest Dance (in matinees).
After the program, the dancers stay for photographs and to meet the audience. Matinees are kids' days, when children under twelve accompanied by a ticket-bearing adult are admitted for $1.00 (adults $15). At the conclusion of these matinees, young audience members are welcome to the stage to be photographed with the dancers. This component of the show was inspired by the troupe's school residencies.

Fridays at 8pm
Saturdays at 3 and 8pm
Sundays at 3pm
​shows 90 min
Photo of Marie Ponce, Cherokee/Taino. By Jonathan Slaff
Theater for the New City
155 First Avenue between 9th and 10th Streets
New York, NY
** Event dates/times are subject to change. Please click through to the event website to verify.